Darden School of Business – University of Virginia

The Darden School of Business is based in Charlottesville, Virginia at the University of Virginia. Darden provides its students with three paths toward earning an MBA—the full-time MBA as well as two executive MBA options—among its other academic offerings. A hallmark of the Darden MBA experience is the instructors' use of the case method in the classroom, a technique that fosters discussion among stu­dents about real-world business problems. The school estimates that each student will examine more than 500 business cases over the course of the two-year MBA program.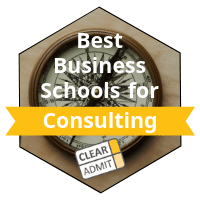 FAQ
What is the tuition for Darden's MBA program?
The tuition for Darden's MBA program is $75,200 per year. The total cost of the Darden MBA program is $104,197 per year for non-VA residents; this includes budgeted living expenses.
How hard is it to get into Darden's MBA program?
The acceptance rate for Darden is 26%. It is important to consider the acceptance rate in the context of the student profile of those who are admitted. For example the average GMAT score is 720.
What is the average GMAT score for admission to Darden's MBA program?
The average GMAT score for the incoming class at Darden is 720.
Does the Darden MBA program accept the GRE?
Yes. The Darden MBA program has accepted the GRE for a few years now.
What is the minimum number of years of work experience required for admission to Darden's MBA program?
Darden does not state a minimum requirement for years of work experience.
What is the average number of years of work experience for admission to Darden's MBA program? (or, What is the average age of a Darden student?)
The incoming class at Darden had an average of 5.8 years work experience. The average age of a Darden MBA student is 28.
What is the average starting salary for graduates of the Darden MBA program?
The average starting salary for Darden MBA graduates is $144,933 with an average signing bonus of $35,488. The salary will vary by industry, with consulting and finance jobs generally commanding the higher salaries.
How long is Darden's full-time MBA program?
Darden offers a traditional 2 year MBA program.
What are the application deadlines for Darden's MBA program?
The Early Action application deadline is September 7, 2023. The Round 1 MBA application deadline is October 4, 2023. The Round 2 application deadline is January 4, 2024. The Round 3 deadline is April 1, 2023.
What percent of Darden MBA students are women?
The percentage of the class at Darden that are women is 37%.
What type of interview does Darden use for MBA admissions?
Darden offers open interviews for Early Action applicants. For other rounds, Darden offers interviews by invitation. The interviews are resume-based. This means the interviewer has not had access to the application materials.
Admissions
The Class Profile
348 students comprise Darden's Class of 2024. Of these, 37% are women and 20% identify as members of domestic minority groups, including students who are African Ameri­can, Asian American, Hispanic or Latino American, and Native American. Forty-three percent are international, representing 48 countries. The mean GMAT score reported was 720, and the average GPA was 3.51.  Students averaged 28 years of age and 5.8 years work experience at the time of entry into the program.
Application Procedures
Applicants to Darden have their pick of four rounds of admission, which usually begin with an early action option in September and culminate in early April. In January 2023, Darden announced their new Round 3 deadlines would be rolling and applicants can apply through May 1. Those interested in pursuing the MBA must submit Darden's online data form, GMAT or GRE results, TOEFL scores if applicable, a résumé, short-answer essays, a recommendation, transcripts, residency verification for Virginia residents, and an application fee of $250, though not all of these apply to students applying through the Consortium for Graduate Study in Management. Darden also notes that prospective students who do not agree with UVA's honor code need not apply.
In admissions rounds 1, 2, or 3, interviews are given by invitation only, and all U.S. residents are required to interview either on Darden's campus or virtually. Applicants who apply during the Early Action round may request an interview on a first come, first served basis.
Application Checklist
Core Data
GMAT or GRE Score
TOEFL Scores
Résumé
Essays
Recommendations
Interviews
Transcripts
Residency/In-State Status
Visa Information
Application Fee
Honor Code
Essay Topic Analysis
Need help with your essays? Get our experts' advice.
Recommendation Questions
Find out what top MBA programs ask recommenders.
UVA / Darden LiveWire and DecisionWire
Academics
Faculty
Darden employs over 120 faculty members. Faculty specialize in courses across Darden's nine subject areas, though the school encourages a very integrated curriculum. Darden's faculty also help staff the school's 13 research centers and initiatives, which examine topics ranging from corporate sustainability to asset management and innovation.
Curriculum
Darden offers a balanced management curriculum within the framework of the case method teaching style and active classroom engagement.  Darden's case-based program means that student discussions constitute a significant chunk of in-class time as the students work through practical scenarios to resolve different business challenges.
There is no selection of academic majors at Darden. Instead, students may opt to pursue concentrations in specific areas of business, though this is not required. The school classifies its concentrations by "career track" and "theme track" categories, and the former includes six tracks while the latter comprises just one. MBA students may pursue as many academic tracks as they would like during their tenure at Darden, provided they can satisfy the academic requirements of each.
The typical incoming class at Darden includes just under 350 students, and each class is divided into five sections of 60 to 65 students and then into learning teams of five to six students. Each section works with its own set of faculty members and competes together in various events throughout the year as part of the Darden Cup. The Darden Cup comprises sporting events, trivia contests and myriad charity efforts for which each section can earn points.
First-year students are afforded several pre-term and orientation options prior to the start of fall classes, which include optional courses in key quantitative areas and many informal meet-and-greet events. The Darden MBA program structures first- and second-year schedules differently, giving first-year students core coursework over four terms and a capstone project while second-years have four quarters in which to take classes. In the first year, students all undertake the same required courses, and first-years participate in a strategy simulation upon finishing the required core curriculum. In the final term of students' first year, they may begin to take electives and complete Darden Consulting Projects in their areas of interest.
During the second year of the MBA, students take electives at Darden and can also complete courses at other schools within the University of Virginia. Second-years are required to finish one leadership elective before graduation. Students may also study abroad through Darden's exchange programs; in total, the school offers MBA exchange programs with 18 international institutions. Students wishing to spend one to two weeks abroad may opt for Darden's Immersion Courses, which are usually offered in March. The Immersion Courses are open to both first- and second-year students.
Other MBA Degree Options
The Darden MBA can be earned in one of three ways: a traditional full-time MBA, the MBA for Executives option, and the Global MBA for Executives program. All programs take 21 months to complete and chiefly employ the case method style of teaching. Darden also provides students with the opportunity to undertake one of 10 dual degree programs offered in cooperation with other schools at the University of Virginia.
Concentrations at Darden
Career Tracks
Asset Management/Sales & Trading
Corporate Finance/Investment Banking
Entrepreneurship & Innovation
Marketing
Strategy Consulting
Supply Chain Management
Theme Tracks
Degree Offerings at Darden
Full-time MBA Program
www.darden.virginia.edu/web/MBA
Executive MBA Programs
MBA for Executives, Global MBA for Executives
https://www.darden.virginia.edu/executive-mba-formats/
Dual Degrees
MBA/JD, MBA/SAIS MA, MBA/MSDS, MBA/MD, MBA/MPH, MBA/MPP, MBA/MEd in Innovation in Education Reform, MBA/MA in East Asian Studies, MBA/MA in Government or Foreign Affairs, MBA/ME, MBA/MSN, MBA/PhD
https://www.darden.virginia.edu/mba/admissions/dual-degrees
Campus Life
Clubs, Conferences & Competitions
The close-knit community at Darden makes for a collection of over 50 active student clubs and organizations. These groups help MBA students pursue their professional, social, athletic and affinity-related interests and include such organizations as the Turnaround & Restructuring Club, the Outdoors Club and the European Society. The Darden Student Association is the student governance body, and Darden's Prize for Club Excellence rewards the organizations that best serve their members and the Darden community with cash prizes at the end of each year.
Student groups are also behind many of Darden's conferences.  The school plays host to a variety of professionally and affinity-focused conferences each year, including the annual Private Equity Conference, the Darden Global Entrepreneurship and Innovation Research Conference, and the Darden Investing Conference.  Darden also supports somewhat more atypical conferences that meet students' interests, such as the "From Farm to Table: Trends in Sustainability & Innovation" Conference.  This event was sponsored by Darden's Wine & Cuisine Club in 2014 and brought together industry leaders from various sub-sectors to discuss sustainability practices and entrepreneurial initiatives within the food and beverage industry.
Campus Spaces
Darden's elegant campus was designed to fit with the classical layout of UVA and Thomas Jefferson's aesthetic for academic institutions. The UVA campus is often known as "the Grounds," and Saunders Hall serves as the entry point to Darden. Darden's campus boasts 60 rooms for learning teams, seven conference rooms, 18 classrooms with theater seating, a fully equipped video production studio and conferencing platform, and the i.Lab, or Darden's innovation laboratory. Three on-campus housing options are open to graduate students, with a separate option for those students living with families. As there are limited on-campus housing openings, the school reports that many students take up residence in apartments or homes located within easy walking distance of campus.
MBA Careers
Career Services
The Career Development Center at Darden matches students with career consultants, thus affording them one-on-one counseling with trained planners.  First-year students also benefit from the Second Year Coach program wherein second-years share recent job search experiences in the industries and functions of interest to the first-years.  The center provides myriad other opportunities as well, which span from career fairs and job treks both in the U.S. and abroad to workshops, forums and specialized assessment tools.  The first networking night for second-year students takes places in early September, and on-campus interviews and recruiting for full-time positions start up in mid-October.
Career Statistics 
A full 97% of the Class of 2021 had received job offers three months after graduation, and 95% of the class had accepted a position within three months of graduating. The average base salary of 2021 graduates was $144,933 with an average signing bonus of $35,488.
Consulting was the most popular industry among 2021 Darden graduates, as 32 of the class entered this field, followed by financial services at nearly 26%. The technology sector drew 19% of graduates, while 5% entered consumer packaged goods and 6% opted for health care. Students also chose positions in industries such as real estate and energy.
By function, the Class of 2021 pursued the most roles in consulting, a function chosen by 34% of students. Finance was the second most popular function at 26%, and General Management and Marketing attracted approximately 16% each.
Geographically, most Darden MBAs relocated to the Northeast, where 29% worked upon graduation. Twenty-one percent of the Class of 2020 remained in the Mid-Atlantic region, while 11% pursued roles in the South, 18% in the West and 11 % in the Midwest. Finally, 8% of students chose to work in the Southwest, and another 1.5% pursued work outside of the U.S.
Financing
Tuition for the 2022-2023 academic year at Darden is set at $72,700 for residents of Virginia and $75,200 for non-residents, while international students pay $75,400. The total expected costs rise to $101,197 for residents, $104,197 for non-residents and $105,129 for international students when considering the living expenses associated with the MBA program. First-year students should also reserve $1,600 for a computer. Students are automatically considered for Darden's more than 150 merit-based scholarships when they submit their applications. U.S. students who wish to finance their MBA through loans must file the FAFSA as well as a separate application for aid to UVA; this does not apply to international students. Beginning with the Class of 2020, Darden offers international students loan program options so that they can borrow up to approximately 99% of the cost of attendance, but the school also encourages prospective international applicants to seek other loan and funding options.
Cost of Attendance 2022-2023
Tuition & Fees
Virginia Residents $72,700
Non-Virginia Residents $75,200
International Students $75,400
UVA Health Insurance $3,309
Living Expenses $19,720
Case Fees & Books $1,100
Computer $1,600
Transportation (domestic students) $1,000
Transportation (international students) $4,000
Federal Loan Fees (domestic students) $2,268
Totals
VA Residents $101,197
Non-VA Residents $104,197
International Students $105,129