Sponsored Content
Earning an MBA while working full time can be challenging. It means between 26 months to five years of taking classes at night and on weekends while still putting time in at the office and making career moves.
The good news is that an MBA comes with many rewards—both professionally and personally. Not only does part-time MBA study allow you to take the knowledge you learn at school and immediately put it to work the next day, but it helps you reduce many opportunity costs found in a traditional two-year full-time MBA. The key is your willingness to make some short-term sacrifices in order to gain the knowledge, skills, and network needed to chart the course of your future career.
That's why flexibility is so important!
You have to be flexible, your employer must be flexible, and, perhaps most importantly, your MBA needs to be flexible. And that's exactly why the Georgetown McDonough Flex MBA program was launched. It provides a greater degree of flexibility for students than ever before, including the ability to change the duration of your degree and how you take your classes.
Inside the McDonough Flex MBA program
Georgetown McDonough has always been known as a global learning community ideal for working professionals who aspire to a higher level in their careers. The Flex MBA is the school's latest innovation.
The program is taught by the same faculty, follows the same curriculum, and confers the same degree as the Full-time MBA. The difference is that it allows working professionals to continue their careers and earn their degree with as little disruption as possible.
The Flex MBA offers the best of both worlds: The cohort experience focused on relationship-building in the first year, and the flexibility in the latter half of the program.
It Works with Your Busy Professional Life
Work and life are never predictable. COVID-19 is the perfect example. The global pandemic has disrupted almost every aspect of life, causing some professionals to have to work overtime while stopping other jobs in their tracks. Flexibility is required to thrive in the unknown.
With the Georgetown Flex MBA, you can make the program work for you. "It works around your life," explains Rachael Ruffin, a current Flex MBA student and program specialist with the Montgomery County (Maryland) Government. "I can move [classes] around to make it fit my schedule, so I'm not tied down. For example, there were times where I accelerated my learning when work allowed, and there were times I slowed it down when life got too busy."
The key is learning to communicate and be honest about what you can and cannot do, explains Rachael. "You have to tell yourself and your manager that you just can't do some things and be realistic about your capabilities."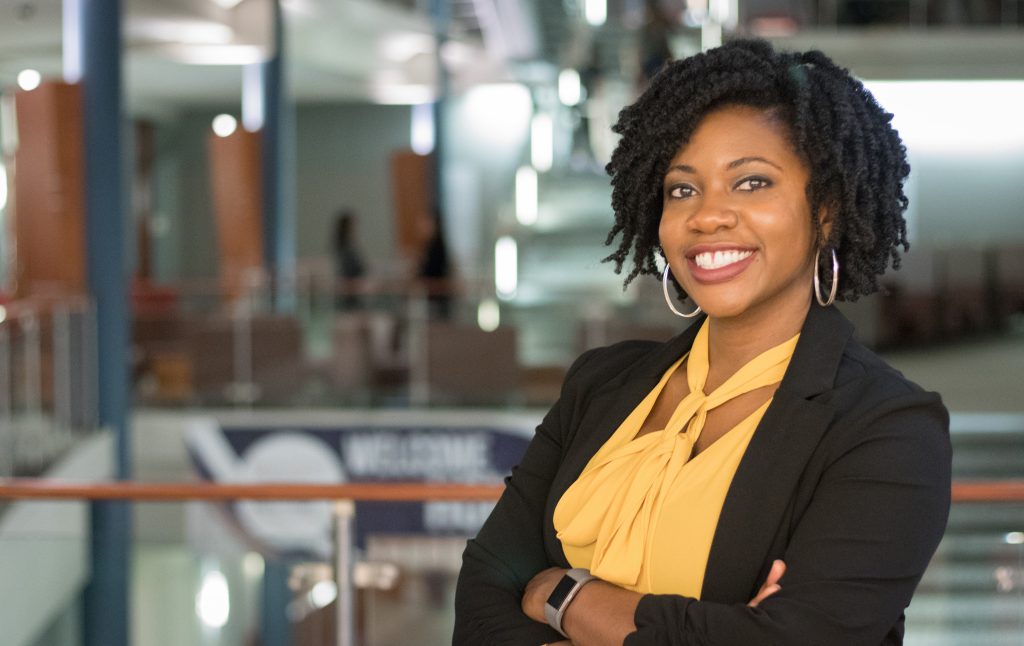 You Choose Your Graduation Date
Beyond being designed to accommodate general busyness and the unexpected, the Flex MBA fits into your career progression. Whether you find yourself promoted, transferred to another department or division, or suddenly changing careers, the program can help you achieve your goals by allowing you to choose the duration of your degree.
In a typical part-time MBA program, you have a set schedule of courses and a set graduation date you need to reach, but that's assuming nothing ever changes, which simply isn't realistic. With the Georgetown McDonough Flex MBA, you can choose to graduate in as few as 26 months or in up to 60 months, and you can change your graduation date at any time.
That flexibility was critical for Chad Johnson, a current Flex MBA student and director of legal technology at TransPerfect Legal Solutions. He decided in the middle of his MBA program that he wanted to switch careers, completely changing his plans. It also meant he had to rethink his MBA graduation.
"I decided to speed up my program because I wanted to take some time off before starting a new career," Chad said. In the end, his packed schedule meant he was able to graduate in just 2.5 years.
As for Rachael, she adjusted her program duration to best balance her work, life, and schooling. "Whenever there was an option to overload my course schedule, I would jump on it," she explains. "By taking every opportunity to take an extra class, I was able to adjust my graduation date to just three years."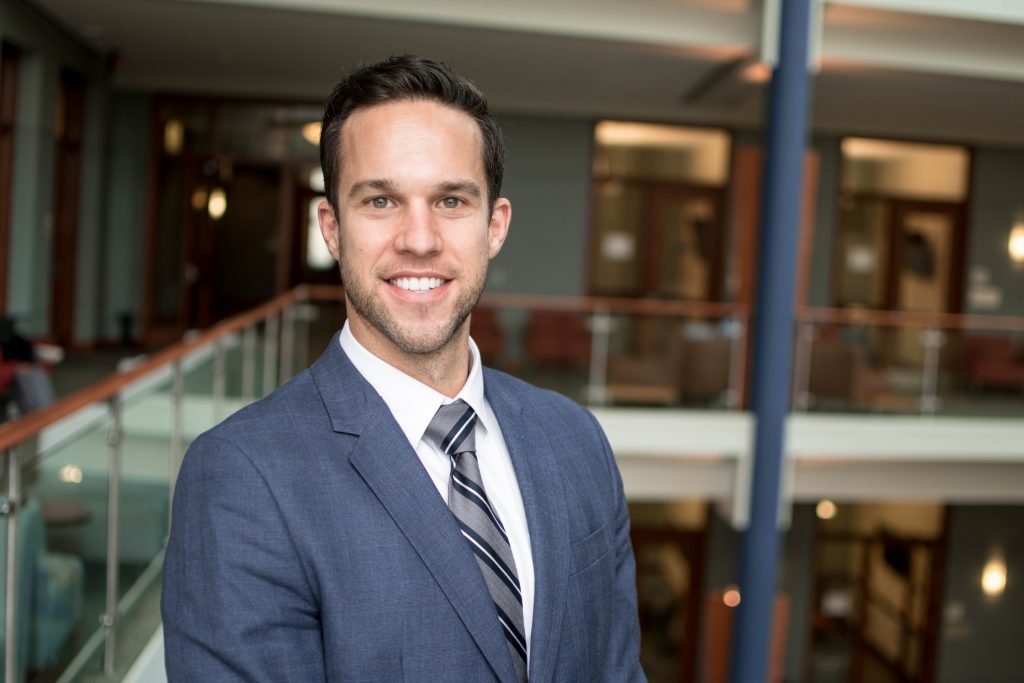 It Prioritizes Building Relationships First with a Cohort Format
However, there's no point in graduating early or balancing your work and life if all it means is you gain fewer benefits from your MBA program. That's not the case at Georgetown McDonough.
While many part-time MBA programs place networking and relationship building on the backburner, McDonough's Flex MBA puts relationships front and center. They understand that the relationships you build during your MBA are critical to your success during and after the program. So, they've made the school's highly sought-after student and alumni network integral to the Flex MBA experience.
For example, all students start out taking their core classes as part of a cohort of 55-65 students, which is something Chad thoroughly enjoyed.
"I was able to build many relationships in a short period," explains Chad. "During core, we always worked together in different groups, so I developed strong relationships with many different people during the first year of the program. And these relationships only grew stronger throughout the program and will definitely keep growing long after we graduate."
The cohort-style program and focus on relationships can really make a difference in a student's career. For Rachael, it was the friendships she gained that helped her get through the extremely difficult times that few students can prepare for.
"You'll work all day, feel exhausted, and then have to go to class and put yourself into the mindset of a student," says Rachael. "Having a close group of friends who are suffering alongside you is essential. In the Flex MBA program, you have a network of support that can help pick you up and keep you strong, even when you don't feel that way."
The key is making time to network, which is not always easy when working and going to school full time. It's about cramming in as much personal time as possible when you can. Rachael and Chad both regularly go out to dinner with classmates after class, set up study dates, or attend student-organized events. It might require some sacrifices, but the friendships are worth it.
Extremely Flexible Elective Course Options
In the end, what the Georgetown McDonough Flex MBA program is most known for is the flexibility it provides for electives.
The program begins with a structured first-year core curriculum where cohorts take evening classes on either Mondays/Wednesdays or Tuesdays/Thursdays. These 15 courses form the foundation of the MBA experience and put students on a path toward managerial success in the global marketplace. But once students finish their core coursework and get to their electives, everything becomes more flexible.
"Electives come in all formats," explains Chad. "I've taken hybrid, Saturday, evening, and intensive learning experiences (ILEs), which are one- to two-week-long courses. This was a really nice variety of options, so I wasn't only going to class on Tuesday and Thursday evenings. Also, I was able to overload classes at times and could mix a hybrid or Saturday class with evening classes to space my study days out."
Let's take a look at the four elective options more closely.
Evening classes are the most common course option and fit well into many students' schedules. Classes are typically one or two nights a week for three hours at a time. Many students end up with a Tuesday and Thursday or Monday and Wednesday evening schedule, which means weekends are available for studying and group work.
All first-year core course work is taught through the evening format, which means that students will need to prepare for this schedule for at least 12 months.
Hybrid electives are 50 percent virtual and 50 percent on-campus. Instead of having to drive to campus to attend class in the evening, your professor will schedule your three-hour class in a virtual setting using innovations in technology. These classes are ideal for students who often travel for work or have other commitments.
For Rachael, taking hybrid classes meant a ton of time savings. "When taking a hybrid course, I didn't have to consider my commute," she explained. "I live about an hour away from campus, so by having class online, I was able to save, at minimum, two hours a night in travel."
Saturday electives are another option for Flex MBA students. They meet every other Saturday for six weeks—three Saturdays in total. What this means is that students get two weeks between each class to get their work done, which can be highly accommodating for even the busiest schedule.
Intensive Learning Experiences (ILEs)
Intensive Learning Experiences (ILEs) are courses condensed into a short time period (one to two weeks). They are worth 1.5 or 3 credit hours and are focused on experiential learning, client-centered work, or off-site visits.
For Chad, ILEs are valuable for a couple of reasons. "They offer a way to speed the program up a bit, and they offer a quick one or two-week deep dive into a new topic," he said. "This allowed me to explore some new subject matters to quickly learn about a very specific topic."
The key to these courses is concentrated learning, which means you have to be prepared to give the time and focus required to succeed. Rachael had to be very open with her supervisor at work whenever she planned to take an ILE, as it would interfere with her typical work schedule.
"I always had to make lots of adjustments at work—cancel meetings, come in early, work late, etc.—to fit with my ILE course schedule," she explained. "However, the good news is that I always knew when an ILE was coming far in advance, so I was able to plan for it as needed."
Ability to Apply the Classroom Immediately
Best yet, the Flex MBA becomes a testing zone for what you learn. "It's basically free consulting with your classmates and professors," explains Rachael. "For example, you might try something you learn in class one day at your office the next and get mixed results. You can then come back to class the next day and bring up the issues you encountered and come up with a new plan to try it out again."
One of the really great benefits of the Flex MBA program is the ability to move from the classroom to practice quickly. For example, you might learn something in your marketing courses that drastically changes how you prepare for events in your job. Or, like Rachael, you might pick up new job duties based on what you've learned in class. "I've started taking on budgeting at my work thanks to my finance and accounting courses," she said.
The Georgetown McDonough Flex MBA program is about more than just learning hard skills. Students have critical conversations about their workplaces and what they're dealing with on a daily basis. And all of those conversations become learning opportunities within the classroom.
The Life of a Georgetown McDonough Flex MBA Student
So, what does the life of a Georgetown McDonough Flex MBA student look like? For both Chad and Rachael, it's incredibly busy, as can be expected.
What works best for Chad's schedule is to take most of his classes in the evenings. However, in order to graduate in 2.5 years, he has had to fit in classes as needed. As for his typical weekly schedule, he spends most of his weekends and evenings studying and completing coursework. And when he travels, which isn't often, he uses his time in the air to stay current.
As for Rachael, her weekly schedule is a little more varied. She has multiple calendars filled out at all times to ensure she stays on top of her responsibilities. "There's so much happening in any given week that I need three reminders—my phone, school calendar, and personal planner—to stay on top of everything," she explains.
Similar to Chad, Rachael takes many of her classes two evenings a week, which is usually about a five-hour process when you include the drive time to campus. But going to class is the easy part. Every class is accompanied by group work, assignments, and hours of studying.
"On my free evenings, of which there aren't very many, I might work late to finish my to-do list or stay home, study, and complete homework," Rachael says. "Typically, I only have about an hour free each week. Otherwise, my schedule is filled with school and work. My classmates and I regularly joke that we don't know what we're going to do with all our free time after graduation."
Final Thoughts on the Georgetown McDonough Flex MBA
There's no doubt that earning your Flex MBA from Georgetown McDonough isn't an easy or simple process, even with all the flexibility, but that doesn't mean it's not worth the effort. If you're prepared to stretch yourself and dive into the difficulty, it will reap rewards for years to come.
As Rachael says, "If you're looking to know yourself in a way you've never known yourself before, the Flex MBA will get you there. While the time investment is immediate, so are the benefits. Students have been able to earn their MBA while working for decades, so if they can do it, you can too."
Introduce Yourself to Georgetown
If you like what you hear and want to connect directly with Georgetown, please provide your information. NOTE: By completing this form, you consent to having your information shared with Georgetown