The Best Business Schools for Technology

In recent years, technology has risen to become one of the top career choices for MBA grads, joining—and in some cases, even displacing—the more traditional career paths like consulting and financial services.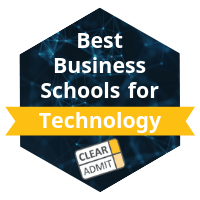 According to the 2017 Prospective Student Survey by the Graduate Management Admission Council, almost one in every five prospective students for full-time, two-year MBA programs hopes to work in the tech industry upon graduation. Not only that, but increasing numbers of business schools are looking for tech backgrounds in the MBA students they admit. Of the incoming MBA class this year at the University of Pennsylvania's Wharton School, 29 percent of students bring backgrounds in science, technology, engineering, or math (STEM)—more than those with business backgrounds.
Tech Firms' Increased Appetite for MBA Grads

And tech firms have quickly become some of the top hirers of freshly minted MBA grads. In fact, Wharton Vice Dean of MBA Admissions, Financial Aid, and Career Services Maryellen Reilly pointed to this as a contributing factor for the uptick in STEM undergrads in incoming classes. "Over the last five to seven years, more employers who once said to us on the career management side that they don't hire MBAs have ended up hiring our graduates and realizing that they bring a lot of value," she told Clear Admit in an August 2017 interview. "By virtue of getting more MBAs into tech firms, we are seeing more of those employers want to hire MBAs," she continued. Not only that, increasing numbers of younger tech firm employees now view the MBA degree as a means of advancing their career within the industry and have begun to apply. "We see real interest from those firms in having us come and visit—both from the admissions and career perspectives."
For more evidence of this phenomenon, look no further than a few headlines. In 2018, Bloomberg reported that technology firms are increasing their MBA hires year over year, as top companies are realizing the diversity that an MBA background can bring to the cutting-edge technology world.  In 2019, eFinancialCareers confirmed that Google and Amazon increased MBA hires from four top programs 75 percent and 67 percent over the last three years, respectively.
Why this shift? Part of it has to do with the blurring of lines between technology and more traditional business. One no longer exists without the other. As technology becomes central to accessing services and products, period, demand for the skill set of the MBA with a technology specialization has become pervasive. Firms like Facebook need skilled general managers who understand strategy, operations, marketing, and logistics but are more than conversant in tech. (Increasingly, for that matter, so do most any consumer packaged goods [CPG] or manufacturing firms.) And the phenomenon that Wharton's Reilly points to is likely also at play. As more tech firms hire MBAs, they get to know their value first hand—leading them to look to hire more and/or send their junior staffers back for an MBA.
Why Tech Lures MBA Grads
As for what draws MBA students to careers in technology, where do we start? Salaries are competitive without even taking into consideration the stock options that can frequently be a part of the deal. Salaries at Amazon can range from $154,000 for a program manager to $194,000 for a senior product manager, including signing bonuses. By comparison, the average salary plus signing bonus for MBA grads heading into consulting at the MBB is $175,000; for those heading into investment banking, starting salaries range from $115,000 to $175,000.
At the same time, many tech firms—even those that have grown as huge and, dare we say, corporate as many traditional corporate firms—still hold firmly to their startup ethos in everything from casual dress codes to unlimited time off (provided you get your work done) to time to work on passion projects built into the work day. Career paths are less rigid and innovation more embraced than at the consulting giants and big banks. Oh, and in case you hadn't heard, technology is the future… Who isn't at least a little bit curious about the cutting-edge fields of AI (artificial intelligence), IoT (Internet of Things), or VR (virtual reality)?
In this converging world, as tech companies must increasingly operate like traditional companies and vice versa, business schools recognize that being able to train their students for success in tech is no longer a "nice to have," but a "need to have." Business schools that don't offer their students the opportunity to specialize in technology, that haven't launched programs in data analytics, that don't tout their relationships with recruiters like Amazon, Google, and Apple—they are now the vast minority.
Not surprisingly, many of the schools that are best at preparing MBA students for successful careers in tech are the ones who got an early start doing so. But make no mistake—there are also relative newcomers to the field who have rolled out innovative programs and offerings that are well worth considering, too. In this piece, we've highlighted a handful of the leading MBA programs that send more of their grads into technology than any other fields. And in a subsequent piece, we'll look at a few other programs—hip to the tech revolution taking MBA hiring by storm—who have made some pretty significant bets on tech in recent years with new programs, campuses, faculty, employer relations investments, and more.
Read on for our line-up of business schools sending more of their MBA classes into tech than any other industry.
Business Schools Sending the Largest Percentage of Their MBA Classes Into Technology
University of Washington's Foster School of Business
While UW's Foster School of Business may not appear quite as high as some of the other business schools on this list in traditional rankings of MBA programs, it trumps all others in terms of the percent of students it sends into careers in technology. An astounding 60 percent of MBA graduates in the Class of 2018 took jobs in tech. Consulting was a distant second at 16 percent, and just 5 percent of the class headed into financial services, the third most popular industry.

Foster's Seattle location is obviously an asset—spitting distance from Amazon and Microsoft headquarters, as well as an ever-increasing number of new tech startups. The school also places a premium on experiential learning, no doubt taking advantage of the Seattle tech scene to place students with companies for real-world experience.
The school's Information Systems and Operations Management Department claims 20 professors, six lecturers, and four professors emeritus whose areas of expertise include big data, data mining, and data analytics, as well as e-commerce, information security and assurance, machine learning, and social network analytics, among many others. The school also offers a wide range of elective courses tailored to its students' tech interests, ranging from "Software Entrepreneurship" and "Technology Commercialization" to "Web 2.0 & the New Economy" and "Marketing High-Technology Products & Services."
In terms of extracurriculars, the Foster Tech Club gathers together Foster students focused on careers in technology. Its mission is to leverage the local tech community, students with prior experience in tech, and the larger UW community to help expand tech-related educational and networking opportunities for the club's members. The club helps organize company visits, including recent visits to Tableau Software, Zillow, and Amazon's Seattle headquarters, as well as guest speakers and networking dinners. It also organizes an annual Tech Trek to the San Francisco Bay Area. Last year's trek included visits for the entire group to TripIt, IDEO, RocketFuel, Google, and Facebook, as well as smaller group visits to Zynga, Pinterest, and Apple and Autodesk, Salesforce, and Zignal Laboratories.
Recent Foster grads have gone on to work at employers ranging from Amazon to Zynga with another 25 in between—including Facebook and Google, Dell, Microsoft, and IBM. Of the more than half of the class that took jobs in tech, the average starting salary was $119,308.
Stanford Graduate School of Business
Stanford Graduate School of Business (GSB) lands in second for tech placement, as it sent 33 percent of its Class of 2018 into the technology industry. That outdistanced the 31 percent who went into finance and was nearly double the 18 percent who went into consulting. Like Haas, Stanford surely benefits from its proximity to Silicon Valley—both in terms of having a wealth of tech recruiters within arm's reach and being able to draw executives from those same companies to serve as guest speakers and lecturers, student project advisors, and more. Experiential learning opportunities in the tech industry also abound for Stanford MBA students.
Of course, the Stanford GSB faculty is nothing to sneeze at either. More than 20 faculty members make up the Operations, Information & Technology department, including leading experts in areas ranging from product design and manufacturing processes to information systems, homeland security systems to social networks. One such professor, Haim Mendelson, is known for his "Organizational IQ" concept, which quantifies an organization's ability to quickly and effectively use information to make decisions.

Stanford also offers students the opportunity to pursue a dual degree of significant relevance to students interested in careers in tech. Its joint MS in Computer Science/MBA degree links two of the university's world-class programs and helps students develop a unique skill set ideal for becoming a manager and/or entrepreneur for new technology ventures. The program includes a year of courses at each the GSB and in the Computer Science department followed by a third year of elective courses in both programs and enables students to shave off one to two semesters it would take to complete both degrees separately.
The GSB is also home to multiple centers and research initiatives, many of which study issues central to the technology industry. The Value Chain Innovation Initiative, for one, focuses on the intersection of technology, sustainability, and trade and the role that intersection plays in business innovation.
And by virtue of being part of the larger Stanford University ecosystem, Stanford MBA students can also take advantage of several other centers of research, such as the Stanford Artificial Intelligence Lab, where some of the world's most brilliant students and faculty are hard at work building smart algorithms that enable computers and robots to see and think.
Student clubs, of course, round out the offerings for Stanford MBA students hoping to land careers in technology. The Tech Club offers members opportunities to share tech fundamentals and trends with each other, access employment resources, and network with tech leaders. Another club, the Product Design and Manufacturing Club, gives students who appreciate the importance of creation opportunities to learn more about how designers and inventors create everyday products that make life easier.
So where do Stanford MBA grads work in tech? Stanford is pretty cagey in terms of what it reveals about who its recruiters are. It simply notes in its employment report that 421 firms hired Stanford MBAs for summer internships or full-time positions in 2017-2018.  We do know that the mean salary for students in the Class of 2018 who took jobs in tech was $135,643 and the mean signing bonus was $31,744.
CMU's Tepper School of Business
Carnegie Mellon University's Tepper School of Business is right on the heels of Stanford's tech placement. The school sent a little under a third of its Class of 2018 graduates to work in the technology industry—32.4 percent—though we should note that's a bit of a downturn from the whopping 38.24 percent of the Class of 2015 who went into tech. Consulting, the second-most popular industry for Tepper grads, draws just 23 percent. These stats may not come as a surprise to those acquainted with Tepper, which has a long history of churning out quant wizzes with tech prowess. Even so, it represents significant growth even for the traditionally tech-focused school. As recently as 2011, Tepper sent just 20 percent of its grads into tech.
There are several aspects of the Tepper MBA program that set students up for success in the technology field. For starters, any Tepper MBA student can choose to pursue a specialization in business technology, which combines technical and managerial coursework with experiential learning opportunities. The 11 faculty members who teach in the Business Technologies Department boast an array of research and expertise between them, from big data and IT management to e-business and the economics of information systems. There were no fewer than 12 technology courses on offer this semester, from "Modern Data Management" and "Digital Marketing and Social Media Strategy" to "The Art and Science of Prediction" and "Big Data."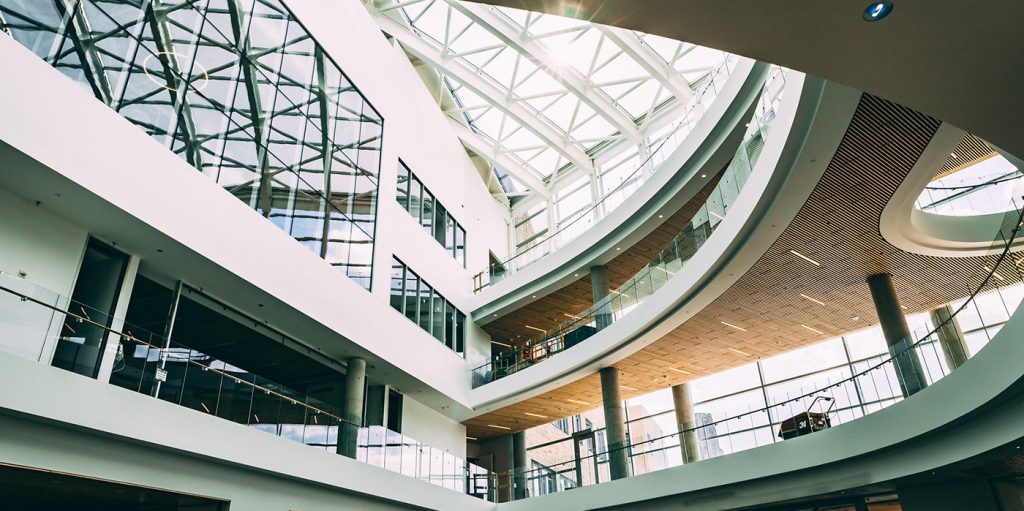 Students who come into Tepper with a technology background can also pursue the school's Technology Strategy and Product Management MBA Track, a joint partnership between the Tepper School and Carnegie Mellon's top-ranked School of Computer Science. One of the most popular offerings in the MBA program, the Technology Strategy and Product Management MBA Track trains students in the specific strategic and management issues facing companies developing cutting-edge software technologies. This serves to prepare them for success in senior technology roles ranging from product manager to CTO, CIO, or CEO. To enroll in this MBA track, students must have an undergraduate degree in computer science, computer engineering, management information systems or comparable work experience to ensure that they can keep pace in the School of Computer Science's rigorous, technical classes.
Finally, Tepper also offers a three-year, dual-degree MBA/Master of Software Engineering program, also in partnership with the School of Computer Science. Designed for "exceptionally strong candidates who have engineering and science backgrounds or appropriate experience," this program equips MBA students with the advanced engineering skills they need to advance to the most senior technology strategist roles.
Beyond academics, Tepper also features several student clubs that help prepare students for tech careers. The Business and Technology Club (B&T) is one of the largest groups on campus and serves as a hub for recruiting, case competitions, treks, and other events with technology and e-commerce companies at Tepper. Each year, the B&T Club helps sponsor the Tepper Tech Innovation Challenge—a case competition built around applying business techniques to the development of emerging technology products—as well as numerous networking events drawing representatives from some of the most innovative tech companies in the world.
Recent Tepper grads headed off to work for top tech firms including Amazon, Apple, Cisco, Expedia, and Google, reporting a mean starting salary of $121,448.
UC Berkeley's Haas School of Business

The proximity of the UC Berkeley Haas School of Business to the tech industry's Silicon Valley seat—coupled with its focus on innovation—makes it a front-runner in terms of grooming grads for technology careers. Haas sent 31.7 percent of the Class of 2018 into tech jobs, though that figure was down from 36.9 percent in 2017. Here, too, consulting was a distant second, drawing just 24 percent of the class (down from 26.2 percent last year).
Unlike peer business schools, which send students on Silicon Valley treks to explore tech firms, Haas dispatches its students in 15-week stints to help those very companies tackle real business challenges. As part of the Haas@Work Applied Innovation project course, student teams have worked on site for clients including Cisco, Hewlett-Packard, PayPal, SAP, and Yahoo, to name just a few.
As part of a second experiential learning program, Cleantech to Market (C2M), Haas MBA students join teams comprised of graduate students from across Berkeley's many schools to commercialize promising cleantech inventions selected from leading universities, the Lawrence Berkeley National Laboratory and other Department of Energy labs, as well as existing startups.

In addition to these unique programs, Haas students can also select technology as an area of emphasis, choosing from a wide assortment of courses including everything from high-tech marketing management to the signature Lean LaunchPad methodology pioneered by Haas Lecturer Steve Blank. And in 2015 the school launched a partnership with Accenture to develop a curriculum around big data.
With so many major tech firms within a stone's throw, Haas also easily draws industry experts to campus for its speaker series, whose fall 2018 lineup included top executives from Unity Technologies and Medici Ventures, prominent industry leaders. Nearby industry leaders also serve as guest lecturers and project advisors. And recent Haas Executive Fellows include Twitter's Biz Stone; John Hanke, whose startup, Keyhole, became the foundation for Google Earth and who now heads Niantic, creators of Pokémon Go; and the aforementioned Guy Kawasaki, former Apple evangelist and now chief evangelist of Canva.
Student clubs complement the rich technology curriculum, providing valuable networking opportunities; organizing events, conferences, and workshops; and preparing students for tech career searches. They include the Haas Technology Club, the Digital Media and Entertainment Club (DMEC), the Haas Innovation Design Club, and the Berkeley Entrepreneurs Association.
As for where recent Haas grads have gone to work, almost half of the 14 firms listed as top employers—a designation given to those hiring three or more grads—were tech firms. They included Adobe, Amazon, Tesla, and Google. The mean starting salary for the most recent crop of graduates going into technology was $132,784 with a mean signing bonus of $35,337 on top of that.
UCLA Anderson School of Management
Back in the top five this year is UCLA Anderson School of Management, which saw 30.1 percent of its Class of 2018 graduates into the industry.  They just edged out UT Austin McCombs, which placed 30 percent in tech, this year.
Anderson is home to the Easton Technology Management Center, an institute devoted to "developing leaders who shape the future of technology." Easton offers technology courses and field studies; hosts conferences, workshops, and lectures; and supports technology-related research. Anderson students can also choose to pursue a specialization in technology leadership, taking electives that include technology management, intellectual property, and new product development.

There are 15 faculty members in the school's Decisions, Operations and Technology Management (DOTM) area, and their areas of research focus include technology management, high-tech marketing, computer science applications, and new product and service design. DOTM faculty teach two technology-related core MBA courses—Data and Decisions and Operations Technology Management—and more than a dozen related electives. Students can also opt for several more highly specialized courses.
Beyond the classroom, the student-led Anderson Tech Business Association organizes Tech Treks, a career night, and a case competition, as well as multiple conferences and workshops. Anderson's combination of technology coursework, experienced faculty, and student activities helped Class of 2018 graduates land jobs at companies including Amazon, Cisco, Intel, Adobe, Google, and Microsoft. The median starting salary for Class of 2017 grads heading into tech was $123,000, with 80 percent receiving additional signing bonuses and 76 percent gaining stock and equity options.
UT Austin's McCombs School of Business

With 30 percent of its MBA Class of 2018 headed into tech, UT Austin's McCombs School of Business maintains its strength in industry placement. This success represents a near doubling since 2015, when just 17 percent went into tech. Trailing technology for '18 grads was consulting, drawing 20 percent of the class, followed by financial services at 17 percent.
Just as Foster's Seattle location is a strength—and Silicon Valley is a boon for Haas and Stanford—McCombs proximity to the strong entrepreneurship culture in Austin also helps drives the school's success in tech. Of course, the school also works actively to strengthen its alumni network in both the Bay Area and Seattle as well. For the past 10 years the school has led treks to both technology hubs. Past trips to Seattle have included visits to Amazon, Microsoft, Starbucks, and T-Mobile. The Bay Area trip took students to Facebook/Oculus, Oracle, Salesforce, Adobe, Twilio, SoFi, Flex, HPE, and Google. There were also additional micro treks focused on gaming companies and clean tech, with smaller groups of just 10 to 15 students visiting Zynga, Electronic Arts, and TinyCo and PG&E, Nest, and Bloom Energy, respectively.

And like Wharton, McCombs also notes that a full third of its students come from a technology background. When they get to McCombs, MBA students find plenty of resources to support their study of technology—whether it's a continuation of prior work and experience or a completely new endeavor. In terms of faculty, the Information, Risk & Operations Management (IROM) department at McCombs counts at least 50 professors, associate professors, assistant professors, and lectures, as well as additional professors emeritus. The Information Management program within the IROM Department is ranked third in the nation by U.S. News and fifth by the Wall Street Journal.
McCombs is also home to multiple centers focused on different aspects of technology. Among them are the Center for Business, Technology, and Law, which examines problems arising at the intersection between managerial decision making and legal or regulatory constraints, and the Center for Research in Electronic Commerce, which supports innovative research into how computer and communications technologies can most effectively be developed, used, and managed by today's organizations.
Student clubs, meanwhile, offer plenty of opportunities for students to come together, apply what they've learned, share recruiting experiences, and more. Student clubs at McCombs of particular interest to those seeking a post-MBA career in tech include the Graduate Business Technology Group and the CleanTech Group.
Like Stanford, McCombs doesn't reveal a great deal of detail in terms of which recruiters hire McCombs students each year. It publishes a "recent sample of top employers," on which companies like Adobe, Amazon, Apple, Dell, Hewlett-Packard, Intel, Microsoft, and Symantec all are listed.  The mean salary for McCombs students headed into tech from the Class of 2018 was $119,003. Mean starting bonus information was not broken out for tech specifically, but the mean starting bonus for the class as a whole was $29,929.
More Business Schools You Shouldn't Overlook for a Tech Career
Though they are sending a smaller percentage of their graduates to work at leading tech firms than the six schools featured above, the following schools are either not far behind or quickly gaining on training the next generation of tech leaders.
University of Michigan's Ross School of Business
At the University of Michigan's Ross School of Business, over one in four graduates—27.1 percent—in the Class of 2018 headed into the technology industry, and Amazon hired 44 full-time MBA graduates and 31 summer interns to become the largest recruiter for both classes. This is a marked increase from the already impressive stats from the Class of 2017, which saw one in five graduates (20.7 percent) pursue technology as a career post-MBA.  While second to their consulting placement, it still sets an all-time high in tech recruiting at Ross, the school reported.
There are around 40 faculty members in the school's Technology and Operations department, including professors, associate professors, lecturers and assistant professors.  There are four Technology and Operations related core MBA courses and 28 related electives.  Some notable tech electives include, "Big Data Management: Tools and Techniques," "New Product and Innovation Management," and "FinTech: Blockchain, Cryptocurrencies, and Other Technology Innovations."  Students can also add a Data and Business Analytics concentration to their MBA, which includes courses such as "Artificial Intelligence for Business" and "Mobile Innovation Development."


Beyond academics, Ross also features several student clubs and travel opportunities that help prepare students for tech careers. The Tech Club is one of the largest groups on campus with over 400 active members and 50 events each year.  The club promotes education on the latest trends, strengthens one's network of tech-focused people and provides support for career searches and more. There is also the more specialized Data Insights and Analytics Group, through which interested students can partake in consulting projects involving data science. Meanwhile, the student-led conference, the West Coast Forum, is coming up on its 25th iteration, and features alumni panels, industry roundtables and networking events. It is known as the biggest career event outside of Ross and, as it takes place in the Bay Area, provides ample connections to local companies as well as Ross tech alumni.  Students may also partake in a trek to the Bay Area and Seattle during Professional Development Week.  During these visits, Ross students meet with firms and target employers, which have recently included Facebook, Google, Uber, Tesla, Microsoft, Boeing and more. Back on campus, the Technology and Business Innovation Forum provides a platform to dig into research regarding how tech and business can integrate. Ross' hallmark Multidisciplinary Action Project (MAP), a six-week, real-world, consulting project, can also be geared towards tech.  Ross students have advised the likes of Facebook, Expedia and Nvidia on different tech-related strategies.
The mean starting salary for those from the Class of 2018 entering the technology field was $125,134 while the reported salaries ranged from $73,000 to $158,000.  The Class also saw a median signing bonus of $40,000.
MIT Sloan School of Management

With technology in its very name, you would imagine that the Massachusetts Institute of Technology (MIT)'s Sloan School of Management should have a place on our list. Indeed, it was one of our top five in 2016, but it sent relatively fewer graduates from the Class of 2018 into the tech industry—26.3 percent—almost exactly even with 26.2 percent the year before.
But MIT Sloan still deserves consideration by anyone thinking of a career in tech for a whole host of reasons. For starters, though not quite the mecca of tech opportunities that Silicon Valley is, the Boston-Cambridge area is respectable runner up—home to a growing network of entrepreneurs and tons of startup incubators and accelerators.


Sloan also shares a campus with one of the best engineering schools in the world, giving its students ample opportunity to augment Sloan courses with deeper dives into computer science. And in November 2017, it launched a Business Analytics Certificate program "in response to skyrocketing demand from students and employers for rigorous academic content focused on data science," the school announced. Open to students in all MIT masters-level programs—including its MBA, Executive MBA (EMBA), Master of Finance (MFin), and Sloan Fellows programs—the new certificate program prepares students for career paths in data science and business analytics in the tech industry and countless others. Participants can choose from a wide range of electives designed to help them learn and practice using analytics techniques in operations, finance, marketing, human capital, healthcare, and sustainability.
"Every industry is waking up to the power of analytics, and companies need people who can use business data to make decisions and predictions that will bring value to their organizations," Georgia Perakis, MIT Sloan professor of management, said in a release announcing the business analytics certificate program. "Employers, such as Amazon, McKinsey, the Boston Consulting Group, and IBM Watson, among many others, are very interested in hiring our students for data science roles."
The new certificate program complements a Master of Business Analytics (MBAn) degree at Sloan, which has quickly become the school's most competitive degree. Applications more than doubled in the program's first year—from 300 to 800—resulting in an admissions rate of less than 4 percent, the school reports.
Adding these programs to its portfolio certainly stands to further enhance the reputation of MIT Sloan among leading tech recruiters. The STEM-inclined applicants the school attracts doesn't hurt, either. A staggering 41 percent of the Class of 2018 majored in engineering, science, or math in college.
Students in the MBA program can also choose to take part in an Entrepreneurship & Innovation (E&I) Track. Every student in E&I starts out in a course called "Introduction to Technological Innovation," designed to provide foundational knowledge needed for creating and building successful startups—whether tech-based or not. Electives offered within the track run the gamut from basic technology management to "Funding Strategies for Startups" and the "Managing in Adversity."
Each spring, students in the E&I Track head off on a Silicon Valley Study Tour (SVST), which takes them to the Bay Area to visit a range of firms in the life sciences, medical technology, software, information technology, advanced materials, and new energy fields. Those who successfully complete all their MBA coursework as well as the requirements for E&I receive a Certificate in Entrepreneurship & Innovation.
In addition to the MBAn program and certificate programs allowing MBA students to further specialize in technology, Sloan also features a dual-degree program called the System Design and Management (SDM) program. Offered in partnership with the MIT School of Engineering, the SDM program gives students who want it even greater technical depth to complement a breadth of management and leadership skills.
Outside of the classroom, Sloan offers tech-focused students a wide assortment of opportunities through its Data Analytics Club, Entrepreneurship & Innovation Club, FinTech Club, Coders Club and Technology Club. These groups provide career preparation, networking opportunities, conferences and workshops.
There is also an annual MIT $100K Entrepreneurship Competition, which has given rise to a bevy of successful tech-focused companies, including content network service provider Akamai; Brontes Technologies, which provides proprietary 3-D intraoral imaging technology; e-business solution provider C-Bridge Internet Solutions; and Silicon Spice, a telecommunications chip maker acquired by Broadcom for $1.2 billion.
With so many ways to hone technical skills, it's not surprising the big tech firms come calling on Sloan's Cambridge campus. Top hirers for the Class of 2018 included Amazon, which snapped up 27 Sloanies, Google, which hired 10, and Microsoft, which took five. The median starting salary for Sloan graduates heading into the tech industry was $130,000.
Kellogg School of Management
Northwestern's Kellogg School of Management has firmly secured a spot as a school to watch in terms of growing tech hiring. With the Class of 2018, the percentage of students heading into technology jumped to a record high of 28 percent, up from 25 percent in 2017.
Amazon hired 21 Kellogg grads, making it the fourth largest recruiter in 201, behind only McKinsey, Bain & Company, and Boston Consulting Group (BCG). But Amazon was far from the only tech firm to hire at the school. According to Liza Kirkpatrick, senior director of the full-time MBA program at Kellogg's Career Management Center, more than 64 unique tech employers hired Kellogg students this past year in a range of functions, including product management, sales, marketing, business operations, supply chain, product development, and others.


Multiple factors have contributed to Kellogg's gains in tech hiring, including tech firms' increasing recognition of the value of the MBA skill set, more students coming into Kellogg with tech backgrounds, and efforts on the part of the Kellogg Career Management Center team to develop relationships with tech firms. As a school, Kellogg has also placed more of an emphasis on students visiting and networking with West Coast tech firms.
As far as curriculum is concerned, the Program on Data Analytics at Kellogg (PDAK) features a range of foundational, competitive advantage, deep dive, and experiential courses. Taken together, these courses comprise Kellogg's data analytics "pathway," an integrated, cross-functional sequence of courses designed to address student and recruiter demand for data analytics fluency. Kellogg also features a range of faculty experts in the area of technology information management, including specialists in blockchain, information technology, information systems, and technology infrastructure. The school is also home to the Center for Research in Technology and Innovation, which provides education, advisory, and advocacy services and initiatives related to technology and innovation.
Advances in Technology Hiring, Curricular Offerings at Other Schools
Though trailing the aforementioned schools in terms of the percentage of graduates pursuing post-MBA careers in technology, the University of Virginia's Darden School of Business also warrants mention here.
UVA's Darden School of Business sent 18 percent of its 2018 MBA grads into tech and 21 percent of its Class of 2019 students into internships at technology firms, representing a steady increase in recent years. In early 2017, Darden announced the launch of a new MBA+MSDS dual-degree program, which grants a Master of Data Science degree from UVA's Data Science Institute and an MBA from Darden in 24 months. The program welcomed a pilot cohort in the summer of 2017, and Darden is currently accepting applications for its next class of the full program, which officially launched in 2018.
Finally, NYU Stern School of Business and Cornell's S.C. Johnson Graduate School of Management are also worth considering when targeting future careers in tech. The tech industry drew 16.5 of 2018 grads from Stern. At Johnson, 18 percent of 2018 grads headed into technology. Both schools also have placed considerable focus on preparing their graduates for careers in tech through the launch of new programs and, in Cornell's case, a Cornell Tech campus in New York City that opened in 2014 and has since become a thriving New York tech hub, capped off with the official opening of its new campus in September 2017.
Amazon hired more Stern graduates in the Class of 2018 than any other company, meaning once again a technology company topped its list of leading employers. Since 2011, technology placements have more than doubled, though has recently stayed steady in the last couple of years. Stern also announced the launch of a new specialized one-year Tech MBA program in Spring 2017, and enrolled its inaugural class in May 2018.
And in September 2017, Cornell opened its stunning new Cornell Tech campus on New York's Roosevelt Island, which serves as the permanent home of the one-year Cornell Tech MBA program that launched in 2014. The new campus also benefits students in the Ithaca-based two-year MBA program, who can take part virtually in classes in New York via technologically linked classrooms, attend weekend workshops, or opt to spend a semester or their entire second year at Cornell Tech. And for those who choose to remain in Ithaca for both years, students can consider one of the school's signature series of Immersions—intense, hands-on semesters in a specific industry or career interest designed to help prepare students for their summer internships— the Digital Tech Immersion.
As technology firms increasingly recognize the value of the MBA skill set within their organizations—and business school students increasingly are drawn to the expanding opportunities in the industry—more leading schools are also likely to expand curricular offerings that combine data science expertise with foundational graduate management education.