Kelley School of Business – Indiana University

Indiana University's Kelley School of Business offers a full-time MBA and an online MBA degree program from its Bloomington campus as well as an Evening MBA and Business of Medicine MBA from its Indianapolis campus. With academic, leadership, and career development opportunities, the Kelley MBA uses a variety of components to educate its students.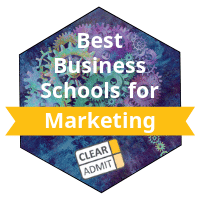 ---
Learn More
---
Indiana Kelley Full-Time MBA
Interested in learning more about the top-ranked Kelley School of Business Full-Time MBA? Complete this form and someone from the Kelley admissions team will reach out shortly.
FAQ
What is the tuition for Kelley's MBA program?
The tuition for Kelley's MBA program is $28,992 for Indiana residents and $54,602 for non-residents per year. The total cost of the Kelley MBA program is $81,386 per year for non-residents; this includes budgeted living expenses.
What is the average GMAT score for admission to Kelley's MBA program?
The average GMAT score for the incoming class at Kelley is 685.
Does the Kelley MBA program accept the GRE?
Yes. The Kelley MBA program has accepted the GRE for a few years now. The average GRE score was 322 for the latest incoming class.
What is the minimum number of years of work experience required for admission to Kelley's MBA program?
Kelley does not state a minimum requirement for years of work experience. However, it is important for candidates to be aware that they are being considered against other candidates with an average of 6.4 years of experience.
What is the average number of years of work experience for admission to Kelley's MBA program? (or, What is the average age of a Kelley MBA student?)
The average number of years of work experience among students in Kelley's MBA program is 6.4. On average, Kelley students are 30 years old.
How long is Kelley's full-time MBA program?
Kelley offers a traditional 2 year MBA program.
What are the application deadlines for the Kelley full-time MBA program?
The Round 1 MBA application deadline is October 15, 2023. The Round 2 application deadline is January 5, 2024. The Round 3 deadline is March 1, 2024. The Round 4 deadline is April 15, 2024.
What percent of Kelley MBA students are women?
The percentage of the class at Kelley that are women is 38%.
Videos
My Kelley Legacy Awa Diaw, MBA'18
Kelley Full-Time MBA student Awa Diaw shares how she's creating a positive legacy at the Kelley School of Business.
Kelley School of Business MBA Graduation
Congrats to our Kelley MBA graduates! We're proud of your hard work and determination and can't wait to see all you accomplish in the business world.
Admissions
The Class Profile
The 96 members of the Class of 2025 have an average age of 30 and an average of 6.4 years of work experience. Women comprise 38% of the class and 58% are international students. Twenty-one percent identify as minorities. During their undergraduate years, the group averaged a 3.40 GPA. Thirty-five percent had earned undergraduate degrees in business administration. Twenty-four percent majored in social sciences and humanities, while another 33% pursued science and engineering. When it came time to take the GMAT, the new Kelley MBA students averaged a score of 685.
Application Procedures
The Kelley School's application requirements include the following: transcripts verifying an undergraduate degree, a current résumé, an essay, and a letter of recommendation. While Kelley does typically require a GMAT or GRE score, applicants with strong academic achievement in prior undergraduate and graduate degree programs, a CPA or CFA certification (or their international equivalents) may submit a waiver request. International applicants may be expected to submit TOEFL or IELTS results, if their native language is not English. Applicants can apply in one of four rounds, which typically fall in October, January, March, and April. Interviews are initiated by invitation only. 
Application Checklist
Online Application
Essays
One Letter of Recommendation
Résumé
Official Academic Records
GMAT or GRE Score
TOEFL/IELTS Scores (if applicable)
$75 application fee
Essay Topic Analysis
Need help with your essays? Get our experts' advice.
Recommendation Questions
Find out what top MBA programs ask recommenders.
Indiana / Kelley LiveWire and DecisionWire
Academics
Faculty
Across its Bloomington and Indianapolis campuses, the Kelley School of Business has 329 faculty members, more than half of whom are tenure track. Over three quarters of the faculty holds a PhD, JD, or EdD terminal degree. The faculty is known for their research, as they have published hundreds of journal articles and books in the span of only a couple of years.
Curriculum
The full-time MBA at Kelley takes two years to complete. The Kelley MBA begins with Me, Inc., a two-week program in teambuilding and career development. The first semester consists of the integrated core courses, which helps students understand business fundamentals over the course of 15 weeks. Courses cover topics such as economic foundations and quantitative analysis.
First-year MBA students choose a career foundations Academy to gain additional access to specific activities, consulting projects, career coaches, networking, company visits, and mentorship opportunities related to their chosen field. First-year MBA students may choose from the following Academies: Business Marketing, Capital Markets, Consulting, Consumer Marketing, Strategic Finance, and Supply Chain and Digital Enterprise.  There is also the industry exploration Academies – the PLUS Life Sciences Academy and the new High Tech Academy. The specialized PLUS Life Sciences Academy offers students additional training in the health care and pharmaceuticals fields. In the High Tech Academy, students learn about and prepare for tech-related business roles.  Second-year students can also take the optional Entrepreneurial Innovation Academy and the Leadership Academy.
In addition, students choose one of seven majors, or they can design a specialized one. The standard majors include business analytics, entrepreneurship and corporate innovation, finance, management, marketing, strategic analysis of accounting information, and supply chain and operations. Majors require 15 credit hours. Minors, which require six additional credit hours, are also offered.
Kelley MBA students may also earn certificates in social entrepreneurship, global business achievement, and product management. The social entrepreneurship program consists of 18 credit hours, and is offered in conjunction with the O'Neill School of Public and Environmental Affairs at IU. Meanwhile, the global business achievement certificate requires three hours of specialized coursework, a global experience component (e.g., a study abroad program), and a language and culture opportunity (e.g., a foreign language course).  The project management certificate consists of 15 credit hours and prepares students for careers at the intersection of technology, business, and design.
Other MBA Degree Options
In Bloomington, the Kelley School of Business offers a full-time MBA program as well as an online MBA option. The Online MBA covers topics from business law and ethics to project management, and it requires 54 credit hours to complete. It can be completed in two years by taking two to three courses each quarter, although students may take up to four years to complete the program.
In Indianapolis, the Evening MBA program is offered, along with the Business of Medicine MBA. The Evening MBA program, which can be completed in two years, uses a cohort class and a flexible structure to help students succeed in the program. Five majors—finance, general administration, management and entrepreneurship, marketing, and supply chain management—are also offered. 
Lastly, the Business of Medicine MBA is a physician-only MBA. The two-year program blends online and on-campus learning to accommodate busy schedules.
Majors at Kelley
Business Analytics
Entrepreneurship and Corporate Innovation
Finance
Management
Marketing
Strategic Analysis of Accounting
Supply Chain and Operations
Degree Offerings At Kelley
Full-time MBA Program
https://kelley.iu.edu/programs/full-time-mba
Online MBA Program
https://kelley.iu.edu/programs/online/index.cshtml
Evening MBA Program
https://kelley.iupui.edu/programs/evening-mba/
Business of Medicine MBA Program
https://kelley.iupui.edu/programs/physician-mba/index.html
Campus Life
Clubs, Conferences, & Competitions
At the Kelley School, MBA students have the choice of almost 30 clubs to join and may launch a new club if so interested. The student-led organizations address everything from cultural affinity (e.g., the Black MBA Association, the Jewish Association of MBAs) to professional skills (e.g., the Consulting Club, the Investment Club). Clubs for extracurricular activities, including soccer and golf, are also available. There is also a Toastmasters association and the Partners' Club for MBA students' significant others.
Conferences are also offered regularly, though some may be suspended due to COVID-19. For instance, the Institute for Business Analytics offers annual conferences such as the Kelley Analytics Conference. In addition, the Center for the Business of Life Sciences presents the annual Indiana Life Sciences Collaboration Conference Series, which brings together representatives from the healthcare and life sciences fields.
Case competitions also make up a crucial component of the Kelley MBA experience. These competitions allow Kelley MBAs to hone their presentation skills, network with peers from other universities, and showcase their knowledge in front of corporate recruiters. By participating in these national case competitions, such as the Elite Eight Brand Management Case Challenge, Kelley MBA students can further develop their business knowledge and experience.
Campus Spaces
The Kelley School offers academic programs on Indiana University's core campuses—the scenic flagship campus in Bloomington, which enrolls almost 50,000 students, and the urban IUPUI campus in Indianapolis, where almost 30,000 students are enrolled. The Full-Time MBA Program is located on the Bloomington campus, which attracts students from all over the US and more than 40 countries.Here, the Kelley School is comprised of three buildings, including a new career services center, located at the center of campus. Kelley at IUPUI offers the Evening MBA program and the Business of Medicine MBA
MBA Careers
Career Services
The Kelley School's Graduate Career Services helps students develop the skills needed to pursue their desired careers. Students can get help with networking, interview tips, and job selection. Individualized coaching is also available. Furthermore, over 300 companies recruit from the Kelley School, and the top MBA hiring companies include: Amazon, Conagra, Deloitte Consulting, EY, Infosys Consulting, Lilly, Microsoft, Nestlé, Procter & Gamble and PwC.
Career Statistics
The Kelley MBA Class of 2021 started their post-MBA careers with a median base salary of $120,000 and median signing bonus of $30,000. Technology was the most popular industry, as 23% of graduates selected it. Consulting followed at 16%. Fourteen percent of the class pursued positions in healthcare, while 13% selected CPG. Financial services saw 10% of new Kelley graduates and manufacturing and retail each took in 9%.
A significant number of members of the Class of 2021 settled in the Midwest – 41%. The next most popular destination was the Western U.S., which claimed 28% of graduates. Fourteen percent settled in the Northeast, 8% in the Mid-Atlantic, 5% in the South and 3% abroad.
Financing
Tuition
For 2022-2023, the Kelley School's tuition for a full-time MBA is $28,425 for Indiana residents and $53,533 for nonresidents or international students. Over half of the students receive merit aid, which is awarded during the admissions process. Merit awards range from $10,000 to full tuition and are based on an applicant's application strength, GMAT score, and professional accomplishments.
Financial Aid
At the time of admission, all students are automatically considered for merit-based financial aid offered by the Kelley School of Business. Currently, more than 90% of Kelley full-time MBA students receive scholarships or fellowships ranging from approximately $10,000 to full tuition. Dean's Fellowships, the most prestigious award, covers two full years of tuition and are given to students who have demonstrated exceptional academic and professional achievement. Forte Fellowships recognize outstanding women with awards ranging from half to full tuition. Students with a direct connection to Latin America are considered for Global Fellowships, valued at $35,000 per year. Through Kelley's affiliation with Reaching Out MBA, LGBTQ+ candidates can be considered for Reaching Out Fellowships. Kelley Merit Fellowships, with awards ranging from $10,000 to full tuition, are provided to candidates who have demonstrated strong academic and professional achievement. Through Kelley's affiliation with the Consortium for Graduate Study in Management, an organization founded to help reduce the significant underrepresentation of African Americans, Hispanic Americans and Native Americans in business school enrollments and the ranks of management, candidates who demonstrate support of the Consortium's mission can be considered for full-tuition Consortium Fellowships.
Estimated Cost of Attendance (per year)
Tuition:
Residents $28,425
Non-residents $53,533
Mandatory Fees $2,300
Books & Supplies $1,950
Totals:
Residents $32,675
Non-residents $57,783
Contact
Mailing Address:
MBA Program Kelley School of Business
Indiana University 1275 East Tenth Street, Suite 2010
Bloomington, IN 47405-1703
Phone: 800.99.IUMBA (800.994.8622) or 812.855.8006
Fax: 812.855.9039
Email: [email protected]
Twitter: @iukelleymba