Alex Lawrence, an alumnus of the UCLA Anderson School of Management (MBA '99), took the helm as the school's assistant dean of MBA admissions and financial aid in August 2012.
Lawrence knows the school well. Five years after receiving his MBA, he returned to campus in 2004 to serve as executive director of the Riordan Programs, an initiative founded by Los Angeles Mayor Richard Riordan to help high school and undergraduate students attain higher levels of education. In this role, Lawrence developed programs targeting students who are the first in their family to apply to college or seek an MBA. Under his guidance, nearly 70 percent of Riordan MBA Fellows went on to obtain graduate degrees from some of the nation's leading business schools.
In his current role as assistant dean of MBA admissions, Lawrence is focused on assembling the strongest and most diverse incoming MBA classes he can.
We are grateful to Lawrence for his participation in our Q&A series. In the interview that follows, you'll learn about the benefits of Anderson's Southern California location and exactly how the Anderson admissions committee will review your application. Lawrence also shares some valuable advice on approaching essay questions that will be valuable not only as you approach the Anderson application but those of other schools as well.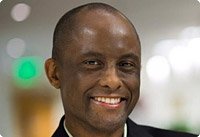 Clear Admit: What is the one area of your program that you wish applicants knew more about?
Alex Lawrence: There are two areas:
UCLA Anderson's Parker Career Management Center is one of the world's best, if not THE best, career services center. It has ranked among the top three centers overall for the past three years according to The Economist's surveys of alumni.
Our location in one of the most vibrant cities in the world is a key strength that may be undervalued. Southern California's diverse economy features almost every major industry and organizations of all sizes, providing students countless opportunities to engage with a variety of companies at many points throughout the MBA program. For career switchers, it is critical to consider whether or not the local business community will provide opportunities to gain the skills, experiences, and network to help them successfully switch careers. At UCLA Anderson, industry experts come into the classroom as guest speakers or lecturers to share their real-world knowledge and advice with students. Many are connected to our professional clubs, which opens up valuable networking and mentorship opportunities. Finally, Los Angeles is a wonderfully eclectic city with varied neighborhoods to explore, and our mild climate with easy access to outdoor activities–from the mountains to the beach–offers a great backdrop to complete MBA studies.
CA:What's the single most exciting development, change, or event happening at UCLA Anderson this coming year?
AL: In 2016, UCLA Anderson changed the starting date for its MBA program to August 1st. This was a significant change from the previous schedule, when incoming students would arrive later in September to begin their studies. The earlier start provides several advantages, including giving students time to explore career options and build skills necessary to secure summer internships. It also provides additional time for students to focus on the fall quarter's courses, which are intense and very quant-heavy.
We expect substantial benefits from the shift. Students will have months instead of weeks to explore careers. The vast majority of students entering an MBA program are changing industries, functions, or both. Learning about new opportunities takes time, and getting our students here on campus, fully engaged, and focused on this next phase of their careers will allow them to make better decisions about what they need to prepare for their summer internships and the all-important summer internship interviews. No longer will they feel like they are months behind the competition at other schools.
CA: Walk us through the life of an application in your office from an operational standpoint. What happens between the time an applicant clicks "submit" and the time the committee offers a final decision (e.g. how many "reads" does it get, how long is each "read," who reads it, does the committee convene to discuss it as a group, etc.)
AL: Once an application is complete, it is sent electronically to an admissions committee member for a thorough review. We have a paperless file evaluation system, which has helped streamline our operations, not to mention save countless trees. Our review is holistic and based on the strength of the entire application. We are seeking individuals who will succeed in managerial leadership and bring unique contributions to UCLA Anderson.
Each file is read by at least two admissions staff members or representatives to consider all factors fairly. No formulaic weighting is applied, since different candidates have different strengths and timelines in academics, focus, leadership, etc.
Applicants who we wish to interview are contacted via email to set up an admissions' interview on-campus, off-campus, or via Skype. It allows us to "get to know" the candidate beyond what was submitted in the application. And in the process, the candidate has an opportunity to learn more about the UCLA Anderson experience. All interviews, regardless of where or how they are conducted, are credited equally.
All of our reviewers have received extensive training, which ensures that they utilize the same evaluation metrics. Post-interview, the application will receive at least one more evaluation, at which time a formal admission recommendation of admit, deny or waitlist will be made. The admissions committee convenes on a weekly basis during application season to ensure proper calibration on all our metrics and to discuss any trends or questions that come up throughout the week.
CA: How does your team approach the essay portion of the application specifically? What are you looking for as you read the essays? Are there common mistakes that applicants should try to avoid? One key thing they should keep in mind as they sit down to write them?
AL: Essays are one of the most important vehicles to add your distinct voice and personality to the MBA application. Being genuine and introspective with focused short-term and long-term post-MBA career plans is important. In addition, we want to admit future students who will carry on our culture of collaboration, active participation both inside and outside the classroom and humble confidence.
Accordingly, the essays are a great place to make a compelling case for fit with our school by highlighting specific aspects of our program that mesh with your own personal and professional goals. In fact, this contributed to our decision a few years ago to change the question posed to applicants to reflect UCLA's three defining principles: Share Success, Think Fearlessly, Drive Change. It's the perfect opportunity to indicate to us whether your professional experience overlaps with our goals.
We continue to require only one essay submission per application, but you are also encouraged to complete an optional essay of no more than 250 words if there are any extenuating circumstances not covered in your required essay question that you feel the admissions committee should be made aware of.
Solid written communication skills are essential in business school, so pay attention not just to content, but also to style and clarity of thought in your essays. Some advice when it comes to writing your application essays:
Answer the question directly. Every school has its own set of essay questions, and the most compelling answers are customized thoroughly. A very vague and generic response does not add value or make one stand out in a highly competitive pool, so make sure your answers are well-researched, thoughtful and concise, tailored to the school and program to which you are applying.
Follow instructions. Every part of the application is a data point, including judgment calls made as part of the admissions process. Blatantly disregarding word counts, font sizes or other instructions can make a negative impression on the admissions committee, so it is important to respect the guidelines set forth in the application instructions as best as you can.
Proofread. We see typos, grammatical errors, even putting the wrong school's name in an admissions essay more often than people think. Taking time to proofread carefully and catch any of these mistakes before hitting the submit button is worth the time investment.
Make it compelling. The best essays come from those who figure out a clear vision for a future that excites them, and they share this excitement with the admissions committee. Doing thorough homework on yourself and on the school is a prerequisite; you must show you understand how to use the MBA as a springboard to your dreams, and how our school in particular can add the leverage that you need.
This post has been republished in its entirety from its original source, metromba.com.