As admissions committees extend invitations for interviews, October's been a very busy month on Clear Admit's MBA LiveWire, prompting us to take a closer look at the data applicants have shared. Recognizing that applicants have been posting results about many different schools, we're nevertheless going to hone in on two for the purposes of this piece: Harvard Business School (HBS) and the University of Chicago Booth School of Business.
Read on to see how the current crop of applicants invited to interview at each of these schools compares to those who were rejected. And those who are curious might also want to take a look at our review of LiveWire data in past seasons to see how this year's applicants stack up to prior years'. (Hint: This year looks more competitive!)
A Sea of Red for Harvard Reports
For those who were invited to interview, reported GPAs on the 4.0 scale ranged from 3.2 to 3.95, with an average of 3.77. The GMAT score range was from 660 to 800, with an average score of 740. For those who got a ding, the GPA range was 2.44 to 4.0, with an average of 3.62, and the GMAT score range was 670 to 780, with an average of 745. Roughly one-third of those who reported their HBS fates via LiveWire shared that they had been invited to interview.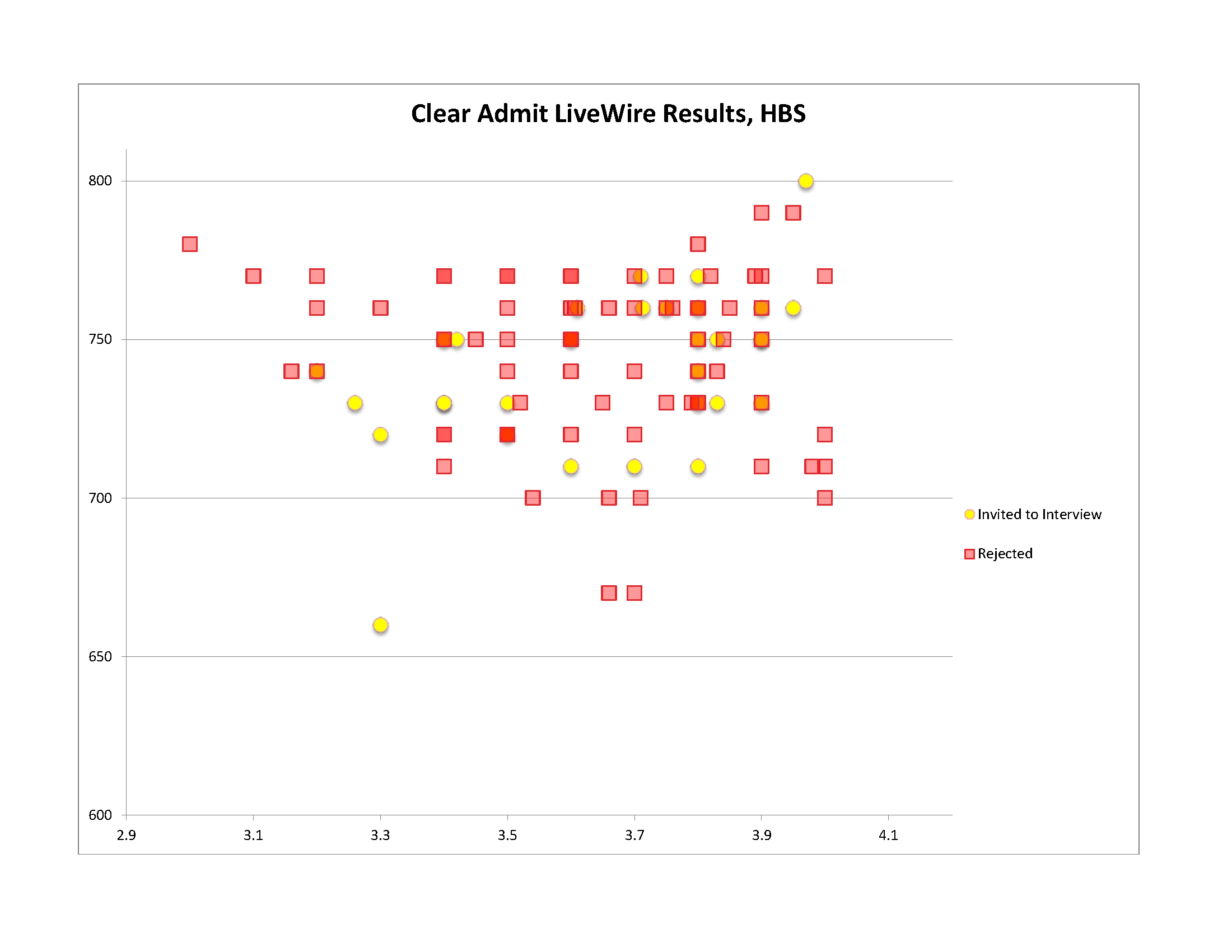 Seeing the numbers laid out in the chart, it's easy to see that most candidates have great stats—so similar that the "rejection" numbers cover the "invited" data points.  This lends to the conclusion that there is more to applying to Harvard than the GMAT and GPA—the difference can be made in the other application elements, and some lucky few will have the chance to tip the scales in their upcoming interviews.
Of course, we should note that our sample size is relatively small and likely subject to some response bias, which is to say that applicants who scored well on the GMAT or had strong GPAs may be more inclined to share their numbers publically (albeit anonymously).
Sunnier Results for Chicago Booth Applicants
At Booth, more candidates got good news—and the spread of test scores and GPAs was wider among that group than among the HBS group invited to interview, as you would expect. At Chicago Booth, reported GPAs for applicants who have received an invitation to interview ranged from 2.8 to 4.0, with an average of 3.59. GMAT scores, meanwhile, fell between 660 and 790, with an average score of 741. For those who got dinged, GPAs ranged from 3.0 to 3.8, averaging 3.47, and GMAT scores ranged from 700 to 760, with an average of 738. (The GPAs reported by some international applicants on other scales were converted to 4.0 scale for the purposes of straightforward comparison.)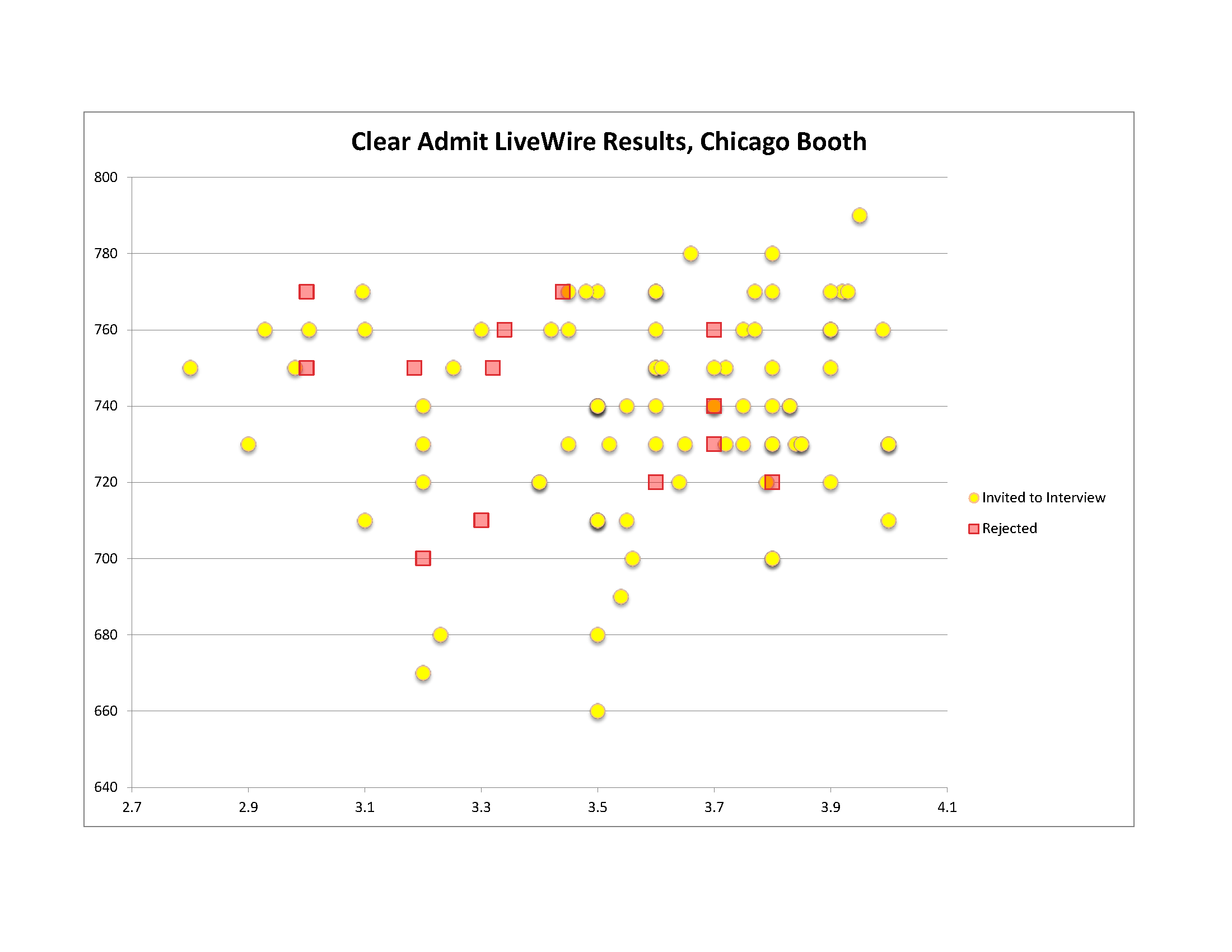 With Chicago Booth data, as with the data regarding HBS applicants, the sample size was small and selection bias may also be at play.
The fact that Chicago Booth invited more applicants to interview than HBS, including more applicants with slightly lower stats, does not necessarily suggest that Chicago Booth is a less selective school. Rather, it represents the two schools' divergent approaches to interviewing. Whereas Chicago Booth historically has interviewed between 40 and 50 percent of applicants, HBS generally opts to reserve meeting in person only roughly 25 percent of those who apply. This could suggest that Chicago Booth gives its applicants greater opportunity to overcome lower scores and grades through the interview process.
Have you received an invitation to interview? Don't forget to prepare with Clear Admit's Interviews Guides for HBS and Chicago Booth, which can help you prepare. Thanks for sharing your results via Clear Admit's LiveWire. Keep 'em coming!