During the Month of Volunteerism at Georgetown University's McDonough School of Business, MBA student volunteers logged more than 710 hours of community service. For the month of November, full-time and evening MBA students divided into their cohorts to engage in a friendly competition to see which cohort could log the most volunteer hours. The winning cohort—FT19 Hoya—logged more than 203 hours with a 63 percent participation rate.
The Month of Volunteerism is a yearly event that takes place each November. During the month, Georgetown McDonough students compete to see who can log the most volunteer hours across nearly 100 different events. The winning cohort receives $1,000 to donate to the charity of their choice.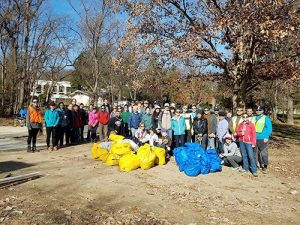 This year, the winning MBA cohort received $200 worth of items to donate to the charity of their choice. They chose the nonprofit Food & Friends, which provides specialized, healthy meals, groceries, and nutrition advice to individuals living with various life-changing illnesses including HIV/AIDS and cancer.
For MBA students, the month of volunteerism was organized with public service activities provided by the MBA Student Government Association (SGA) and the Evening Student Government Association (ESGA). They presented various volunteer opportunities that ranged from consulting projects to sandwich-making and working at soup kitchens.
When talking about the Month of Volunteerism, Chris Musser (MBA '18) said in a news story: "MBA students love efficiency, and they love people. Some view these loves as irreconcilable. We do not. We believe in smart service, where students serve their communities in ways that leverage their specific skills and enhance their business school learning experience."
Volunteering at Georgetown McDonough
Volunteering plays a big role and Georgetown McDonough. In fact, the MBA curriculum includes "Service to Others" as part of the coursework. It begins with MBA Orientation, where students participate in Service Day, conducting volunteer projects in the local D.C. community. And it continues throughout the MBA program with course options such as the Consulting Clinic, where students are matched with consulting projects at local small businesses and nonprofits.
Other volunteer opportunities for MBA students at Georgetown McDonough include:
Clubs: MBA students can participate in the MBA Volunteers or Net Impact student organizations to quickly and easily get involved in the community.
Service Treks: MBA students have the opportunity to give back in D.C. and around the world with treks to places such as Guanajuato, Mexico, where students helped at a daycare center for orphans and children of single mothers.