In light of Valentine's Day, we're taking a look at applying for an MBA together as a couple. For career-minded couples, it sometimes happens that an MBA makes sense for both partners, often at the same time. And because attending the best business school in one's field can often mean relocating, it's natural to want to attend the same program as your love. But how do you navigate this in the admissions process? 
Applying for an MBA as a couple may come with its challenges – including compromising if you aren't both admitted to your shared first choice school – but it's definitely a realistic possibility. In fact, last spring we featured a couple in just this situation during a special interview on a Clear Admit podcast episode of Wire Taps. You can hear about their application and decision-making processes here: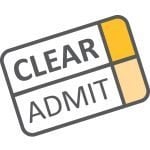 So how can you and your significant other share the same kind of story? We've got some advice for you below:
Should You Tell Admissions That You're Applying for an MBA as a Couple?
You may be asking yourself 'should I even tell the school that my partner is also applying?' And, while it may seem like an unimportant detail, the answer is: Yes!
It's a good idea to tell the admissions committee if you and your partner are applying to their MBA program as a couple. Some admissions teams will take this factor into consideration when choosing candidates. 
Graham Richmond, co-founder of Clear Admit, notes that being in a relationship with a fellow applicant is useful information to include in an application. He states, "assuming that both candidates are indeed qualified, there are instances where being part of a couple can help eek out an acceptance letter."
How to Bring Up the Relationship
Now that you know to bring up that you're applying for an MBA as a couple, you need to figure out how. A relationship might seem like an awkward topic to talk about with an admissions counselor, but there are appropriate moments when you can bring it up seamlessly. 
As far as where or how you would tell the admissions team about your partner, Richmond adds, "Some programs ask this in a section of the application, but many schools do not. If there isn't an obvious place to indicate such information, the optional essay is as good a place as any. This sort of information can also be reiterated during an interview, should it feel appropriate."  
And obviously, you'll want to mention your partner by name, so the admissions committee understands exactly who is involved in this package deal.
Admissions Tips: Applying for an MBA as a Couple
Now that we've covered the basics, here are a few additional tips to keep in mind if you're applying for an MBA program as a couple:
Keep It Brief.

While it's important to mention that your significant other is also applying, most of your interactions with the admissions team should focus on your individual candidacy and admissions process.

Avoid Ultimatums.

Express a preference to attend the MBA programs, but don't state that you won't attend if your partner isn't admitted. The "both or neither of us" approach may put the admissions team in a compromising position, so let them make the decision on their own.

Don't Try to Force It.

Sometimes one member of a couple simply isn't a good fit for a given school. All you can do is let someone on the admissions committee know; and the team will take it from there to ensure the best situation for you, your significant other, and the school. 
Getting an MBA while married or in a relationship is definitely doable. If you're applying for an MBA as a couple, there are ways to increase your chances of attending together. However, keep in mind that the program is priority. If you're pursuing your MBA along with your significant other, the key is that you are both enjoying your time and getting value out of the program.