MIT Sloan School of Management

The Sloan School of Management is the business school of the Massachusetts Institute of Technology, located in Cambridge, Massachusetts. Sloan offers a two-year MBA program and a shorter Executive MBA program; students can also earn an MBA through the MIT Sloan Fellows Program in Innovation and Global Leadership. Entrepreneurship training and technological focus are two hallmarks of the MIT Sloan MBA, and the Entrepreneurship & Innovation Track is a noteworthy component of this specialty.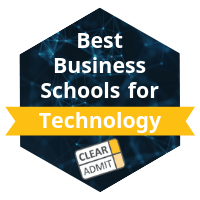 FAQ
What is the tuition for MIT Sloan's MBA program?
The tuition for MIT's Sloan MBA program is $84,200 per year. The total cost of the MIT Sloan MBA program is $125,489 per year; this includes budgeted living expenses.
How hard is it to get into MIT Sloan's MBA program?
The acceptance rate for MIT Sloan is 13.8% It is important to consider the acceptance rate in the context of the student profile of those who are admitted. For example, the median GMAT score is 730.
What is the average GMAT score for admission to MIT Sloan's MBA program?
The median GMAT score for the incoming class at MIT Sloan is 730. The GMAT middle 80% range is 700 – 760.
Does the MIT Sloan MBA program accept the GRE?
Yes. The MIT Sloan MBA program has accepted the GRE for a few years now.
What is the average GRE score for admission to MIT Sloan's MBA program?
The average GRE score for the incoming class at MIT Sloan is Quant range (middle 80%) 157 – 168 and Verbal range (middle 80%) 155 – 167.
What is the minimum number of years of work experience required for admission to MIT Sloan's MBA program?
MIT Sloan does not state a minimum requirement for years of work experience. However, it is important for candidates to be aware that they are being considered against other candidates with an average of five years of experience.
What is the average number of years of work experience for admission to MIT Sloan's MBA program? (or, What is the average age of a MIT Sloan student?)
The average number of years of work experience among students in MIT Sloan's MBA program is five.
What is the average starting salary for graduates of the MIT Sloan MBA program?
The average starting salary for MIT Sloan MBA graduates is $159,391. The salary will vary by industry, with consulting and finance jobs generally commanding the higher salaries.
How long is MIT Sloan's full-time MBA program?
MIT Sloan offers a traditional 2 year MBA program.
What are the application deadlines for MIT Sloan's MBA program?
The Round 1 MBA application deadline is September 27, 2023. The Round 2 application deadline is January 17, 2024. The Round 3 deadline is April 8, 2024.
What percent of MIT Sloan MBA students are women?
The percentage of the class at MIT Sloan that are women is 46%.
What type of interview does MIT Sloan use for MBA admissions?
MIT Sloan offers interview by invitation, once the initial application is reviewed. The interviews are application-based, meaning the interviewer will have read your application, or reviews of your application.
Videos
MIT Sloan Student Experience
Students are drawn to MIT Sloan for its culture of innovation and collaboration. Once on campus, they find the energy and support of the community—and the perspectives of their fellow students—enhances an already life-changing experience. -MIT Sloan: https://mitsloan.mit.edu/ -Student Life: http://mitsloan.mit.edu/student-life/ MIT Sloan's portfolio of diverse degree programs attracts outstanding students from across the globe who represent a variety of personal and professional backgrounds and experiences. Opportunities for practical application of learning abound, through the school's numerous action learning labs, student clubs, and specialized centers and initiatives. All of which are dedicated to helping students meet their incredible potential and create lives of meaning and impact.
MIT Sloan School of Management
Three MIT Sloan students, one day. Get a sneak peek at what life is like on a daily basis as a Sloanie.
Admissions
The Class Profile
The MIT Sloan Class of 2025 numbers 409 students. The median GMAT score posted was 730, and the middle 80% range of results spanned from 700 to 760. Women constitute 46% of incoming students. Forty percent of students in the class are international and 60 countries are represented. Twenty-eight percent identify as U.S. underrepresented minorities.
With respect to students' undergraduate degrees, 33% of enrolled first-year MIT Sloan students had pursued the field of engineering. Meanwhile, 18% of students arrived in Cambridge with academic backgrounds in economics, and 16% of first-year students majored in business. Twelve percent had majored in math and science. The median undergraduate GPA came in at 3.61.
Prior professional experience for members of the Class of 2025 averaged five years per student. Twenty-six percent came from consulting and 23% from tech. Another 17% hailed from financial services while 10% had worked in gov't/non-profit/education.
Application Procedures
Applicants to the Sloan MBA program can submit their materials in one of three rounds taking place each year at roughly the end of September, mid-January, and mid-April. Prospective students must submit a one-page résumé, cover letter, video statement, a company organizational structure, an online form of personal and professional data, two essays, one letter of recommendation, copies of their academic records, GMAT or GRE results, an application fee of $250, and TOEFL or IELTS results if applicable. MIT Sloan interviews are by invitation only, and these may be conducted on campus, at one of several global locations or by Skype.
Application Checklist
Essays
Cover Letter
Video Statement
Company Organizational Structure
GMAT/GRE/TOEFL/IELTS Score(s)
Transcript
Résumé
Recommendation Letter
Application fee
Essay Topic Analysis
Need help with your essays? Get our experts' advice.
Recommendation Questions
Find out what top MBA programs ask recommenders.
MIT Sloan LiveWire and DecisionWire
Academics
Faculty
Over 115 faculty members and lecturers teach at MIT Sloan. In addition to teaching courses across the school's 13 academic areas, faculty members help staff 15 research centers and projects. These include the MIT Leadership Center, the Sustainability Initiative, and the Golub Center for Finance and Policy, among others.
Curriculum
Each Sloan class comprises roughly 400 students and is divided into cohorts of about 70 students each before the start of the program. Students in one cohort take all of their seven core courses together during their first semester, and cohorts are further divided into study teams of six or seven students. Sloan operates on a semester schedule and incorporates all core requirements into the first semester, thus freeing up the three remaining semesters for electives.
MBA students begin their tenure at Sloan with an orientation program, which includes activities such as the MIT Sloan 4-Capabilites Leadership Framework, the x360 Leadership Development survey and coaching program, and an outdoor team event. Fall classes generally begin about a week into September and end in mid-December, with finals extending through the week preceding Christmas. In their first semester at Sloan, MBA students complete six mandated courses and can choose to take one of four electives—surveying fundamental areas of business and management education—to fulfill the required core.
In the three 13-week semesters that follow, students are free to select courses from MIT Sloan's more than 220 electives. There are no formal major requirements, though many students choose to organize their degree by following a track in Entrepreneurship and Innovation, Finance, or Enterprise Management. Additionally, students have the opportunity to pursue certificates in Sustainability, Healthcare, Product Management, or Business Analytics concurrent with their track of choice. In the middle of each semester, MIT Sloan makes time for a Sloan Innovation Period (SIP), a week during which classes and activities are put on hold so that faculty can conduct seminars and projects that connect students to the newest findings of Sloan researchers. Meanwhile, the four-week Independent Activities Period (IAP) in January gives students the opportunity to undertake for-credit and non-credit courses and activities that match their interests. Student groups may even offer IAP courses as part of this community-led experience.
There are several immersive offerings within the MBA program that provide students with an experiential, problem-solving approach to key business concepts.  Global Entrepreneurship (G-Lab), for example, allows second-year students to spend about four months total on consulting engagements for startup firms in emerging nations. G-Lab students spend at least three weeks in January, when classes are not in session, working on-site for these firms. Similarly, S-Lab, or Sustainability Lab, matches Sloan MBA students with organizations across the globe and equips them to resolve sustainability issues that businesses face. For further international experience, students can study abroad through one of Sloan's exchange programs with European schools, including London Business School and IESE, or an international study tour conducted with the guidance of a Sloan faculty member.
Other MBA Degree Options
Along with its full-time MBA program, Sloan also offers an Executive MBA program for leaders who have already amassed at least 10 years of work experience. Meanwhile, the MIT Sloan Fellows Program provides executives with a highly intensive yearlong track towards an MBA, a Master of Science in Management or a Master of Science in Management of Technology. Sloan students can also benefit from tailored options such as the dual degree MPA/MBA in conjunction with Harvard's Kennedy School of Government. In addition, Sloan offers a program with the MIT School of Engineering: the Leaders for Global Operations program, which allows students to pursue an MBA while obtaining a Master of Science, and an MBA/Master in City Planning with the MIT Department of Urban Studies.
Tracks at MIT Sloan
Entrepreneurship & Innovation (E&I)
Finance
Enterprise Management
Degree Offerings at Sloan
MBA Programs
Full-time, Fellows Program in Innovation and Global Leadership
mitsloan.mit.edu/mba
https://mitsloan.mit.edu/mit-sloan-fellows-mba
MIT Executive MBA
https://emba.mit.edu/
Dual Degrees
Leaders for Global Operations, Urban Studies and Planning, Harvard Kennedy School
lgo.mit.edu, sdm.mit.edu
Campus Life
Clubs, Conferences & Competitions
MBA students seeking extracurricular activities have their pick from more than 80 student clubs and organizations at MIT Sloan. These groups range from professionally-oriented groups like the Entrepreneurship & Innovation Club to cultural and affinity organizations such as Sloan Women in Management, as well as athletic and recreational clubs. The MIT Sloan Student Senate is the school's student government and serves as a formal connection between students and the administration. Students are also responsible for the planning of weekly C-Functions, or Consumption Functions, which draw members of the student body, faculty and staff for informal meetings over food and drink that are held both on and off campus.
MIT Sloan plays host to a number of conferences and lecture series throughout the year, many of which are sponsored by student clubs and organizations. One such example is the annual MIT Sloan Healthcare and BioInnovations Conference; run with the help of the MIT Sloan Healthcare Club, the BioInnovations Conference explores innovation and entrepreneurship in the healthcare industry. Sloan also organizes several renowned competitions, including the MIT $100K Entrepreneurship Competition, which provides burgeoning entrepreneurs with the feedback, resources and funding to create their own ventures across six industry tracks.
Campus Spaces
The Sloan School of Management is concentrated in the easternmost part of the MIT campus, which spreads out over nearly 170 acres along the Charles River in Cambridge, Massachusetts. E62, the six-story "flagship building" of MIT Sloan, comprises 215,000 square feet of space, contains 35 study rooms and houses all of MIT Sloan's faculty; it is LEED certified and the greenest building on Sloan's campus. Other notable buildings on campus are the historic E52, the E51 or Tang Center, and the E53, which houses Sloan's Dewey Library. MIT Sloan does offer graduate housing options for students and their families, but many MBA students choose to live off campus in Cambridge or nearby Boston neighborhoods.
MBA Careers
Career Services
MIT Sloan's Career Development Office (CDO) serves MBA students throughout the academic year, though Sloan students also benefit from a number of other resources integrated into their MBA experience. One part of the core curriculum is the Career Core, which helps students assess and plan their careers while providing training in key soft skills, such as interviewing. First-years can also utilize the Alumni Student Mentor Program. A range of on-campus recruiting, career fairs, treks and networking events offer students hands-on career support, while the Career Resource Center and related online materials aid in research and planning. The CDO confirms the job postings for fall recruiting by mid-August, and the first full-time recruiting period takes places from the first week of October to the beginning of December.
Career Statistics
Just shy of 97% of MIT Sloan's MBA Class of 2022 had received job offers within three months of graduation. The median salary reported for the class was $160,000 and the average base salary landed at $159,391.
The industry most pursued by Sloan's Class of 2022 was consulting, with approximately 31% of Sloan MBA graduates choosing this route. Nearly 23% joined the tech industry, which includes Software/Internet, Computers/Electronics, and Telecommunications. Roughly 23% of Sloan graduates took positions in the financial services field. Nearly seven percent pursued pharma/biotech and nearly four percent went into consumer products/retail.
In line with the hiring trends of most business schools, Sloan sent the highest percentage of the Class of 2022 to the region in which the school is based, the Northeastern U.S. Of the approximately 95% of students working in post-MBA roles in North America, 54% found work in the Northeast, and 25% of U.S.-based graduates chose to work in the city of Boston. The second most popular area of the U.S. was the West, with 19% of 2022 graduates, and roughly 5% of the class pursued positions abroad.
Financing
Tuition for the 2023-2024 academic year amounts to $84,200. Taking into consideration fees for books and supplies as well as estimated computer, food, personal, housing, or transportation expenses, the MBA program in sum is estimated to cost students $125,489 for the academic year. Students who are U.S. citizens or permanent residents should file for loans through FAFSA, though both U.S. and international students who wish to apply for loans must submit a separate form, the MIT Graduate Loan Application, upon acceptance. Sloan fellowships, scholarships, and teaching and research assistantships are available as well, and students are automatically considered for all but the Legatum Fellowship and MIT Public Service Center Fellows when they are admitted.
Cost of Attendance (per year)
Tuition $84,200
Student Life Fee $406
Health Insurance $3,237
Housing $17,865
Food $7,095
Books & Supplies $1,050
Transportation $2,571
Personal $7,065
Computer (one-time) $2,000
Total $125,489
Contact
Mailing Address:
MIT Sloan School of Management
Admissions Office
100 Main Street
Building E62
Cambridge, Massachusetts 02142
United States
Phone: 617-258-5434
Email: [email protected]
Web: mitsloan.mit.edu
Twitter: @MITSloanAdcom
Facebook: https://www.facebook.com/MITSloanAdmissions/