Type "the MBA is" into Google, and the autocomplete box fills with inauspicious indicators of the degree's value. "The MBA is losing its magic" is followed by "the MBA is worthless" and "why the MBA is a waste of time and money." Students graduating with an MBA disagree—and quite emphatically—according to a survey report released today at the annual Graduate Management Admission Council (GMAC) Conference in Denver.
"Business school graduates are clear in their judgment that their degrees not only provided immediate value, but lasting value," Bob Alig, GMAC's executive vice president for school products, said in a statement announcing the results. Indeed, nine out of 10 of the more than 3,000 graduating business school students who responded to the GMAC Global Management Education Graduate Survey (GMEGS) rate the value of their degree as good to outstanding, and 88 percent would recommend their program to others considering a graduate business degree.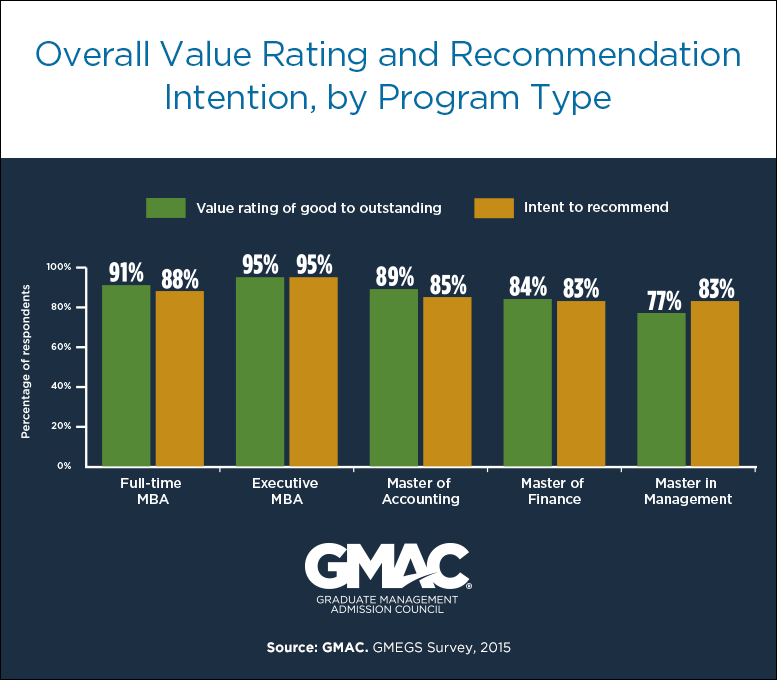 Graduates who snagged jobs early in the recruitment process were most likely to credit the degree with helping them develop skills in the areas of managing human capital, knowledge of general business functions and working well with others, GMAC reports.
Class of 2015 graduates—when surveyed in February and March of 2015—felt overwhelmingly that the degree increased their employability. Eighty-six percent said the MBA improved their chances of finding a job that meets their expectations, and 85 percent felt it both provided them with a competitive advantage and prepared them to meet challenges in the job market. The degree also introduced them to new career opportunities, said 78 percent of respondents.
"What stands out in the GMEGS survey, as well as in other surveys we have conducted over the years, is that a graduate management degree is an outstanding investment in the personal, professional, and financial aspirations of these students," Alig added.
It doesn't hurt that MBAs are graduating into a great market, with early employment success reaching a three-year high. According to survey respondents, 63 percent of job-seeking graduates from full-time two-year MBA programs had a job offer in hand before graduation, up from 60 percent last year.  Salaries, too, are up. Globally, MBA grads with early job offers report a median 90 percent pay bump over their pre-degree salary. That's up from 80 percent last year and 73 percent the year before.
So why the disparity between what Google suggests "the MBA is" and what actual degree holders report? Perhaps like the iPhone's autocorrect function, Google's autocomplete function still offers room for improvement.
Download the full GMAC Global Management Education Graduate Survey.