Less than two weeks in, and already 2016 is coming up roses for current MBA grads—at least according to a just-released poll of employers conducted by the Graduate Management Admission Council (GMAC). Strong 2015 hiring numbers combined with even stronger 2016 hiring projections suggest that it's a very promising time to graduate with a master's-level business degree—particularly an MBA.
"Recent graduates from business and management programs should see high demand for their skills because employers understand that they are valuable assets to their organizations," Bob Alig, GMAC's executive vice president for school products, said in a statement.
Indeed, results of the GMAC 2015 Year-End Poll of Employers, released today, reveal that 96 percent of responding employers felt that hiring business school graduates creates value for their companies, and two of every three (68 percent) said that recruiting graduates of MBA and business master's programs is a priority in their company's hiring plans.
Projected MBA Hiring in 2016 Tops 2015 Actual Hiring
The value of the MBA in employers' minds certainly seems strong. Three in four (75 percent) employers expect to hire MBA graduates in 2016, up from 71 percent of these same companies that hired MBA candidates in 2015. MBA students currently in their first year of study should take heart as well: 73 percent of responding employers plan to offer internships to MBA candidates in 2016. Moreover, 92 percent of employers that offered MBA internships last year plan to either increase (26 percent) or maintain (66 percent) their number of MBA internship openings for summer 2016.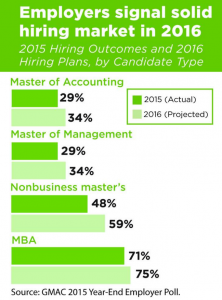 The hiring outlook for other master's-level business school graduates also improved, with 34 percent of employers planning to hire graduates of each Master of Accounting and Master in Management programs in 2016, up from the 29 percent of each type of candidate they hired in 2015.
The poll revealed good news for MBAs in terms of salaries as well, with more than half (56 percent) of employers saying they plan to increase base salaries for new MBA hires in 2016 at or above the rate of inflation. Another 41 percent expect to maintain 2015 salary levels for MBA hires.
GMAC surveyed 179 recruiters from 159 companies ranging in size and industry across 31 countries or regions worldwide.
View the complete GMAC 2015 Year-End Poll of Employers.