Jake Doroshow, 28, graduated from Stern in May 2016 and started a job at Goldman Sachs as a private wealth advisor in July. An undergraduate finance major who spent his pre-MBA career first at BlackRock and then at First Niagara Bank, thought he might like to stay in the finance industry. But he also knew he loved working with clients and wanted more direct work with people, which maybe could manifest itself in a consulting role, he reasoned.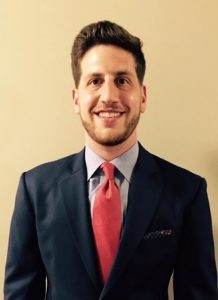 That said, Stern's proximity to Wall Street and its strength in finance definitely played into his decision of where to go to school. "Every bank comes to recruit at Stern," he says matter-of-factly. "But what I loved about it equally was the school's ability to get amazing adjunct professors, speakers and visitors that I can't imagine any other schools could get." He took one class, "Managing Financial Businesses," that was taught by two former CFOs of large banks. "Getting a CFO's view on managing a bank—incredible," he says. Coincidentally, the CFO of Goldman even came in to speak to the class one evening. "I got to shake Harvey Schwartz's hand—I'm not sure you could ask for better than that."
But some of deciding on Stern had nothing to do with finance, Doroshow adds. He applied to several schools and visited everyone he got into before deciding on Stern. "It's hard to explain—it's just a feeling I got when I visited," he says. And when he reached out to current students he'd met while there, he was amazed at their responsiveness and eagerness to help. "The collaborative community definitely drew me in, in addition to the phenomenal reputation and academics and the huge advantage of being in New York."
The Hidden Gem of Post-MBA Careers
"When I first started business school, private wealth management was not necessarily on my radar," Doroshow confesses. Now, calling it "the hidden gem of post-MBA recruiting," he's so glad he fell into it. But he nonetheless made a point of keeping his options open in the beginning. "Early on as a business school student there are so many opportunities thrown at you, so many paths you can take," he says. But before he'd had time to head very far down a potential consulting path, Goldman reached out to him.
When he received the Goldman email asking if he would be interested in learning more, he was definitely intrigued. He went straight to career services to bounce ideas off of them and better understand the opportunity. "Career services connected me to current and former students in the field and at Goldman," he says. "The more I learned, the more I realized this is the perfect fit for me," he continues. "I was lucky enough to receive an offer, and I accepted it on the spot—there was no doubt in my mind that it was the right fit."
It seems he was right. Foundational coursework he took at Stern set him up for success in the internship. Classes in portfolio management and corporate finance were definitely key. As part of his internship, he and his fellow interns completed a training program largely dedicated to understanding the investment management process Goldman uses with its clients. "A lot of those concepts—constructing portfolios, asset allocation—I'd learned in my course work at Stern," Doroshow recalls. "I really felt like I got a leg up by taking that coursework before my internship—I'm very glad that I did."
Perhaps his most favorite Stern class, though, was "Management Communication," a public speaking course where students are assigned random topics to present on, get filmed doing it and then critique their own performance and receive feedback from others. "Gaining that verbal dexterity was super important, especially in a career in private wealth management," he says. He'd never done anything like it before, and it more than paid off during the internship.
Three Specializations, and Then Some
But Doroshow also praises the flexibility that Stern's curriculum affords students to explore multiple areas of interest. He took advantage of the fact that at Stern you can specialize not just in one area, but in three. His areas of specialization were finance, entrepreneurship and financial systems and analytics. "In a career in private wealth management—and in a career generally—it's helpful to be a well-rounded person with different interests," he says.
Even while specializing in three different areas and completing all of his foundational courses, Doroshow still found time for a class on sports economics and another on data mining. "If you asked me a few years ago, 'Would you ever take a class on big data?' I would have said probably not. But fast forward to now and I am so grateful that I did," he says. "I think it's amazing that at Stern you can specialize in three things and still have room to take interesting courses that maybe don't fall directly in line with your immediate career goals."
As for his job offer, Doroshow says, "I was lucky enough to get that call literally a week before my wedding day," he says. "So basically I spent last summer working really hard at a job I really loved and wanted—all the while inching ever closer to getting married. What an incredible feeling it was to go to my wedding with a job offer in hand and no weight on my shoulders."
Advice for Prospective Applicants Contemplating Finance Careers?
"In terms of how to decide what school to go to, you can't discount location," he stresses. "New York breeds finance people; New York is the finance capital of the world and to be able to be in the middle of it—to just jump on the subway between classes and have coffee with someone that afternoon, that should not be overlooked."
It is certainly critical to look for a school with a strong finance curriculum, Doroshow says. "But I also think it's important to take some of the other things into account. Part of what makes a candidate successful when interviewing for finance is not just 'Do you know the fundamentals of finance?' It's also interview skills, interpersonal skills, the EQ (emotional quotient) + IQ that Stern places such an emphasis on." In the end, Doroshow's advice is to look for a school that provides a strong curriculum in your area of interest, a good location, a collaborative community where you can try new things and lots of opportunities to work in teams.
But surely there's something he might change if he had it all to do again? "I couldn't have plotted it better if I tried," he says with a laugh. "I got a phenomenal education, loved being in New York, loved working with my classmates—and then my experience at Goldman was everything I could have hoped it would be," he continues. "Throughout my career I felt like I was always searching for the right fit—I wanted that feeling of just knowing this is right, this is it, this is the right job."
"I got that finally," he says. "It was the culmination of all the hard work I put into studying for the GMAT, applying to schools, interviewing, going through recruiting—to be able to come out of it on the other end checking off every single box is incredible."
And so a very content Doroshow spent the remainder of the summer after graduation in New York City as part of an eight-week training program before returning to Philadelphia, where he spent his summer internship. It just so happens that Philly is also where he calls home.