Latest Georgetown McDonough Employment Stats Reveal Increasing Salaries, Strong Finance and Consulting Placements
No surprise: Georgetown MBAs are making bank!
According to the most recent employment report from the Georgetown University McDonough School of Business, the average starting salary for graduates was $112,501, which is a 4 percent increase from the previous year.
"Every year, we deepen our commitment to applying a personalized approach to our students' job searches, and every year, the results exceed our expectations," Doreen Amorosa, associate dean and managing director of the MBA Career Center, said. "From the expanded and customized approaches to the job search in the MBA Career Center to curricular offerings like our Executive Challenge, our MBA students are prepared to excel in their careers."
Additionally, the report stated that the average signing bonus of recent McDonough graduates was $28,516, a 13 percent increase from last year. Job offers accepted within three months of graduation also rose from 90 to 92 percent.
The report provide some additional, equally interesting information. For example, the top four industries of choice for Georgetown McDonough MBAs are financial services (33 percent), consulting (28 percent), technology (13 percent), and the non-profit/social impact sector (7 percent).
MBA graduates in the consulting industry are the highest earners among recent McDonough alums, pulling in more than $124,000 annually, followed closely by those employed in the healthcare industry, who earned nearly $121,000 per year, on average. In all, McDonough MBA grads included in the report secured lucrative positions at well-known companies including Amazon, Bank of America, Barclays, Citi Group, Credit Suisse, Deloitte, EY, Google, PwC, and Verizon.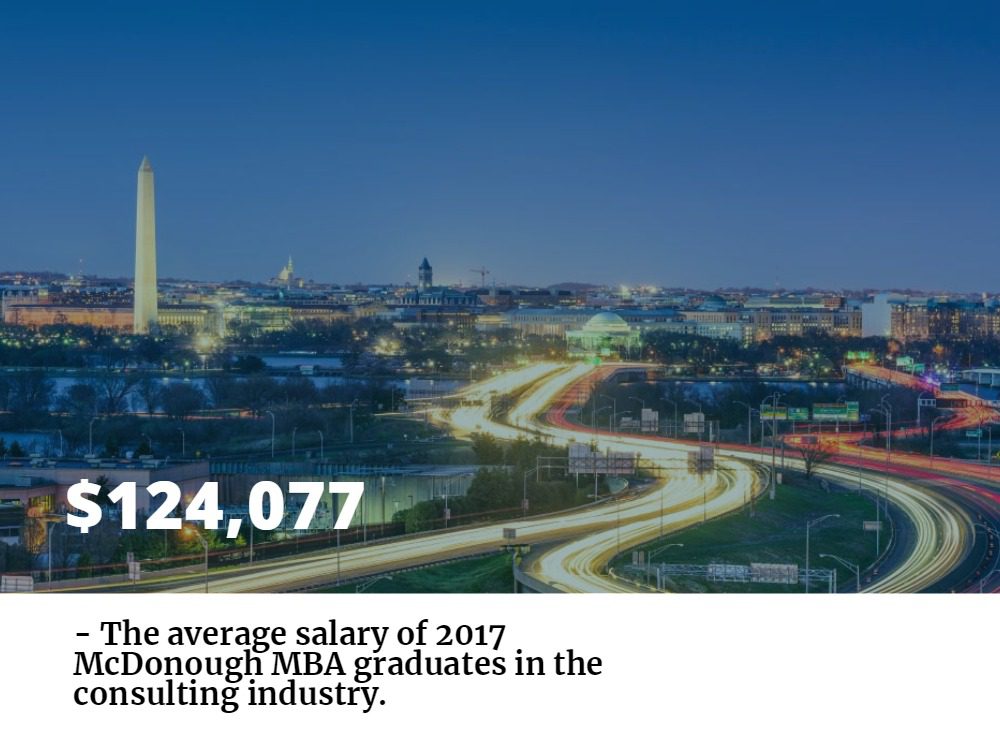 As far as internship data goes, 99 percent of first-year students secured an internship, with 85 percent of those paid positions. The average monthly compensation for internships was $6,501. A full 81 percent of summer internships were facilitated by the MBA Career Center, which is up 13 percent from 2016.
The Georgetown McDonough MBA Career Center is home to student organizations, Career Days and Treks, and on and off-campus networking events. The center partners with McDonough School of Business alumni to connect the future business leaders of America with today's movers and shakers.
"We have invested in numerous strategic initiatives in recent years, including customizable search technologies, alumni mentoring tools, and offerings designed to individualize each student's career outcomes," Amorosa added in the press release. "Those, combined with our staff of certified career coaches and career curriculum that begins the summer before students arrive on campus, we equip our students with the strategies and experiences to be successful in their search."
Click here to take a look or download the in-depth McDonough School of Business 2017 MBA Employment Report.
This post has been republished in its entirety from its original source, metromba.com. 
About the Author