As Cornell / Johnson wraps up initial notifications for its January Round this week, we caught up with a few student interviewers to provide insights into their admissions interview.  At Johnson, the MBA admissions interview may be conducted by an adcom member or a trained second-year student member of the Johnson Admissions Group (JAG).  Two JAG members, Lauren Keithahn and Corey Minerva, shed light on why they became interviewers, what stands out to them in an admissions interview, what advice they have for new candidates and more.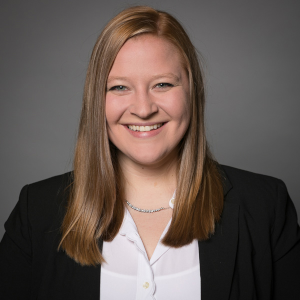 Lauren Keithahn, Two-year Ithaca MBA '19
Pre-MBA work experience (industry, years): Following my graduation from St. Olaf College, I worked as a project manager at Digital River, a global ecommerce company. In my three years at the company, I managed the development of global ecommerce sites for Fortune 500 companies.
Post-MBA plans: I will be working at Cain Brothers Investment Bank as an Investment Banking Associate in New York City. 
Why did you want to join the Johnson Admissions Group?
I decided to join the Johnson Admission Group because I enjoyed speaking with prospective students and wanted to directly impact the future of Johnson. As a woman entering a male dominated field, I wanted to be at the front line to address questions from other women in similar fields and highlight the ways in which Johnson has made me and my peers successful.
Can you tell me about the training to become a part of JAG?
Members of the Johnson Admissions Group often spend their first year as a Campus Visit Ambassador. In this role, current students provide tours, host "Coffee & Convos," bring prospective students to class, and address any other needs of campus visitors. Training to learn more about the campus, the program, and Ithaca is conducted prior to interacting with prospective students. This role builds a strong base and helps current students better address questions with ease.
In the spring of your first year, you apply to join the Johnson Admissions Group. This application process involves a mock interview, followed by a write-up assessment of the interview. The interview is expected to test your ability to gather a complete profile of the candidate and to evaluate the conversation. After submitting the write-up assessment, the students meet with an admissions team member to review the interview and write-up assessment to ensure consensus is reached on the mock candidate. Once cleared to interview, the student shadows an admissions team member during an interview and also conducts a separate interview with an admissions team member observing.
What are some of the most common questions you ask during an interview OR is there a question (or two) you always make sure to ask during the interview?
The most common questions I ask are 'Why an MBA?', 'What are your short-term and long-term goals?', 'What's your plan B?', and 'Why Johnson?'.
Another question I often ask is 'What are you most proud of (personal or professional)?'. The responses vary, however each perspective shows me a little more about the candidate's personality and passions because most are not prepared for that type of question. While we expect candidates to be professional, we also want to get to know them beyond their achievements and plans.

What is the biggest mistake you've seen during an interview?
The biggest mistake I've seen is not showing interest in the program itself. Speaking with current students and the admissions staff prior to the interview, knowing on-campus clubs of interest, and understanding high-level details about the curriculum are key items to highlight your excitement about Johnson. 
What stands out to you most during an interview—positively and negatively?
The best interviews I have had are those in which the candidate is truly conversational. This often comes from candidates who are well prepared and passionate about their journey before, during, and after business school. This goes hand-in-hand with a negative: rambling. Those who aren't prepared for the basic questions (why MBA, professional goals, why Johnson, leadership, etc.) tend to be long-winded, which forces me to politely encourage you along so we can cover all the questions in the allotted time.
What advice would you give to candidates for the interview at Johnson?
My advice is to speak with current students before interviewing. Not only will students help you prepare, but the information you gather can help tie your story together–from your prior work to your rationale for pursuing an MBA to your professional goals. 
Anything else you would like to add?
Once admitted, be sure to attend Destination Johnson (our admitted students weekend). It's the perfect time to meet your future classmates, find housing, and get to know Ithaca. You won't be disappointed!