The Head of MBA Recruitment and Admissions at Cambridge Judge Business School, Charlotte Russell-Green, joins us for the latest edition of our Admissions Director Q&A series.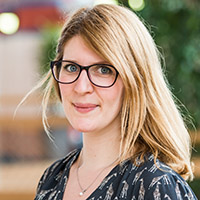 After training in Drama and Theatre at Goldsmiths in London, Charlotte joined the marketing field after graduation. She has accumulated nearly 10 years of experience in the MBA market. She began her MBA career at QS, managing marketing for the World MBA Tour events in North America. For roughly the past seven years, she has worked in admissions and recruitment for the Cambridge MBA, admitting 6 cohorts.
Get to know more about the one-year MBA program, as Charlotte delves into the details of admissions at Cambridge Judge, the interview process, and more in the interview below.
Clear Admit: What is the one aspect of your MBA program that you wish applicants knew more about?
Charlotte Russell-Greene: There's something really intangible about the Cambridge MBA year, it widens horizons for our students and every year we hear how life-changing it has been for our students, both personally and professionally. As well as having two live consulting projects, which provides fantastic work experience and exposure to corporate clients, we also get incredible feedback about our careers provision. Our class size of circa 200 allows for the careers team to work with our students on a 121 basis and personalise their career development, working with each individual to define and craft their careers journey.  Finally, the people are unmatched – our students love the peers that they work with, the alumni network that they connect with, the friends and connections that they make at their college, and the close contact they have with faculty – the Cambridge MBA is truly collaborative and allows you to build meaningful relationships with the people around you.
CA: Will the applicant experience look different this year due to COVID-19?
CRG: Due to the global and everchanging restrictions on travel, the next admissions year will remain primarily online. It has always been of great importance for us to provide an admissions process that allows us to get to know the candidates, as well as for them to get to know the programme and the business school. Thus, it was incredibly important for us when COVID-19 hit to be able to provide that same opportunity through regular online events that feature taster lectures from faculty, presentations on the careers provision as well as Q&A sessions with current students and alumni for candidates to get their questions answered. One of the great benefits to this is that candidates are now not bound by their location and can attend Open Days despite not being in Cambridge, and if they are unable to make the time, the sessions are recorded and circulated.
CA: Will prospective students have the opportunity to visit campus?
CRG: Our primary concern is ensuring the safety and wellbeing of all students, staff and visitors of CJBS, and therefore, with a very heavy heart, we have not been able to welcome visitors to the campus since COVID-19 hit last year. However, we are continually reviewing this and look forward to welcoming visitors to CJBS soon.
CA: Walk us through the life of an application in your office from an operational standpoint. What happens between the time an applicant clicks "submit" and the time the committee offers a final decision?
CRG: Once the application deadline passes, each application is assigned a reader for the first round of reviews and that reader makes a recommendation: interview, wait list or unsuccessful. The readers are members of the recruitment and admissions team, and sometimes members of the careers team. The applications are then reviewed a second time by the Head of Admissions and the final recommendation is then signed off. If after this review there are candidates that we want to interview that do not meet the minimum academic requirement or have a low GMAT, then they are discussed by the Admissions Committee.
CA: How does your team approach the essay portion of the application specifically? What are you looking for as you read the essays? Are there common mistakes that applicants should try to avoid? What is one key thing they should keep in mind as they sit down to write?
CRG: We get asked this a lot and it is difficult to answer without giving too much away. The essays are the opportunity for us to see how the applicant thinks, responds and reflects, as well as to get an idea as to whether they are a good fit. Ultimately, what we are looking for is an example that best answers the question and shows your capabilities, resilience, self-awareness and critical reflection, as well as a little bit of who you are. Common mistakes include not answering the question and mentioning another school's name (beware of copy and paste!)
CA: Could you tell us about your interview process? Approximately how many applicants do you interview? Who conducts the interview (students, admissions officers, alumni) and what is the nature of the interview (resume-based, application-based)?
CRG: We used to invite our interviewees to Cambridge for dinner at one of the famous Cambridge colleges but due to COVID-19 we've had to move everything online. We do, however, provide an extremely robust and informative online interview experience that includes a welcome from the Director, a presentation from the Head of Careers, a Q&A session with alumni and current students, and of course, the interview with a member of faculty. One of the long-standing traditions of Cambridge is that everyone who studies here is interviewed by a member of faculty and it is the same for the MBA. These interviews are now conducted on Zoom, and the tip I would give is to prepare for your location: internet connection, background, sound and/or interruptions. You want to be sure that this is all sorted well in advance so that you don't have to worry about it on the day.
It varies each round as to how many people we interview. Round 3 is the largest round where we interview circa. 200 but the other rounds vary from 40-100 interviews per round.
CA: Tell us briefly about two notable professors at your institution (ideally one student favorite, and one up-and-coming).
CRG: Professor Mark DeRond – Professor of Organisational Ethnography who teaches Management Praxis II on the Cambridge MBA. Mark has always been a student favourite; he is engaging, insightful and fascinating, and his background brings a unique quality to his teaching. In 2013, Mark and his rowing partner became the first people to row the entire length of the Amazon River unsupported.
Dr Shasha Lu – University Lecturer in Marketing who also teaches Organisations in Context on the MBA. Shasha brings a fantastic energy to her teaching and has made a real impact at the school in the past few years. Apart from being incredibly popular with students, she is also a fantastic colleague who regularly volunteers to interview prospective students.
CA: Is there anything else you'd like to highlight about your MBA program or the admissions process at Cambridge Judge?
CRG: The Cambridge MBA is notable in that if offers the broad, management degree you would expect from an MBA, with the intellectual rigour you'd expect from Cambridge University, but it also delivers one of the most practical programmes there is – the live consulting projects we offer, as well as the summer internship opportunity are all designed to get students 'live learning', working intensely with teams and real clients.
There's also an added plus to the Cambridge MBA – all students are a member of one of the famous and historic Cambridge Colleges. What does this mean? Well, dining by candlelight with your fellow college members in one of the beautiful, "Harry Potter style" dining rooms, joining in extracurricular activities such as rowing, sports, the debate team, music and theatre (the list is endless, name a society and there'll be one at your college!) as well as creating life-long friends with a wide and diverse network outside of the MBA.