Get an inside look at Marcos Coppa's MBA journey through Michigan Ross, particularly how the leading business school and standout STEM and operations offerings supported his advancement to Amazon. He also digs into the recruiting process and culture of the tech giant in this edition of Real Humans: Alumni.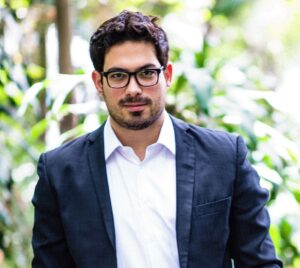 Marcos Coppa, Michigan Ross MBA '21, Pathways Operations Manager at Amazon
Age: 32
Hometown: Rio de Janeiro – Brazil
Undergraduate Institution and Major: UFRN – Electrical Engineering
Graduate Business School, Graduation Year and Concentration (if applicable): Michigan Ross School of Business, 2021 (STEM and Operations concentration through the Tauber Institute for Global Operations)
Pre-MBA Work Experience (years, industry): 7 years (4 in Operations, 3 in Management Consulting)
Post-MBA Work Experience (years, industry): 1 year (Operations/Tech)
Why did you choose to attend business school?
Once I transitioned to consulting, I started understanding what business school could add to my career – I was especially excited about contributing and accessing an alumni network and the opportunity to pivot to a higher level in a different industry if I decided to do so. Moreover, as someone with an engineering background, there's a lot of value added in taking two years to learn more about business, finance, marketing, and soft skills. My decision became a no-brainer when I decided to pivot my career to the tech industry in the U.S. – I would say that, for an international student, there's no better way to access multiple opportunities abroad!
Why Ross? What factors figured most prominently into your decision of where to attend?
I worked with a couple of Ross alumni and one thing was common in all of them: They are very collaborative and they had a very hands-on approach. Once I started networking with students and other alumni, I realized that Ross has a very strong sense of community and is focused on building leaders who will impact the world. Another important aspect for me was the strong presence of the school in the consulting/general management, technology, and operations industries, which at the time were the three industries I was considering for my post-MBA career. Last, but not least, the city. When I visited Ann Arbor, it was love at first sight! The campus is beautiful and full of life, the city offers a broad range of options for leisure and the fact that we're in a college town makes a lot of difference in the way people come together, thus, impacting positively the MBA experience.
What about your MBA experience prepared you for your current career?
First, I was able to access and meet dozens of alumni working for Amazon, which gave a great understanding of the company's culture and what they look for in candidates. Secondly, the classes I took – especially those through the Tauber Institute for Global Operations – and my summer internship, helped me better prepare for the full-time interview process. Finally, the focus I gave to developing my leadership and soft skills was key to my preparation. As an operations leader for Amazon, most of my job is about leading large teams and influencing other leaders.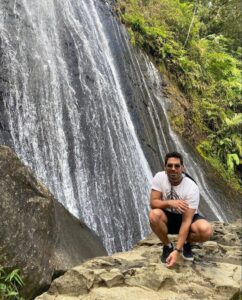 What was your internship during business school? How did that inform your post-MBA career choice?
I interned with Anheuser-Busch InBev (ABI) for the summer, working in a Global Operations project to optimize their barley supply chain worldwide. My 14-weeks project showed me how I want to work for a company that has global impact and how much I like to work with cross-functional teams. That helped me narrow down the options of recruiting for full-time. Even though I had a return offer from ABI, I decided to stick to my initial plan to continue working in the tech industry, but with a focus in operations.
Why did you choose your current company? What factors figured most prominently into your decision of where to work?
Amazon has a very strong and "peculiar" culture. I spent my pre-summer with them, working with the Amazon Fresh team to design a retention strategy for users that were impacted by COVID. By working for two months with them, I was able to see and live the culture, as well as the way they plan and execute – and I must say, I was very impressed by it! The company is very focused on teamwork, people are straightforward, but thoughtful, when delivering feedback, and there's a strong sense of meritocracy. Moreover, I wanted to continue developing my leadership skills and Amazon Pathways – a leadership development program to develop executives in operations – was the best choice for me. I currently lead four managers and +120 associates and I'm responsible for running the operations of a large robotics fulfillment center. I am constantly surprised by how collaborative and accomplished my teammates are, and I love the fact that Amazon is constantly moving people out of their comfort zone – transitions are welcomed and incentivized, and you're forced (in a good way) to learn new things and tackle new challenges.
How has COVID impacted your industry/career plans?
There wasn't much impact in my career as operations for Amazon continued to be executed in person. However, we adapted many guidelines and processes in face of COVID. On a broader scale, I think the pandemic showed the pain points and the importance of a reliable supply chain network for companies. 
Advice to current MBA students:
Leverage other current students and alumni when planning your MBA. From selecting classes to gathering insights about companies, talking to those who went through the same challenges is a great way to learn. Don't be shy to look for people on LinkedIn – even if they're not from your school. I think there's a greater sense of "give back" among MBA students, so be intentional about meeting new people and expanding your network from day 1.
–One thing you would absolutely do again as part of the job search?
Network, Network, and Network! Together with preparing for interviews, this was the most important part of my recruiting process. Networking with alumni in the companies that I was applying for allowed me to gather great insights about the interviews as well as to take a glance of the culture and the day-to-day challenges.
–One thing you would change or do differently?
Better use managing my time to balance social activities. Especially during my first year, I was all over the place – doing all assignments, reading everything, trying to go to all events… but as you can expect, it's too much. When FOMO kicks in, it's important to go back to your plan and prioritize. I ended up leaving some cool things to do in my second year (i.e. traveling more), but COVID happened… so my message would be: The two years will fly by, make sure you make the most of it!
–Were there any surprises regarding your current employer's recruiting process?
Only positive surprises. My process was fairly fast: I got invited for an interview less than a week after applying and I had an offer less than 30 days after applying. The process was very straightforward with four, 45-minute interviews back-to-back. The networking I did with alumni helped me navigate and better prepare for the interviews!
–What piece of advice do you wish you had been given during your MBA?
Grades don't matter! Even though this was discussed and mentioned by multiple students and alumni, it's hard to know how we're performing in the beginning so it takes a while to realize that grades don't matter. If you want to always get the maximum grades, by all means go for it! But if you're not looking for this, take a step back and take a deep breath, do your best to learn the things that matter to you, and focus on having a clear plan for recruiting and you'll be fine!