Je ne regrette rien.
Translation: I have no regrets.
Where did you grow up? Where did you go to school? Did you study geography in class and marvel at the globe? Where did you imagine living or working or visiting? How have you stepped outside of your culture recently? What changes do you want to make in your career?
While some of these questions may be easier to answer than others, there's never been a clearer path to change–and avoiding regrets–than business school. HEC Paris is particularly adept at supporting MBA students in changing industry, function and/or location. This series focuses particularly on the latter, as 62 percent of the HEC Paris MBA Class of 2021 successfully changed location after graduation with 23 percent ending up in France. Sixty-six percent of the Class of 2020 and 64 percent of the Class of 2019 also changed locations.
In this series, we'll meet three recent HEC Paris alumni who share their stories about settling in France post-MBA and how HEC Paris supported this transition. Stay tuned for their tips for other MBAs who'd like to make the same transition, what it's really like to live and work in France, and the most positive aspects of the change.
To start, we meet Clare Cartwright, HEC Paris MBA '20, who transferred from the UK to Paris and is now working at Vestiaire Collective. Read on for her insights into the expanse & expectations of French culture, how to create opportunities for success and more.
"A Whole New Life" – Clare Cartwright, HEC Paris MBA '20
Employer & Title: Head of 360 Marketing & Digital Activation at Vestiaire Collective, the leading global app for pre-loved fashion.
Hometown/Country of Origin: London, UK
Undergraduate Institution and Major: A BA in English Literature from Trinity College Dublin, Ireland.
HEC Paris Graduation Year and Concentration (if applicable): I graduated in 2020 with a specialisation in Digital Innovation.
Pre-MBA Work Experience (years, industry): 8 years in editorial and communications in the luxury fashion industry.
Post-MBA Work Experience (years, industry): 2 years working in marketing at Vestiaire Collective, a scale-up disrupting the fashion industry.
What inspired you to apply to and attend HEC Paris?
Firstly, I have a somewhat unconventional background for an MBA, so I was looking for a school which would not only value this, but also offer an environment where different perspectives were essential to success within the programme. HEC Paris stood out since their MBA programme is filled with a variety of nationalities, ages and industries, creating a hugely enriching learning environment.
Secondly, I was attracted to the 16 month programme. An MBA is a big commitment, and I didn't want to rush returning to the classroom. At HEC Paris you start by studying all the core business topics, and are able to customise your last two terms to dive deeper into subjects beyond the basics.
Finally, I knew I wanted to stay connected to the luxury and fashion industry post-MBA, so HEC Paris' ties to this space were appealing, and obviously strengthened by being in the capital of haute-couture and savoir faire itself!
What was a significant challenge in changing locations post-MBA and what helped you to be successful?
It can be tough – though not impossible – to find a job in France without speaking French. Paris is an international city and increasingly bilingual in many aspects, but the working language for most companies remains French. A good working proficiency is recommended therefore for students to maximise their options and really set themselves up for success.
Part of my family is French, so I was lucky to have a good grounding pre MBA, but decided to prioritise improving my language skills during the programme. I'm very grateful I did as it opened up many more hiring opportunities, as well as making living here much more enjoyable, too. You'll also find that there are many different 'sub languages.' It is one thing to be fluent in business French, but the vocabulary you'll use speaking informally to colleagues and friends is totally different!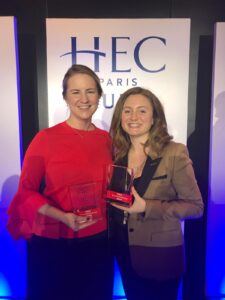 What tips do you have for other MBA candidates looking to make such a change in location?
If you're looking to change function or industry to work in France, I strongly recommend you create opportunities to make your CV as relevant as possible to your target role. Ideally, this would be a combination of an internship plus involvement in clubs or competitions during the MBA.
I've found that French employers expect you to hit the ground running from day 1, so they tend to look for candidates with work experience that closely mirrors the job in question. By contrast, in the UK or U.S. there is a bigger emphasis on transferable skills, so you don't need to position yourself quite as precisely as in France.
So, if you can, an internship is an excellent way to build that experience into your CV in a meaningful way, and might also help you put those language skills to good use too!
What is it like to live and work in France?
There are many wonderful things about living in France, from the obvious (incredible food!) to its rich culture (Paris especially has some of the most amazing museums) and fascinating history, much of which is still only really being understood today.
From fashion to aeronautics, France offers a vast range of industries to continue building your career in. I especially appreciate that people here have long and successful careers, but at the same time this is not the only thing that defines them. There's a strong emphasis on having interests and opinions on a range of subjects beyond the scope of your work. People are curious and spend a lot of time exploring their city and all it has to offer accordingly, from exhibitions to new restaurants, etc.
Linked to this, there's also a real emphasis on the quality of one's life. It's not just what you do, but how you do it that counts. For example, France is not a country where you eat a sad sandwich at your desk in 2 minutes between calls. Instead, lunch is an opportunity to build connections with colleagues and take a reinvigorating pause so you're also more alert in the afternoon!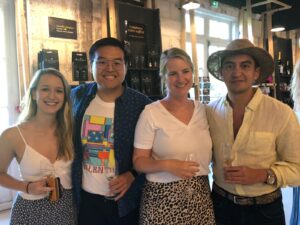 Like anywhere, there are of course downsides (French bureaucracy is a Kafka-esque nightmare at best), but there's plenty to make up for this, including great healthcare and social security, making it not only a very stable place to live, but also one that is hugely enjoyable thanks to an appreciation for the joie de vivre!
What have been the most positive aspects of the change in your location?
I've learned a huge amount about working in a very different culture, which has really broadened my perspectives and helped me grow as a business leader. The HEC Paris MBA really set me up well in this regard as it was such an international environment.
Anything else you'd like to add?
Living abroad is a very rewarding experience and one which will teach you so much about yourself. If you can, I highly recommend using the MBA as a chance to move to a different country, at least to study – and who knows, maybe you'll end up building a whole new life there afterwards, too!
This article was sponsored by HEC Paris.