Many MBAs enter their program looking for a career where they can improve people's lives. In this edition of Real Humans: Alumni, Diana Cruz describes her search for a company whose values aligned with her own, and how Michigan Ross helped her hone the innovation and strategy skills she is building her career with.
Diana Cruz, Michigan Ross MBA '19, Global Customer Care Manager at Google
Age: 35
Hometown: San Francisco
Undergraduate Institution and Major: University of California, Berkeley
Graduate Business School, Graduation Year and Concentration (if applicable): University of Michigan, Ross School of Business
Pre-MBA Work Experience (years, industry): 7 Years, Energy/Utilities
Post-MBA Work Experience (years, industry): 3.5 Years, Technology
Why did you choose to attend business school?
Business school was an incredibly intentional choice for me. I was ascending in my previous company and still chose to leave my full-time job. Going to business school meant pivoting into the tech industry, further developing my data analytics acumen, growing personally by moving to the Midwest (the coldest winters I've ever experienced) and purposely putting myself in situations that made me nervous. It was one of the most defining decisions of my life!
Why Ross? What factors figured most prominently into your decision of where to attend? 
Experiential Teaching Approach: My most meaningful learning experiences occur when I am in the driver's seat. Ross offered me this by taking experiential learning to a new level. It takes it so seriously that a consulting project (many times international) is integrated into the curriculum. I wanted to learn by doing and leave my business school program with tangible experience that I could leverage in the workforce. 
Supportive Community: Throughout the application process, the people at Ross, students and admissions officers included, showed their relentless support – whether it was answering the many questions that I had, openly sharing their personal experiences or connecting me to alumni or students with similar interests. I remember meeting incredibly talented and accomplished students who were humble, down-to-earth and genuinely want to help you succeed. This was the type of environment I knew I'd flourish in.
What about your MBA experience prepared you for your current career?
At Google, I've had so many experiences where I had to learn on the go, be innovative, and think strategically about my customers. I look back at the Ross experience and can say that so many first-hand experiences started reinforcing this ability, making me more confident. In fact, those experiences were built into the curriculum! 
What was your internship during business school?  How did that inform your post-MBA career choice?
I interned with Google during my business school program in the gTech Organization and had an incredible experience. I worked on exciting projects, absolutely loved the people who I worked with, got a true picture of the culture and ultimately could really see myself there full-time. This experience was a critical factor in starting my post-B school career at Google.
Why did you choose your current company? What factors figured most prominently into your decision of where to work? 
When making my decision, I wanted to make sure that it was a company whose values aligned with my own. I was looking for a company that significantly improved the daily lives of others around the globe. I already knew how much Google contributed to my everyday life, but after interning I learned so much more. The level of impact and innovation that Google led was something I saw myself being a part of.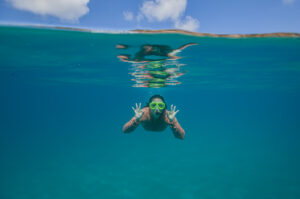 How has COVID impacted your industry/career plans?
Working through the pandemic taught me to be even more flexible. The tech industry is already as dynamic as can be, however, COVID serves as a reminder that everything can change from one day to another and I need to be able to take care of myself, show up, be creative with resources and be bold. I will continue to approach my career this way.
Advice to current MBA students:
–One thing you would absolutely do again as part of the job search?
Be clear about my values in the job search. That is, reassess what is most important to me – whether that be role, location, company, etc. This is important because it helps inform your decision-making in applications, in accepting offers and so much more.
–One thing you would change or do differently?
One thing I would do differently is learn how to start a business. There were numerous opportunities when I was in school, but my focus was elsewhere. I'm starting a coaching business this year and some experience in this entrepreneurship realm could have been helpful.
–Were there any surprises regarding your current employer's recruiting process?
Most of the recruiting experience was very positive, personal and smooth. The post-internship, full-time recruiting process took quite some time. I do know that they have worked on shortening the waiting period significantly now.
–What piece of advice do you wish you had been given during your MBA?
1. Make the most of this experience by doing what intimidates you, what piques your curiosity, and what gets you out of your comfort zone. It's the perfect time to be bold – you'll rarely have another opportunity like it. 
2. Take time to build strong relationships with professors and staff. They are incredible people with a wealth of knowledge. They, too, are part of your lasting network, but only if you invest in getting to know them.