Sponsored Content
In this edition of the Clear Admit MBA Admissions podcast, two special guests join host Graham Richmond to discuss how an MBA–especially one from the NYU Stern School of Business–can help candidates pivot or switch careers.
From the admissions side of the program, we welcome Lauren Calio, Senior Director for MBA Admissions at NYU Stern. Now in her sixth year at the school, she oversees enrollment management for Stern's two-year Full-Time MBA Program, as well as its two 13-month Focused MBA programs: the Andre Koo Technology & Entrepreneurship MBA and the Fashion & Luxury MBA programs. She is passionate about guiding prospective students through the MBA application process, and helping them to see themselves at Stern.
To dig into life on the student side, Núria Boj, a second-year MBA student at NYU Stern specializing in Healthcare and Sustainable Business and Innovation, joins the podcast as well. Núria previously pursued a career in marketing, starting in ad tech agencies, building growth and partnership strategies for retailers and credit card issuers. She then transitioned in-house at Samsung Electronics America, focusing on demand generation and e-commerce for their direct-to-consumer business. Núria recently interned in consulting at McKinsey & Company, where she will return full-time in the Growth, Marketing, and Sales practice.
In this episode, Lauren and Núria discuss:
Why an MBA makes sense for a career switch
Program resources to consider when planning to pivot careers
Advice about making a change
The support and community at NYU Stern
…and more!
Tune in here or your favorite podcast platform: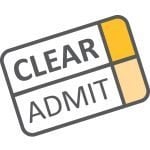 Interested in NYU Stern?  Fill out the form below!

If You Like What You've Been Hearing, Please Subscribe and Rate Us on Apple Podcasts!
It's been wonderful seeing the audience for our podcast series continue to grow! Please, if you have enjoyed what you've heard, could you rate and review the Clear Admit MBA Admissions Podcast in Apple Podcasts? This is the best way to help more listeners find us. Also, to ensure that you never miss an episode, please subscribe to the podcast on whatever platform you use.
This episode was hosted by Graham Richmond and produced by Dennis Crowley. Thanks to all of you who've been joining us!