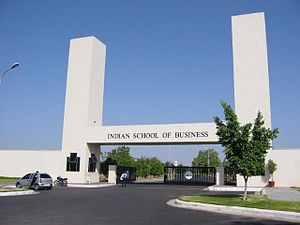 Hima Badu oversees admissions and financial aid for the Indian School of Business (ISB), which has campuses in Hyderabad and Mohali. Badu has a background in English literature and a master in management and worked for a marketing agency before joining ISB.
In the interview that follows, she shares some of the exciting developments taking place at ISB right now, including the launch of a second campus and accreditation by American-based accrediting association AACSB. She also provides some insight into the admissions process from an operational standpoint and helps explain how candidates can use the essays to present a complete picture of themselves to the admissions committee.
Clear Admit: What's the single most exciting development, change or event happening at ISB this coming year?
Hima Badu: There are so many exciting things happening. For starters, we opened a new campus in Mohali, in the north of India, in April of this past year. We already have 210 students there, which increases our overall class size from 560 to 770. The new campus, which is in the Punjab region of northwestern India, will feature four institutes focused on public policy, healthcare, manufacturing and infrastructure management respectively.
We also received accreditation last December from the Association to Advance Collegiate Schools of Business (AACSB), becoming the first school in South Asia to be recognized by the accrediting organization.
Finally, we have the fantastic Wadwhani Center for Entrepreneurship here at ISB, which quite a few students have taken advantage of. More than 150 students have started their own businesses with help from the center.
CA: What is the one area of your program that you wish applicants knew more about?
HB: One area of our program that I would like to draw attention to is our distinctive faculty. In addition to our 40 resident faculty members, we have more than 100 visiting faculty from some of the top business schools, including Wharton, Kellogg, London Business School, Cornell, Chicago Booth, Duke and UCLA, among others. This makes us one of the only schools in the world that has faculty from so many different places teaching under one roof.
Another thing I would like applicants to know about when they think of ISB is very real return on investment they will get here. It is great value for your money. Here, you get to interact with professionals in a happening community at a top-ranked school at a great price, though I must say it's very Indian of me to say that.
CA: Walk us through the life of an application in your office from an operational standpoint. What happens between the time an applicant clicks 'submit' and the time the committee offers a final decision (e.g. how many "reads" does it get, how long is each "read," who reads it, does the committee convene to discuss it as a group, etc.).
HB: After an applicant presses the submit button someone on our team will go through all the academic records you have submitted and verify them while a senior admissions director goes through the application itself. At the same time a student who is an admissions volunteer also will go through the application to determine whether they might need any sort of supplemental information. For example, if they notice you have worked at a particular firm they might turn to an alumnus who works there and might be able to provide input on your candidacy. After this review, both reviewers will make a call of yes, no or maybe for the interview. If both are yes it is an automatic call for an interview. If both are no, another senior admissions director will go through the application and validate a no. If it is a maybe, the senior and associate reviewer will both evaluate the application again.
When it is decided that an applicant should interview, he or she will be called to schedule a convenient date and time. Once the interview is completed, the candidate's file will be evaluated as part of the next day the admissions committee convenes to look at applications, and a decision will be communicated to the student.
CA: How does your team approach the essay portion of the application specifically? What are you looking for as you read the essays? Are there common mistakes that applicants should try to avoid? One key thing they should keep in mind as they sit down to write them?
HB: One important thing I would like to tell you regarding the interview is that the academic record and GMAT score are kept away from the interviewer. We want to ensure that there are no biases by the members of the admissions staff toward the student they are interviewing. In reading applications, we take what we like to call a holistic approach. As part of this approach we consider five factors. The first is a candidate's academic record and GMAT score – this information helps us know that he or she will be able to handle the rigors of the program. Then we look at the quality and depth of the work experience. The third thing we look at are extracurricular activities, the fourth is leadership potential and the fifth is any achievements or awards an applicant may have gotten.
These final four factors are all aspects that applicants can showcase through their essays. If you look at the essays, the first is about how you are different from the rest of the applicants, the second is your goals in life and how an MBA fits in and the third asks if there is anything else we need to know about you. So within these essays you can demonstrate how you may have taken leadership in any of your activities. You can show how you have done something substantial or have a good passion for an extracurricular activity – be it golfing or collecting butterflies. Or you can show what drove you to obtain any of the achievements or awards you may have mentioned elsewhere in your application.
CA: Anything else you would like to add?
HB: ISB is really a wonderful school. One final thing I would like to mention is our unique Leadership Development Program. For the LDP, ISB provides carefully structured questionnaires to six or seven individuals from the student's life – workplace superiors, colleagues and subordinates – capable of providing perspectives on the student's strengths and weaknesses.
This 360-degree review is collated prior to the beginning of the program, so by the time the student comes to class his personality will have been mapped by faculty here. In the past this has been an optional course, but now it has been made a mandatory course for all students. I find that it transforms the student completely and gives lots of insight on how to leverage your strengths and perform as a leader.