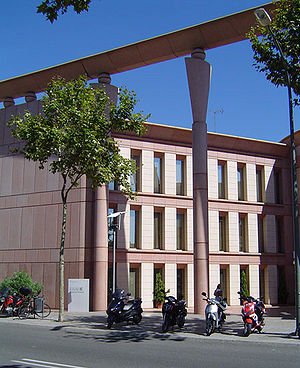 In the latest installment of our Admissions Director Q&A Series, we hear from Cristina Sassot, director of admissions at ESADE Business School in Barcelona, Spain. Sassot, who herself obtained an MBA at ESADE in 2008, worked for more than 10 years before that in educational consulting. As director of admissions, she is in charge of global outreach and student selection for the school's full-time MBA, as well as its master of science programs in finance, management, marketing and innovation & entrepreneurship.
In the interview that follows, Sassot shares some of the things that set the ESADE MBA apart – such as its flexible format, in which students can opt for either a 12-, 15- or 18-month program. She also highlights the fact that the school's 160 students herald from almost 50 different countries, which helped earn it the top spot in terms of student diversity in the Economist's most recent rankings. And she provides detail about Creapolis, the unique innovation center on campus that houses more than 60 companies looking to share resources and ideas.
Clear Admit: What's the single most exciting development, change or event happening at ESADE this coming year?
Cristina Sassot: Our full-time MBA has gone through a number of really positive changes during these past five years. First, we expanded our program from two sections to three, while broadening the international dimension of our curriculum. Then, we implemented our highly popular flexible format, which allows students the choice to finish their MBA in 12, 15 or 18 months.
This year, we became the latest program to move into ESADE's brand new international campus, which is located just a 20-minute train ride from central Barcelona. The campus includes three restaurants; a student residence; a gym and several other businesses; and four floors of custom-built space for our full-time MBA participants, including exclusive classrooms and state-of-the-art meeting spaces.
All this is part of ESADE's commitment to building the MBA of the future. We believe that innovation will be at the heart of the companies of the future, as they adapt to new challenges. That's why we're proud to be the only top MBA to share facilities with a vibrant business community, as is the case with Creapolis, the Open and Cross Innovation center located on campus. Creapolis houses more than 60 companies, mostly start-ups but also the innovation departments of several larger organizations, who seek to accelerate their development by sharing ideas, resources and space. This is an ideal environment for an MBA student to apply the tools they are acquiring during the program.
We are also proud this year to have the most diverse MBA class in the history of our program: 160 students, representing 48 different nationalities. That's a tremendous amount of diversity for such an intimately sized program. And we are not the only ones to have taken notice: The Economist recently ranked ESADE's full-time MBA number one worldwide in terms of student diversity.
Finally, we have given students even greater flexibility in customizing their ESADE MBA experience. Not only can you select your electives and extracurricular activities (of which there are plenty on offer) as well as your exchange option during the second year (we have more than 40 partner schools on five different continents), at ESADE you can also choose the length of your MBA.
In fact, this decision is not made when you apply, nor when you arrive on campus, but a full nine months after you start the program! It works like this: In August, you meet your classmates and begin your first-year core courses. This is when you are exploring business from a 360-degree perspective. Then, in May, once you have completed your introductory coursework and decided whether you plan on going on exchange and/or doing a summer internship (both are optional), then you will decide whether to finalize your MBA in 12, 15 or 18 months.
Twelve-month students typically know exactly what they will be doing after finishing their MBA. Not just what they want to do, but what they will be doing – usually they are sponsored by a company or a family business, or they have a business idea they are looking to launch as soon as possible. Since their experience is fast-tracked, they focus most of their efforts on learning as much as possible from the MBA environment and then head back to the job market at the earliest possible opportunity.
Eighteen-month students follow a more "typical" MBA path: They have a three-month window for doing a corporate internship during the summer and then can spend either their first or second semester during the second year on one of our exchange programs. This extra time allows them more opportunities to network, acquire new skills and explore new areas in which they might like to work after the MBA – whether that means changing sectors, changing functional roles, changing geographies or all three at the same time! Finally, the 15-month program allows you to do either an internship or an exchange program and to complete your MBA by December, giving you a head start on your 18-month MBA peers.
As you can see, these are very exciting times for ESADE, as our program keeps growing, investing and innovating year after year.
CA: What is the one area of your program that you wish applicants knew more about?
CS: Our career services track record is second to none. This is based in large part on the high regard in which many company recruiters hold ESADE MBAs. There are a lot of programs, including ESADE's, which offer high-level academics and a diverse working environment. What sets ESADE graduates apart is that they will have spent months in an intense teamwork-based environment, where they develop the so-called "soft skills" that make them effective leaders.
Here again, you don't have to take our word for it. Each year, our students are actively recruited by top companies in a variety of sectors – not just consulting and banking but also retail, fashion, technology, pharmaceuticals and consumer goods, to name just a few. For example, adidas has hired three or four of our students per year since we set up an MBA case competition with them in 2010. Companies like Amazon tell us that ESADE graduates bring the kind of analytical skills, communications savvy and big-picture thinking that a growing company needs in a competitive global marketplace. Not to mention the ESADE graduates who each year go on to start their own companies…
CA: Walk us through the life of an application in your office from an operational standpoint. What happens between the time an applicant clicks 'submit' and the time the committee offers a final decision (e.g. how many "reads" does it get, how long is each "read," who reads it, does the committee convene to discuss it as a group, etc.)
CS: At ESADE we seek to be in close personal contact with each of our full-time MBA candidates. At the end of the day, one of the things that set us apart as a program is our intimate size and the close contact that students have with their classmates during the program. To ensure that every candidate is "adding value" to his or her batch, we need to get to know our candidates really well.
By the time a candidate has submitted an online application, usually he or she will have met us in person at least one or two times, either here in Barcelona or during one of our international events around the world. It is at this point that we make our recommendation as to whether a candidate should apply or not, since these initial meetings give a chance to understand their personality and motivation and to identify a potential "fit" with our MBA environment here.
Submitted applications are first reviewed by the associate director responsible for the region in which the candidate currently resides. Sometimes there are documents or test scores missing, and that is OK – we actually encourage candidates to submit the online portion of their application as early as possible, so we can begin planning the candidate's admissions process in advance.
Once completed, applications are thoroughly reviewed by our Admissions Committee, which meets on a weekly basis. The committee consists of myself, our associate directors of admissions and representatives from several departments of our full-time MBA, including Career Services, Marketing and Program Management.
When we review your application for the first time, we are looking at several things. What is your motivation for applying to an MBA, and more specifically to ESADE? What track record of achievement do you have, in both your academic and professional pursuits? What prior international experience do you have and will you be able to thrive in an intense multicultural environment such as ours? How do you see an MBA fitting into your career progression, and where do you expect to end up in a few years' time? There are no "right" or "wrong" answers to these questions, but they give us a very good sense of whether you have done your homework and whether you might be successful at ESADE, both academically and professionally.
From there, a binary decision is made: Interview, or No Interview. If you are invited to interview, your process then advances to the next stage; if you are not invited, your process comes to an end.
For those selected to conduct an official interview, this is where we get some of the most valuable information about you. It allows us to see beyond the essays, transcripts and test scores, to meet you in person. Usually our interviews happen on campus, often during our Open Days which take place in Barcelona once a month. Candidates also have the option of conducting their interviews in person at one of our international events around the world, of which we hold more than 200 on an annual basis. That said, we definitely recommend that candidates visit campus at some point during the course of their admissions process.
I would also add a quick word about recommendation letters. These are vital parts of the application package, and we look at them very carefully. Your recommenders provide us with an idea of how you have performed in the past. It gives us a great opportunity to see if the story you are telling about yourself matches with the impressions of your recommenders. My one piece of advice for candidates in this regard would be to choose your recommenders wisely: find someone who knows you well and who you feel has seen your best qualities at work, and above all who is willing to describe them for you in a recommendation! Don't worry about impressing us with the title or position of the person who is recommending. We are looking above all for informed opinions, supported by clear examples.
Once the interview has been completed, the application is presented once again to our Committee for final evaluation. In all, the process takes around four weeks from the application completion date to the time the applicant receives feedback from the Committee. By then, the "successful" applications will have been reviewed by the full Committee twice, plus several other times by our associate directors.
CA: How does your team approach the essay portion of the application specifically? What are you looking for as you read the essays? Are there common mistakes that applicants should try to avoid? One key thing they should keep in mind as they sit down to write them?
CS: The essay is important, in that – together with the personal interview – it allows you to tell your story in your own words. At ESADE we are looking for students who will contribute to our reputation as a dynamic, international program. Our reputation is built upon producing graduates who go beyond the stereotype of a cold, number-crunching MBA. Your essays will tell us who you are, how you think and how you express yourself. Please note that we value sincerity above any degree of flashy terminology or lofty wording.
As much as this sounds counterintuitive, the goal is not to impress us – and we can tell when people are trying to do that – but rather to give us a clear idea of who you are. Think of your essay as an opportunity to tell us something that we would not otherwise know about you or to make something "pop out" from your profile.