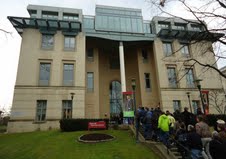 Carnegie Mellon University (CMU)'s Tepper School of Business and School of Computer Science will partner to establish a new, joint Center for Innovation and Entrepreneurship (CIE) in an effort to help transform university research and projects into commercial enterprises, the university announced last month.
The new CIE will combine Tepper's Donald H. Jones Center for Entrepreneurship and the School of Computer Science's Project Olympus, continuing the successful programs of each while also growing an extensive network of alumni entrepreneurs.
"The Don Jones Center and Project Olympus have been tremendously successful in helping students and faculty take the crucial first steps in transforming research findings into products and services that people want to buy," Mark S. Kamlet, CMU provost and executive vice president, said in a statement. "We are excited that the partnership between technology and business as embodied by the new center will create the same synergies we see when our faculty members reach across disciplines — and propel our university, and region, into the entrepreneurial forefront."
Dave Mawhinney, executive director of the Don Jones Center and a Tepper assistant teaching professor of entrepreneurship, and Lenore Blum, founding director of Project Olympus and professor of computer science, will jointly lead the new CIE. Together they will work to define CMU as the "destination of choice" for students interested in entrepreneurship, the school announced. The CIE will also focus on fostering an "inside-out" approach of transforming cutting-edge research into successful commercial ventures.
"We also will be establishing an Alumni Entrepreneurial Network, tapping our many alumni who have started or who are leading successful startups," Mawhinney said in a statement. "Our alumni can provide priceless guidance to the next generation of entrepreneurs and we will be nurturing those connections in every way we can."
The CIE will continue existing programs such as the seasonal Show & Tell events that connect campus researchers with local and national investors, the Open Field Entrepreneurs Fund, incubator space for fledgling companies, entrepreneurship workshops and business competitions. It will also spearhead a range of new initiatives, including "Launch CMU" events designed to bring together top-tier venture capitalists with university researchers and entrepreneurs, as well as undergraduate scholarships and graduate fellowships designed to foster entrepreneurial efforts.
Learn more about CMU's new Center for Innovation and Entrepreneurship.