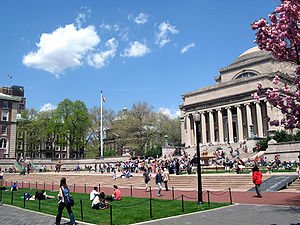 Earlier this month, Columbia Business School hosted a weeklong series of events as part of an annual initiative designed to connect second-year MBA students with the school's alumni community and encourage the current students' future participation as alumni themselves. 
Columbia Forever Week 2013 took place from April 8th through 11th and included a range of events and activities spotlighting alumni. Student clubs hosted events with young alumni, giving current students an opportunity to learn more about life after graduation.
CBS Matters, a recurring forum that usually features current students speaking to their classmates about what's most important to them and why, instead featured alumni answering those questions for the first time. Alumni Richard Paul Richman '73, namesake of the school's Richman Center and a member of the Real Estate Forum and the Board of Overseers, and Coleman Skeeter '12, cofounder of Urbavour and a participant in the Columbia Business Lab, both spoke.
Second-years and alumni also got a chance to unwind together through more informal events scheduled as part of the week. Seventeen student clubs came together to host Alumni Clubs Night one evening. Another night, students and alumni met up at Amsterdam Billiards for Comedy Night. 
Columbia Forever Week first debuted in 2008, developed by the Alumni Committee of the Graduate Business Association.