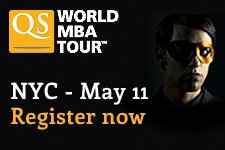 The QS World MBA Tour is scheduled to visit New York City this May. Designed by MBA graduates, the QS World Tour features free workshops led by experts and MBA alumni to help prospective applicants understand the differences among MBA programs and stand the best chance of getting into the business schools of their choice. During each event, attendees have the chance to meet face-to-face with admissions directors from top business schools around the world. Additional features of the QS World MBA Tour include: $1,200,000 (USD) of exclusive scholarships available for attendees, workshops designed to help improve GMAT scores, and pre-fair careers panel with MBA recruiters and alumni.
Event Summary:
What – QS World MBA Tour
When – Saturday, May 11, 2013 from 1-6pm
Where – Hilton New York, 1335 Avenue of the Americas
How – Admission is $5 for online registrants, or $15 the day of the event
Stay tuned to this blog for more information about the QS World MBA Tour's fall events!