Tepper School of Business FlexMBA Online Offering Draws Interest from Prospective Applicants Nationwide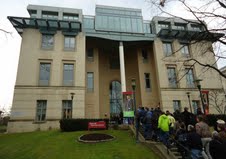 Carnegie Mellon University (CMU)'s Tepper School of Business will debut a new online MBA offering next fall, and prospective applicants from across the United States – as well as Europe and Asia – have shown interest and/or submitted applications, the school reports.
FlexMBA – a new online MBA offering that will offer the same curriculum, faculty and access to services to online students that they would receive on campus as part of the traditional MBA program – differs from the MOOC (Massive Open Online Courses) model by creating small class sections of roughly 20 students and maximizing interaction between students and faculty, Tepper notes. Students will take part in weekly live online classes with Tepper professors and attend approximately five "access weekends" each year in which all FlexMBA students will travel to a CMU campus for intense classwork and professional development programs.
"The appeal of FlexMBA is that now professionals in any geographic region can pursue a top-level MBA education without relocating, which may otherwise be prohibited by their current job or family situation," Kelly R. Wilson, Tepper executive director of admissions, said in a statement. Wilson noted that Tepper so far has received applications or expressions of interest from prospective students in 34 states as well as Europe and Asia. The inaugural program will feature a synchronous online class component based on U.S. time zones and will meet at locations in North America, reducing somewhat the feasibility of participation by students outside the U.S., though any student who can meet the application requirements, access the online coursework, and travel to the periodic class meetings is eligible, Wilson added.
In addition to online coursework and weekly interactions with professors, FlexMBA students also will have access to alumni and student services, including coaches from the school's Accelerate Leadership Center and advisors from the career opportunity center.
"Face-time and personalization are critical components of business education," Robert Monroe, associate teaching professor and director of the FlexMBA program, said in a statement. "We will utilize technology to deliver appropriate components of the curriculum and will engage our access weekends to spur group learning and interaction," he continued. Far from being just another MOOC Offering, FlexMBA is designed to deliver the same high-level student experience as Tepper's traditional full-time MBA, he added.
Tepper will host two upcoming online information sessions and application workshops, one on Wednesday, May 8th, from 4 to 5 p.m., and another on Wednesday, May 15th, from 12 to 1 p.m. These sessions are open to the public.
Application requirements for the Tepper FlexMBA are identical to those for the full and part-time MBA program. Applications for FlexMBA will be accepted through June 3rd.
Learn more about upcoming information sessions and application workshops.
Access additional FlexMBA program information.
Related articles