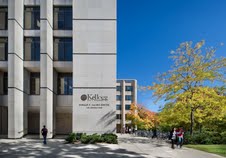 Earlier this week, the Kellogg School of Management said that it will begin requiring a video essay as part of its 2013/2014 MBA application. The school will also revert to a one-part application, with a single set of deadlines, rather than the two-part process it has used in recent years. These and other changes were first reported Monday by PoetsandQuants.
As part of the new video essay, students will be directed from the application to a landing page on a Skype-like platform where they will be asked a short question, according to a subsequent report in Bloomberg BusinessWeek. Applicants will have one to two minutes to collect their thoughts and one to two minutes to record an answer. They can replay their answer and start over up to two times is they are dissatisfied, receiving a new question on each subsequent try.
"We felt like this was a great opportunity to meet our applicants from wherever they might be in the world," Kate Smith, Kellogg's assistant dean of admissions and financial aid, told P&Q. "We felt that we were past the tipping point in terms of video technology and comfort with it – most applicants would have used Skype or FaceTime," she continued.
The new video essay will not replace the traditional interview as part of the Kellogg application process. Many of these interviews are conducted by second-year students and alumni, and the video essay will give the admissions committee a chance to meet the candidate in a video format, Smith said.
Kellogg also has reverted to a one-part application with a single set of deadlines, a simplification of the more complicated two-part application it has employed in recent years. The posted deadlines are October 16th for Round 1, January 7th for Round 2 and April 2nd for Round 3. Applicants can schedule an interview only once they have submitted their application, and submitting earlier can help applicants match for an interview faster, the school says. Kellogg will use the same application and procedure for its part-time and Executive MBA programs as well.
Finally, in keeping with the trend among top business schools, Kellogg has also this year reduced the number of written essays it requires, from four to three, and cut the total word count applicants will have to answer the questions, from 1525 to 1350.
Read the complete PoetsandQuants article, "Kellogg to Require Video Essay."