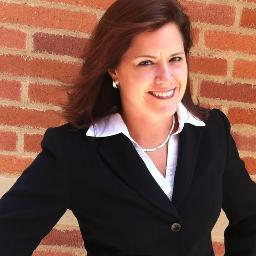 In its new director of the Parker Career Management Center, UCLA's Anderson School of Management has found someone with unique insight into the school's alumni base, as well as extensive recruiting and career consulting experience. Regina Regazzi graduated from Anderson herself with an MBA in 1997. After a stint at Bank of America in leasing she decided to switch gears to executive recruiting, turning to the Parker CMC for help in her own job search. She landed a job at an executive search firm and ultimately went on to launch her own firm, Artume LLC, in 2008.
All the while, she remained actively involved with Anderson as an alumna, serving in several roles of the UCLA Anderson Alumni Network and winning the 2005 Outstanding Alumni Service Award. She was ultimately elected president of the Alumni Board of Directors in 2009, responsible for representing the school's 37,000 alumni.
Now she comes full circle, returning to Anderson as Parker CMC director, where she puts all of her talents to use – overseeing outreach to attract employers to recruit Anderson students, advising students in their job searches, managing the operations of the office and the logistics of recruiting and continually interacting with the ever-growing UCLA Anderson alumni network.
Read on to learn more about Regazzi's role, her team and how she taps her own experiences as an alumna and an executive recruiting expert to make the experience of current students the best it can be.
Clear Admit: How do you view your role as director of the Parker Career Management Center? Is it to administer workshops? Counsel students? Counsel companies? Manage the entire office and oversee its various functions? All of the above?
Regina Regazzi: From a tactical perspective, I manage the office and oversee four channels: education, advising, recruiting (the logistics of campus visits) and outreach. I also currently run the outreach channel. In all of these groups there are people who work cross-functionally. For example, some of the advising team also does outreach. I also advise students and cover the finance industry vertical specifically, but all of us advisors see ourselves as generalists and make ourselves available to any student. Others in the office administer workshops, and one person who manages the education channel runs most of the classes in the career series herself.
From a more strategic perspective, I see myself as both leader and manager of the group, but it is crucial that I am also in the trenches working with the various teams. I need to do that to understand what the team does and what each person's job entails and how it affects the whole. Advising is one of the most critical facets of my job. I need to understand our students and their desires and needs, as well as their talents, so that I may represent them well when I sit across from my recruiting contacts and alumni at our hiring companies. I think the system works really well, and we're making great inroads with companies while rating high on student satisfaction.
CA: Now, about your team. How many career advisors do you have? Is this a relatively constant figure? If not, how has it changed in recent years? How might it change in the near future?
RR: We currently have six full-time advisors/outreach/other (including me) and two part-time advisors, plus three people in recruiting and two administrative team members (one of whom manages our part-time work studies). We will be adding an international program manager/advisor as well as another full-time advisor, who will split time with corporate outreach, and a communications manager, for a total of 16. This should remain relatively consistent for the next few years.
CA: Can you provide prospective applicants with an overview of the recruitment process at Anderson? When does it start? How does it unfold?
RR: This year, to address the fact that admits get antsy to start the recruiting process almost as soon as they are admitted but to also make sure that they aren't reaching out and taking on anything for which they are not quite ready, we added some early assignments to the admit portal of our website so that some of the ambitious ones can feel like they are being productive. We have six different assignments:
1. Peruse function and industry overview sheets, which provide basic information and facts about industries and functions that may help them determine whether those industries and functions might be a good fit.
2. Review the Anderson Employment Report for the recruiting, hiring and salary trends for the full-time class of 2012 and the intern class of 2013.
3. Make a tracking sheet to start recording contacts. We want to get them used to the idea of tracking their contacts and information about interactions and background about the companies. To add contacts to the list, we recommend thinking about the variety of people in their networks who might be helpful in the career search process, including: current and former colleagues, undergrad and high school classmates, parents and relatives, and parents' and relatives' friends. Then we ask them to sort these by company and prioritize by interest.
4. Conduct an informational interview a week with some of the people they have included from their contact gathering. We suggest asking for a 15-20 minute chat by phone or over a cup of coffee. We ask that they do not reach out to current Anderson students and alumni yet, as we would like them to wait until we have trained them using a more formal approach. We then ask them to follow up with a thank you and to add notes from the meeting and any suggestions for follow-up with that person or someone they may have recommended.
5. Read The Startup of You, by Reid Hoffman, the founder of LinkedIn. This book has great insight into the modern job search, just-in-time hiring, personal branding and back-up plans.
6. Start following industry trade publications.
OPTIONAL: Learn to code – for those interested in some of the more technical roles within the technology industry.
CA: How has the economy impacted recruitment at Anderson? How have you and your staff remained flexible or adapted in order to help students navigate a more challenging job market? Have you encouraged flexibility on the part of students themselves?
RR: 2008 certainly affected the number of job offers made in that year as well as the following few years, the advising style and approach to the market. We are always flexible to both challenging times and areas within the greater job market as well as new opportunities that students should consider. Students always need to be flexible. Some come in and expect an easy entry into certain industries. We encourage Plan B and sometimes Plan C, and we also encourage flexibility on compensation, title and location expectations. Sometimes students don't believe us until they dip into the market themselves.
CA: How does your team counsel students regarding the interview? Is there a formal mock interview process? How are interview schedules administered? Is there an established policy regarding how closed and open interviews should be conducted? What facilities are available for interviews?
RR: We teach them first about informational interviews and then about the real interview, both of which are covered in our career series. Our professional advising staff advises on interviewing by conducting "Interview Manias," which are quick 15-minute mock interviews with each student to identify areas that need improvement. We follow that up with interview practice in our one-on-one advising sessions. We are also supported by the Anderson Career Teams (ACT), which is a group of second-year students, divided by industry or function, that augments what we teach in the career series by taking the interview down to their specific functions or industries. For example, the Investment Banking ACT team will conduct mock interviews on behavioral and technical questions. In peak season, I am mocking all of those students and then the Investment Finance Association and the ACT coaches come together to offer mock interviews. In consulting, we have the same thing, but we also hold an alumni case marathon on a Saturday before the interview season begins. The Management Consulting Association also has a group of students dedicated to helping students practice case interviews, and we also bring in two consultants to drill students. Students take advantage of all of this. The offerings depend on the rigor of the interview process in each industry.
Our recruiting team handles all the logistics for interview schedules. There is a request date in the spring, and then dates are scheduled depending on how many rooms the companies need. We have 10 interview rooms just for these interviews, plus a conference room and a breakout room. If a company has more interviewers than we have rooms, some of our advising staff will either work from home that day or use other available rooms around the school. We don't have many open interviews anymore, but that is purely the choice of the companies, and we work around their desires.
CA: What kind of role do alumni play in Anderson's recruiting process? How integral are they to your office's success? Is alumni participation a major part of students' career searches?
RR: We love our alumni, and especially in the past few years, we have such a great relationship that they will do whatever they can to participate in the recruitment process. That could mean that an alumnus brings the company on campus for corporate presentations and coffee chats and interviews, or it may mean that they just post a job on our Parker Postings, which is like a classifieds job posting system. Those jobs can be seen by current students in all of our programs as well as alumni, whereas on-campus recruiting is limited to people who have taken our career series and have committed to campus recruiting. Alumni participate in alumni case marathons, come to career nights, sit on panels, conduct informational interviews and participate in corporate presentations and social events. Some also host "Days on the Job" treks in their companies as well as "dinners for eight" and coffee chats. The list is almost endless on how they can and do get involved.
CA: Do you have any advice for prospective applicants in terms of what they might do in advance of the MBA program to be better prepared for the job search process? In your experience, do you find that students who have done x, y or z before arriving on campus have a more successful experience with career services and the job search as a whole?
RR: For starters, there are certain résumés that are appealing. Good undergraduate institutions and well-known companies are helpful, although someone with a very unique entrepreneurial experience is also interesting. It's great to see progression on a résumé and a decent stay at a company, as compared to job hopping.
Some students do internships before they start, but that hasn't always helped. We encourage people to take a long look at what they have liked and not liked in past work experiences: the work itself, the corporate environment, the hours, location, etc. We encourage them to network within their own groups to get comfortable with the concept of networking before they come on campus and get into it almost immediately during the formal recruiting process. This is especially important for international students who may not be used to having to network at all. When we give assignments, we ask them to take them seriously – write the résumé according to our format, complete the CareerLeader program, etc. No matter what, they need to be prepared for increased expectations in recruiting for MBAs, compared to undergrads. Those who follow instructions and do what they're supposed to do are generally fine, but if they find they're not getting the results they'd expected, we encourage them to come in and work with us to find the problems and fix them.