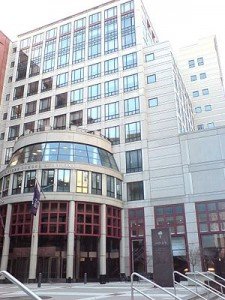 New York University's Stern School of Business this month will launch a new series of events designed to connect prospective MBA applicants with Stern faculty and provide a glimpse of the Stern MBA experience.
"The Future of Business" event series will kick off on Saturday, September 28th, at 10 a.m. with a panel discussion on financial services and real estate. Three Stern professors – former investment banker Charles Murphy, Stern Center for Real Estate Finance Research Director Stijn Van Nieuwerburgh, and Robert Whitelaw, chair of Stern's finance department – will speak in a TED-talk format, after which participants will have a chance to mingle with admissions officers and students from Stern's full-time MBA, Langone MBA for Working Professionals and Executive MBA programs.  
A second event, scheduled for Wednesday, November 13th, at 6 p.m., will feature faculty members discussing the future of mobile, data and open innovation. Faculty participants in this event include Professors Anindya Ghose, co-director of Stern's Center for Business Analytics; Natalia Levina, who teaches courses on global sourcing and open innovation; and Kristen Sosulski, director of Stern's Center for Innovation in Teaching and Learning.
Future events in the series will focus on industries including luxury, entrepreneurship and social enterprise. The events will run for one and a half hours each. All events are free and open to prospective applicants to any of NYU Stern's three MBA programs. Interested participants are asked to RSVP in advance.
Learn more about Stern's new "Future of Business" event series.