UNC Kenan-Flagler School of Business Appoints Former Dean to Serve Third Interim Dean Role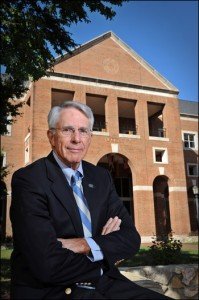 Jim Dean, former dean of UNC's Kenan-Flagler Business School, was appointed in May to become UNC executive vice chancellor and provost, leaving the business school in need of a leader. Dean turned to Jack Evans (pictured), asking if he would serve as interim dean.
With more than 40 years of experience at Kenan-Flagler, Evans came out of retirement to answer Dean's call. In addition to holding the Kenan-Flagler deanship from 1979 to 1987, he served two subsequent terms as interim dean. He first came to Kenan-Flagler in 1970, as a professor of operations.
"Jack was a perfect choice based on his experience with and knowledge of the business school as well as the entire campus," Dean said in a statement. "He has earned the confidence of all as a capable leader who is always searching for the greater good for the institution."
While dean during the 1980s, Evans helped Kenan-Flagler launch its Executive MBA Evening and Master of Accounting programs and added custom programs to the school's executive development offering. He also served as president of the Association to Advance Collegiate Schools of Business, leading an overhaul of the accreditation process for business schools.
Evans' current stint as interim dean is expected to last through December 2013, when a search committee is due to recommend a permanent replacement.
"It's a short-term assignment, but it's one that I hope I can contribute to and help the School maintain momentum that was here on Jim Dean's last day," Evans said in a statement.
Learn more about John Evans' many contributions to UNC Kenan-Flagler over the years.
Related articles
Trivia Tuesday: UNC Kenan-Flagler's STAR Program (clearadmit.com)