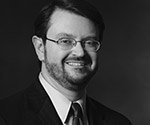 Stephen Rakas has been in career services with the Tepper School of Business at Carnegie Mellon for the past 10 years and in his current role as executive director of the Career Opportunities Center (COC) since 2011. His previous experience includes four years in career services with the University of Pittsburgh and an additional decade of experience in general management and sales in industries ranging from healthcare to high-end retail.
"I discovered earlier in my career that serving as a conduit between the academic and business environments was a strong match with my skills and interests," he told us. "I'm passionate about higher education, and the opportunity to help students transition their academic achievements into the world of work is very rewarding."
Check out the interview below, in which he describes the comprehensive Base Camp Orientation all Tepper students undergo before classes even begin, explains why all the members of the COC team devote time both to counseling students and to maintaining relationships with employers and more.
Clear Admit: How do you view your role as director of the Career Opportunities Center? Is it to administer workshops? Counsel students? Counsel companies? Manage the entire office and oversee its various functions? All of the above?
Stephen Rakas: Similar to how faculty are focused on delivering our business curriculum to students, my team and I are focused on teaching our students the skills needed to be successful networkers, job candidates and interviewees. Our mission is to help our students develop a career focus in line with their personal mix of skills, values and interests, to guide them in developing the tools and resources they need to market themselves and to create a professional environment where students and recruiters can meet and interact to explore opportunities.
If we're doing it right, we're teaching our students a set of skills they will use throughout their working life to manage their careers.
Of course, to do that effectively, I need to ensure I'm managing our resources and team appropriately to enable us to set and achieve relevant goals, which include both student counseling/coaching activities as well as employer relations management.
As a smaller program, we have the opportunity at the Tepper School to know our students as individuals and to partner closely with our recruiters to understand and support their goals as well. Given that I came up through the ranks in career services, I enjoy keeping engaged with students, so I still keep a small counseling load, and I try to meet with as many others as my schedule permits.
Finally, an important part of my job is to ensure we're partnering effectively with our colleagues across Admissions, Student Services, Corporate Relations, Alumni Relations and other areas to maximize all of our efforts and resources.
CA: Now, about your team. How many career advisors do you have? Is this a relatively constant figure? If not, how has it changed in recent years? How might it change in the near future?
SR: We have a staff of 14, which includes eight counselors at the associate director or director levels, three staff who manage our recruiting efforts and two others in general office administration. As with most MBA programs, we've made a conscious effort to attract and recruit career counselors with relevant experience in the industries and functions most often pursued by our students. Several of them are graduates of our MBA program, and all of them perform both student counseling and employer relations duties. While many schools have separate teams focusing on these activities, we've found the dual role keeps our team energized and their industry knowledge remains current through their frequent interactions with employers.
Our counselors work in teams based on their industry/functional expertise, which are aligned with the careers most often pursued by our students. For example, students preparing for consulting opportunities have a different path than those preparing for financial services, so these teams work closely with our students and student clubs to offer relevant programming. Our students are assigned to a particular counselor based on their declared interests, and after the initial required meetings are completed, the student can choose to continue to meet with their counselor exclusively, or to meet with any other counselor of their choice. This process has been very popular with our students, and the student ratings on our one-to-one advising sessions have been very strong.
We were honored this past year to be ranked the #3 Career Services office in the Bloomberg BusinessWeek MBA rankings.
CA: Can you provide prospective applicants with an overview of the recruitment process at Tepper? When does it start? How does it unfold?
I tell our incoming students that the recruiting process for summer internships begins well before they arrive on campus for our Base Camp Orientation program, which is a school-wide effort taking up most of the month of August. We provide an online checklist of activities for them to complete over the summer, mainly related to self-assessment and introducing resources to help them to learn more about careers of interest to them and how to interact with recruiters. They complete the paperwork related to assigning them to a relevant counselor, and they are asked to arrive at Base Camp with a working draft of their updated résumé ready to share with their counselor. At Base Camp, our sessions provide an overview of the career services office and the on-campus recruiting process, as well as entire days devoted to career "verticals," which consist of faculty and career center staff presentations, as well as alumni panels focused on consulting, finance, marketing, operations and entrepreneurship, which encompasses the career interests of almost all of our students. We're not necessarily requiring them to select a path from which there is no alternative, but we are letting them know that if they don't at least identify Plans A and B, they are going to be at a disadvantage when talking with recruiters in a few short weeks.
After Base Camp is over, classes begin at the end of August. The Tepper School is well known for its analytical rigor and rapid pace. We operate on a mini-semester system, so students are changing classes every six and one-half weeks, with breaks between known as "Experience Weeks." These periods are used for clubs treks (supported by the COC), as well as sessions with our new Accelerate Leadership Center, which provides programming and coaching to develop our students' leadership and communication skills.
Employers host presentations and other events for all students beginning the first week of classes, but on-campus recruiting in the fall is for second-year students only. Of course, many first-year students will land internship offers in the fall, as a result of attending the various conferences and national career fairs offered during that period. During the fall, our first-year students also have a series of required meetings with the COC, including résumé and mock interview sessions.
Our first-year students officially begin interviewing on campus in January for summer internships.
CA: How has the economy impacted recruitment at Tepper? How have you and your staff remained flexible or adapted in order to help students navigate a more challenging job market? Have you encouraged flexibility on the part of students themselves?
SR: All business programs felt the impact of the downturn of 2008. Fortunately, at Tepper we began to see a strong recruiting recovery within about 18 months, and the last three years have shown a steadily increasing employment rate, as well as rising salaries. Many consider the consulting industry to be a bellwether, meaning it's often the first to contract hiring and the first to recover in a turbulent economy. Consulting has emerged as our #1 industry in the last few years, followed by other high-growth sectors like technology, bio-pharma and manufacturing. Financial services recruiting has remained more challenging, but this situation is by no means unique to the Tepper School.
In 2008 and 2009, when many long-term recruiters were cutting back and entire companies were collapsing, we reacted by reaching out and heavily engaging our alumni. As a smaller program, our alumni have always been a critical component of our success, and many alumni came through with summer internships and full-time job opportunities for our students. They helped to reinforce our messages of networking and leveraging the tight-knit Tepper alumni community. Many of our alumni were amazingly generous with their time and support, even when they were not in a position to provide job opportunities.
I believe the "Great Recession" and the sluggish recovery that has followed has imprinted heavily on the generation of students currently attending MBA programs. For many of them, it's the only economic environment they have known as working adults. This seems to have raised awareness of the importance of not relying too heavily on outside forces or counting on sheer luck to achieve your goals. When alumni speak about the importance of building and maintaining a network, and share their own experiences, this group appears to be listening and taking the advice to heart more than I've seen in the past.
CA: How does your team counsel students regarding the interview? Is there a formal mock interview process? How are interview schedules administered? Is there an established policy regarding how closed and open interviews should be conducted? What facilities are available for interviews?
SR: At our Base Camp orientation program, our overarching message is that our students need to be "Recruiter Ready," which includes having well developed interviewing skills. Our counselors bring a wealth of interviewing expertise from their past careers, and we also offer a series of workshops, co-hosted by our student government and professional clubs, to focus on things like STARS, case interviews and other topics. Our professional clubs, including Consulting, Finance and others, offer specific technical content and training aimed at improving performance in industry-specific interviews.
Also, each student must successfully "pass" a videotaped mock interview with their counselor in order to retain access to recruiting. After on-campus recruiting begins, students who are singled out by recruiters as poorly prepared in any way are required to meet with a counselor and work on improving any deficiencies, or face disciplinary action.
For on-campus recruiting, we do not require a set percentage of "open" or "closed" schedules, nor do we currently offer bidding. When we had the technology available to offer bidding, we had so few employers interested that we discontinued it. Most companies prefer closed schedules, and our recruiting staff does a tremendous job working with companies to condense schedules or make last-minute additions to ensure schedules are filled with candidates the employer wants to interview.
CA: What kind of role do alumni play in Tepper's recruiting process? How integral are they to your office's success? Is alumni participation a major part of students' job searches?
SR: Our alumni are a critical part of our success. I've already described how the Tepper alumni community came through during the downturn of a few years ago. In addition to that, we have many eager alumni advocates supporting recruiting, hosting treks, appearing on panels and many other things. I believe our smaller size works in our favor in this regard.
Having been at Tepper for 10 years, one of the most rewarding things for me, personally, is when former students are now our recruiters, alumni panelists or hosting groups of students on the same treks they helped to organize when they were students.
CA: Do you have any advice for prospective applicants in terms of what they might do in advance of the MBA program to be better prepared for the job search process? In your experience, do you find that students who have done x, y or z before arriving on campus have a more successful experience with career services and the job search as a whole?
SR: Whether incoming students are career changers or simply seeking to grow within their current industry/function, it's critical to take a step back and think about their motivators for pursuing a graduate degree. For example, the specific things (whether it's traveling, writing detailed reports or reconciling financial statements) that you did not enjoy about your last job are probably not going to be any more enjoyable just because you can command a higher salary or title with an MBA. The students are presented with a relatively rare opportunity to re-direct their career toward things they actually enjoy doing, as long as they are also able to convince an employer to hire them to do those things.
I believe too many incoming students focus on employment statistics or starting salaries in a particular area, while ignoring the long-term career implications. As stated earlier, an MBA can provide the basis to completely redirect one's career, but it's only one part of the process. Students who have a clear sense of their strengths and weaknesses, as well as an understanding of what ignites their passion, will find it much easier to weed through the options that are going to present themselves and sell themselves effectively in the marketplace.
Students who also recognize that they will need to put in significant effort both inside and outside of the classroom to network within a new industry or function are usually the most successful career changers.
On the practical side, I recommend that incoming students begin to read the relevant business journals and reports and follow the business news media to develop a point of view on current business topics (if they are not already doing so). This activity will not only help you to acquire a business vocabulary but will also allow you to converse intelligently on topics that can impact interactions with recruiters or alumni. If you say that you are interested in trading stocks, for example, but can't succinctly describe your current market view when asked, it will be a short conversation…
A final suggestion is that if you are considering a field where the GMAT score is well known as a screening tool by recruiters (most often consulting), the time to consider re-taking your GMAT to boost your score is before you begin your studies.