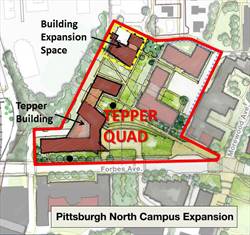 Continuing a tradition of giving back to his alma mater, Carnegie Mellon University (CMU) alumnus and hedge fund billionaire David A. Tepper has given the school an additional $67 million, which will fund the construction of  a new 295,000-square-foot home for the business school. Over the past decade, Tepper has given a total of $125 million to the university, including a $55 million gift in 2004, for which the business school was named in his honor.
In addition to funding the new business school building, Tepper's most recent gift will create the "David A. Tepper Quadrangle," a new academic hub intended to strengthen collaboration among CMU's schools and colleges, the university announced. The first expansion of the university's north campus, the 4.5-acre Tepper Quadrangle will include a new university welcome center, larger and better classrooms, meeting and collaboration spaces and a fitness center and café.
"There are natural intersections between the business school and the research and teaching taking place at each of the seven schools and colleges at Carnegie Mellon," Tepper School of Business Dean Robert M. Dammon said in a statement. "The new home for the business school will enable us to enhance our undergraduate and graduate programs in business and economics, expand the possibilities for innovative research and interdisciplinary degrees, and allow us to offer a flexible technological framework that anticipates the needs of next-generation learning."
The founder of Appaloosa Management, Tepper graduated from business school at CMU in 1982. "Carnegie Mellon tied everything together for me and gave me a great foundation," he told the New York Times. "My earlier gifts were a payback to the university, and this is a continuation of that." He currently serves on the university's Board of Trustees and as a member of the Business Board of Advisors for the Tepper School of Business.