Hello and welcome to Fridays From The Frontline, Clear Admit's weekly blog feature focused on the b-school blogosphere. This week was a banner one for applicants, as many reported their actual interview experiences or additional interview invitations. Students were a comparatively quiet bunch, though many checked in to share some of their recent extracurricular experiences.
Sarah performed an informal research project to determine how friendly HBS, Darden and Fuqua and her results surprised her. HammO visited Johnson and shared some of his experiences, from sitting in on a core finance course to being interviewed by two people simultaneously. MBA The Nonprofit Way experienced a less than ideal Yale interview in L.A. and recommended taking a moment to compose yourself, even if that means being 2-3 minutes late to the interview, before sitting down with your interviewers. Domotron also provided a run down of his recent off-campus Chicago Booth interview, noting the Clear Admit interview archives and guides as great preparation materials. Also in London, TimBob attended a HBS information session in the days leading up to his imminent interview. ExpectingMBAMilf gladly reported her Stanford interview invitation while wondering how her pregnancy might influence her interviewer's perception of her candidacy. Like most other applicants, Poetic Quant's latest post was interview related, recounting his recent Kellogg campus visit and preparation for a LBS interview.  Coffee Beans and Tea Leaves determined her targeted school list for R2, given her low GMAT score and need for proximity to an airport so she can see her consultant significant other on a regular basis.
Fuqua '15 Christina compared her current life to that which she was living a year ago before recounting some of the highlights of the school's Weekend for Women event. 
HBS '14 2Y@HBS appreciated many of the words of advice provided to current students by the HBS Class of 1963. INSEAD '14J Natasha asserted that INSEAD students can rely on the chaos of their MBA experience, including late study nights and barbeques. Fuqua '14 Jen confessed a love of insect food products and attended the 2013 Net Impact Conference.
And that's the news for this week. We hope that applicants continue to hear positive things from their R1 schools, and report their interview experiences on their blogs (not to mention Clear Admit's interview archive), and that students continue to find their educational experiences deeply satisfying and fun. Until next week, have a great weekend!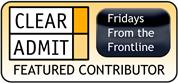 Want to join the Fridays From the Frontline community and see your blog featured regularly in this column? Just follow this link and add the FFF badge to your blog and then  email us at [email protected] with your URL so we can make sure to add you to our weekly roundups.