Through posts to its Evening and Weekend MBA Admissions Blog and Twitter, the University of Chicago Booth School of Business is getting the word out about its Chicago Business Fellows (CBF) program, designed for prospective applicants with limited work experience who want to earn an MBA while continuing to work.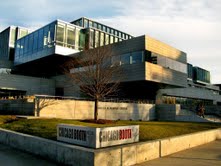 CBF, which debuted in 2005 as a subset of its Evening MBA and Weekend MBA programs, features a range of advantages for young professionals, including several sources of support throughout the program. CBF students in their first quarter take one or two academic courses, as well as one required professional skills development course. Students also receive peer coaching throughout the program and participate as part of a unique cohort system designed to provide further support.   
Booth credits the early career candidates who have taken part in the Chicago Booth Fellows program with bringing a fresh perspective and enthusiasm to the school's classrooms and enriching its alumni impact within the community.
To apply to become a Chicago Booth Fellow, prospective students must submit an Evening MBA or Weekend MBA application, indicating that they are a CBF applicant. They must also provide a nomination completed by their current supervisor, two letters of recommendation, transcripts, GMAT or GRE scores, a resume, and completed essays.