Hello and welcome to Fridays From the Frontline, Clear Admit's weekly traversal of the tenacious b-school applicant and student blogosphere.  This week, our 2016 applicants share decisions and status updates, while our  roster of current students continue to be immersed in  classroom and career experiences, with little time to share their experiences at the moment.
MBAtheNonProfitWay is now officially part of the Johnson Class of 2016! While an exciting bit of news to impart, the decision between Cornell and UCLA was not easy.  Speaking of Anderson, MBAReApplicant had the fantastic news that, after two years of going through the application process, an admit came from Anderson, and yet another R2 interview invite, this time from Darden, for which our intrepid blogger is preparing by using the Clear Admit Darden Interview Guide.
Sara'sMBAJourney has come to an end (at least stateside) with a ding from Duke.  Timbob delivered his promise to give a thorough and exhaustive accounting of his impressions of HBS during Admitted Students Week. Finally, Domotron is continuing the series on elements that make up a successful MBA applicant.
As a preview of issues the class of 2016 may well discuss in class, TwoYearsatHBS has an interesting example of a case discussed in the HBS Leadership & Corporate Accountability class, devoted to giving students the tools to resolve ethical dilemmas in business.
And that's all the news for this week's edition of Fridays From The Frontline. As March certainly came in like a lion, we hope it pressauges a swift arrival of April's spring weather. We  also hope that applicants continue to update us with information about statuses and decisions, and that current students also update their blogs with the latest from their campus and classroom lives.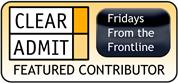 Want to join the Fridays From the Frontline community and see your blog featured regularly in this column? Just follow this link and add the FFF badge to your blog and then  email us at [email protected] with your URL so we can make sure to add you to our weekly roundups.