Students from U Michigan's Ross School of Business Fan the Globe for Action-Based Learning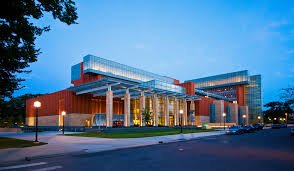 First-year students from the University of Michigan's Ross School of Business are setting out today toward 81 companies spread across 24 countries as part of the school's Multidisciplinary Action Projects (MAPs). Every spring, the school's 450 or so first-year MBAs take part in this core requirement, which the school touts as one of the most intensive action-based learning programs of its kind.
The students are assigned to companies for seven-week stints, during which time they learn first hand as part of everything from new product launches to digital banking. Participating companies include Microsoft, Amazon and Sustainable Harvest, among many others. Roughly half of the projects are international.
"We believe that learning by doing is instrumental to preparing students for the business challenges they will face in their careers," Ross School Dean Alison Davis-Blake said in a statement.
"Our MBA students benefit from working side by side with executives and faculty to use what they've learned in the classroom to develop creative, cost-effective solutions to pressing business problems," she continued, adding that Ross believes the real-world experience gives them a head start in the job market and in their careers.
Ross students have completed more than 1,700 projects in 78 countries for more than 800 organizations since the MAP program launched in 1992. In recent years, students have helped Domino's Pizza reduce its delivery times, provided recommendations to Belcorp on how to improve inventory procedures and helped Delphi Automotive PLC improve its budget development process.
Some of this year's MAP students will head to Mongolia for the first time in the program's history. Other projects will take students to Beijing, Brazil, New York, Seattle and Zambia.
"MAP stretches and challenges students," Valerie Suslow, senior associate dean for MBA programs at Ross, said in a statement. "It provides them with a potent learning experience that incorporates diverse group dynamics, cultural awareness, and self-leadership — all while staying on task to provide actionable recommendations for companies and organizations."
Learn more about Ross's MAP program.
Related articles