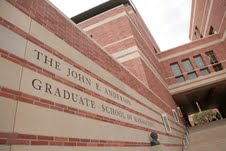 Students at the Anderson School of Management at UCLA enjoyed foods from around the world as part of its annual International Food Festival last week. Roughly 350 students, staff and faculty turned out for the event, which also featured Anderson Afternoon beverages, wine from the Anderson Wine Club and desserts provided by Out@Anderson.
The cuisines of 14 countries were featured: Belarus, Ukraine, Russia, India, Philippines, Mexico, Thailand, Japan, Korea, China, Indonesia, Jamaica, Taiwan and Armenia. The traditional food options included Indian samosas, Filipino lumpia, Chinese dim sum and Mexican cactus salad, among others.
In addition to the food and drinks, karaoke provided the evening's entertainment. "When students were done with the food and wine, they sang their hearts out," Ayushman Jain, president of the International Business Association, said in an article on the UCLA Anderson website.
The event, hosted by the IBA, is designed to celebrate the school's diversity and highlight the IBA's mission, which is to promote an international business agenda at Anderson, including engaging the school community in global business trends, creating interest in potential international career channels and facilitating cultural exchange, Jain said.
Together with the CIBER, the Parker Career Management Center, the Center for Global Management and the school's international alumni network, IBA helps create opportunities for international networking and career growth.
The International Food Festival is one of Anderson's largest on-campus cultural events, according to Jain. "Anderson's Student Affairs office does an amazing job every year of supporting the IBA's efforts in making this possible. It really shows Anderson's commitment to being one of the most collaborative and well-rounded business schools," he said.
Learn more about the International Food Festival at UCLA Anderson.