IE Business School and EY Launch New Business Research Organization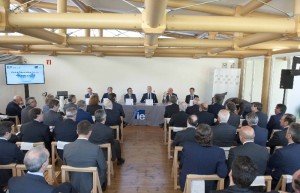 Spain's IE Business School has partnered with EY (formerly Ernst and Young) España to launch the Global Corporation Center (GCC), a new research center devoted to examining the challenges facing 21st century business organizations as a result of globalization. A formal presentation announcing the center's launch took place on April 8th.
In addition to serving as a platform for debate and analysis, the GCC will host workshops and publish research reports on a range of topics and key markets. Giuseppe Tringali, CEO of Mediaset España, will serve as president of the center. Other members of the GCC's Presidential Committee will include Juan Costa, EY sustainability and climate change chief, IE President Diego del Alcázar, and IE Vice Dean Francisco Navarro. Navarro will also serve as the new center's executive director. 
"Changes are taking place at an extraordinary speed, at both a macro and micro level, and it is vital to understand these changes in order to compete," Tringali said in a statement, underscoring the important role the GCC will play.
Costa spoke to the ways in which recent economic events have driven the search for a different global economy and new ways of doing business. "The value of intangible assets is increasingly important in companies, and that's why it is essential to know what is going on and be able to be pioneers in terms of new market trends," he said. "Business organizations need strategies that generate value, not only in the short term but also in the long term, which will permit companies to lead the business world of the future." The GCC will focus on finding solutions in this new environment, he continued.
José Miguel Andrés, president of EY Spain, noted that his company brings expertise in globalization, as evidenced by its presence in 150 countries worldwide. "The fact that EY and IE Business School have created this Center for analysis and debate will make it possible to focus on needs and fields that require corporate action," he said.
Learn more about the new Global Corporation Center at IE Business School.