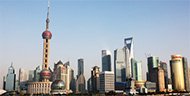 The Haas School of Business at the University of California at Berkeley this week began a new program through which Berkeley-Haas faculty will present a Silicon Valley perspective on business, innovation and leadership topics to top Chinese leaders, the school announced.
Called the Partnership for CELAP and Berkeley-Haas, the three-year pilot program between UC Berkeley's Haas School of Business and the China Executive Leadership Academy Pudong (CELAP) in Shanghai kicked off with its first session on May 5th. CELAP is one of three preeminent Chinese government leadership academies, providing contemporary leadership development for China's senior officials.
"We are creating a powerful educational partnership by bringing together the #1 public research university in the U.S. with China's premier leadership academy for developing high-level public officials," Rich Lyons, dean of Berkeley-Haas, said in a statement. "Our partnership is further strengthened by the culture we share, one that emphasizes innovative leadership and a commitment to long-term, positive impact on our societies."
The program will work like this: A member of the Berkeley-Haas faculty will travel to Shanghai four times a year to teach an intensive course focusing on current issues in business, innovation and public policy.
Professor Andrew K. Rose, Haas associate dean for faculty, taught the first course earlier this week, which focused on the impact of European and U.S. monetary policy on the Chinese economy. Chinese ministers and district governors turned out for the two days session, on May 5th and 6th. Haas Dean Rich Lyons is scheduled to present the next course, which will focus on innovative leadership and take place in September.
Haas board member Mr. Wu Hsioh Kwang, executive chairman and director of Straco Corporation Limited Singapore, came up with the idea for the new program and engaged CELAP senior management to see that it got off the ground. The new program's curriculum will be coordinated by Professor Teck Ho, chair of the Haas Marketing Group and faculty director of the Haas School's Asia Business Center, with input from CELAP senior management and participants.
"The partnership is a win-win situation," Ho said in a statement. "We are excited to have the opportunity to work with China's leading academy for training the country's senior government officials."
The Haas School also views the partnership as a chance to explore future opportunities for providing internships, scholarships, international education programs and study trek trips for its students to participate in CELAP programs.
Learn more about the new Partnership for CELAP and Berkeley-Haas.