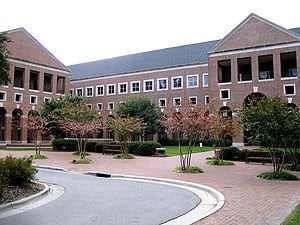 The Kenan-Flagler Business School at the University of North Carolina at Chapel Hill saw the number of applicants to its MBA program increase 28 percent this year over last, growth the school attributes to better "storytelling" and branding, according to a report in Triangle Business Journal.
UNC as a whole has been working to increase brand recognition, and the increase in applicant volume at the business school is in part a result of these branding efforts, Sridhar Balasubramanian, associate dean for the MBA program, told the Triangle Business Journal. "Traditionally that (strengthened brand) has been a weakness for us, so it's been something we have worked to address," Balasubramanian said. "That includes things like crystallizing the brand message, formalizing brand elements and also being consistent with advertising about who we are."
According to the Triangle Business Journal report, Kenan-Flagler saw upticks in the number of applicants across the board, with increases from both domestic and international applicants and both women and men.
The Triangle Business Journal notes that Kenan-Flagler does not expect to increase the size of its class in response to the surge in applicants, but rather to focus even more on quality. The school also does not intend to increase its admissions staff to contend with the larger applicant pool.
"Our staff just works very, very hard to get through the numbers," Balasubramanian told the Triangle Business Journal. "They're delighted to have larger numbers, so they've been very focused on that." He allowed that the staff is always looking for ways to streamline applications in an effort to obtain the most diagnostic information possible about each student, not necessarily the greatest quantity of information.