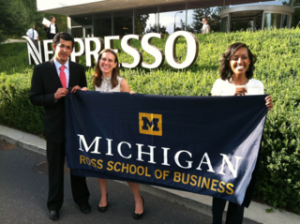 A team of MBA students from the University of Michigan's Ross School of Business defeated finalists from Yale School of Management and Rollins School of Business earlier this week to win the 2014 Nespresso Sustainability MBA Challenge, the school reports.
In total, 59 teams from business schools in 19 different countries took part in the challenge, in which Nespresso invited them to develop innovative solutions to issues surrounding its supply chain of high-quality coffee.
Following on the successful debut of the Sustainability MBA Challenge last year, Nespresso decided to hold the challenge for a second time this year. This year, the company hoped to tap the creativity of participating student teams to come up with ways to reduce the amount of greenhouse gas emissions in the company's coffee production in Latin America.
Four Ross students, Yodit Beyene, Marcelo Proano, Kaitlyn Brown and Luis Ordonez, advanced to a semifinalist round in April based on the strength of their written proposal. The 15 semifinalist teams' proposals were then evaluated again based on a stricter set of criteria, leading to selection of the three finalists.
The teams from Ross, Yale SOM and Rollins traveled to Nespresso's headquarters in Lausanne, Switzerland, earlier this week to compete in the finals, where they presented their ideas and recommendations to the company and answered questions from a panel of judges made up of leading business and sustainability experts.
The Ross team's prize for taking first place will be a week-long trip to Costa Rica, one of Nespresso's strategic sourcing companies. There the students will visit coffee farms, meet stakeholders in the coffee value chain and look for ways to apply aspects of their winning proposal within the real-life business case.
Learn more about the 2014 Nespresso Sustainability MBA Challenge.