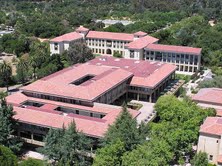 Beginning with the 2015-2016 academic year, graduate students at Stanford University will be able to take part in a new joint Electrical Engineering MS/MBA degree program, the school announced today. Students may apply will be available to graduate students in the 2015-2016 academic year. Students may apply for admission beginning this fall.
The structure of the new program will allow students to complete both degrees in three years' time, compared to the four years needed to complete each degree separately.
"The joint focus recognizes that the students we educate need and want an integrated understanding of engineering, strategy and execution as they drive future innovations that increasingly involve both technology and business, Madhav Rajan, senior associate dean and faculty director of the MBA Program at the Stanford Graduate School of Business, said in a statement.
Prospective students interested in the new joint degree program must apply to each program separately and be admitted. A total of 129 units – 84 from Stanford GSB and 45 in the Electrical Engineering department – are required for completion of the program, which yields both an MS in electrical engineering and an MBA.
"The Electrical Engineering MS/MBA program represents the growing emphasis on multidisciplinary learning at Stanford," Olav Solgaard, professor of electrical engineering at the School of Engineering, said in a statement. "This program builds on the culture of entrepreneurship and creativity in the schools of Business and Engineering at Stanford and will better equip our students to take new technologies from basic research to commercial products."
The deadline to apply to the Electrical Engineering MS program for the 2015-2016 academic years is December 9, 2014. Though applicants to the MBA program may submit by the deadlines for any of the school's three rounds – October 1, 2014, January 7, 2015, or April 1, 2015 – applicants for the new joint degree program are encouraged to apply for the MBA as part of the second round in January, the school noted.
Approximately one in six Stanford GSB MBA students currently pursue joint or dual degree studies. The new Electrical Engineering MS adds to a list of dual degree programs that also includes the JD/MBA, Master of Arts in Education/MBA, Master of Science in Environment and Resources/MBA, the Master of Public Policy/MBA, MS Computer Science/MBA and MD/MBA.
Learn more about the new Stanford Electrical Engineering MS/MBA degree program.