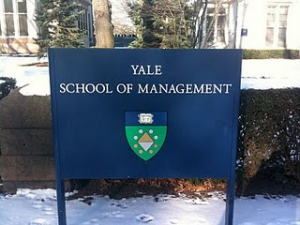 Yale School of Management (SOM) today kicked off its annual Pre-MBA Leadership Program, welcoming 59 students from 24 countries to its New Haven campus.
Now in its fifth year, the two-week program targets second-, third- and fourth-year university students, as well as recent graduates, from under-represented minority populations. Two years ago, the program expanded to also include students from universities in the Global Network for Advanced Management, a consortium of 27 leading business schools from around the world.
The intention of the program is to provide participants with an introduction to MBA coursework and associated potential career paths while helping develop their leadership skills and providing them with valuable networking opportunities. Programming includes compressed versions of several of SOM's core curriculum courses, including classes in operations, microeconomics and accounting.
In past years, students in the program have also worked on the Audubon Street Project, an exercise drawn from Yale SOM's MBA orientation program in which they develop a hypothetical business for a storefront near the SOM campus. The business must be economically viable and in keeping with the Yale SOM mission of "educating leaders for business and society."
The Pre-MBA Leadership Program is highly selective. Applicants must submit a personal statement, academic transcript, essay of intent, letters of recommendation and a video interview. The tuition, room, board and course materials of accepted applicants are covered entirely by Yale SOM, leaving participants responsible simply for transportation to and from the campus.