Georgetown's McDonough School of Business Hosts 17 Ventures in Summer Startup Incubator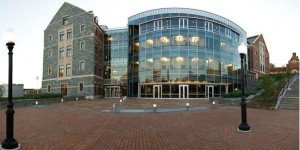 Georgetown University's McDonough School of Business this summer is hosting 17 entrepreneurial ventures as part of its startup incubator program, the school reports.
Called the "Startup Hoyas Summer Launch Program," the incubator was designed specifically for current Georgetown students and recent graduates who want to launch a new venture. Participating students enjoy a range of benefits, including dedicated support from Georgetown faculty, mentors and experienced entrepreneurs.
But that's not all. Students in the incubator also get workspace in the business school's Rafik B. Hariri Building on the Georgetown campus, introductions to local investors and entrepreneurs, invitations to exclusive networking events and a chance to present their ideas to the vibrant DC entrepreneurial community.
This summer's 17 entrepreneurial ventures include everything from a company developing a special fertilizer to help plants resist drought and maintain photosynthesis to a music platform that helps independent artists grow their brands and connect with fans to a platform for photographers that allows them to rent lenses much like people use to Netflix to rent DVDs.
The incubator is part of McDonough's Entrepreneurship Initiative, which also features a comprehensive curriculum on entrepreneurial topics, as well as business plan competitions, pitch sessions and a range of extracurricular activities.
Learn more about McDonough's summer startup incubator, including details on all 17 participating companies.