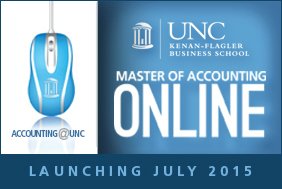 The University of North Carolina's Kenan-Flagler Business School will offer a second online degree, its top-ranked Master of Accounting (MAC) Program, the school announced this week. Pending approval, the new program, called Accounting@UNC, is scheduled to launch in July 2015.
The decision to offer this second degree was driven both by the school's successful track record in delivering quality online education and by strong hiring demand for the school's MAC graduates, Kenan-Flagler reports. The school launched its first online degree program, MBA@UNC, in 2011. It has grown from 19 students in the first class to 550 students today.
"With a long tradition of excellence in accounting education and one of the very best accounting departments in the world, UNC Kenan-Flagler is uniquely positioned to offer the premier online MAC program," Douglas A. Shackelford, dean of UNC Kenan-Flagler, said in a statement.
"Demand for hiring our MAC graduates has never been stronger, with 98 percent having accepted employment offers by graduation," Shackelford continued. "Historically, firms have wanted to hire more of our graduates, but space constraints prevented us from increasing the program's size. Technology now lets us increase access to a UNC education for even more talented people and meet the demand from companies who want to hire them."
The online accounting program will be 15 months long and will have the same admissions standards, curriculum, faculty and career management approach as the 12-month residential MAC program, according to Amy Wittmayer, who will serve as the MAC Program's new managing director. "Accounting@UNC includes a three-month internship; a required face-to-face immersion in Chapel Hill for orientation, leadership development and recruitment; and a second, optional immersion coinciding with the recruiting period when employers come to campus," Wittmayer said in a statement.
Previously, Wittmayer worked with students, firms and alumni at Kenan-Flagler as director of the MBA Career Management Center for the full-time MBA program.
Learn more about Kenan-Flagler's new Accounting@UNC online MAC program.