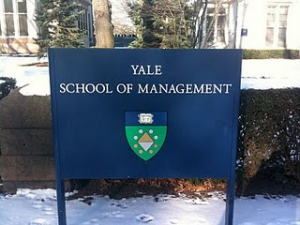 Yale School of Management (SOM) yesterday announced that its 2014-2015 MBA application is now live. While the application itself features no major changes from last year's, the school is implementing a new sliding scale application fee structure designed to increase access for applicants from lower-wage regions and industries or who are still in school or at the beginning of their careers.
Most applicants will pay the standard $225 application fee, but applicants whose total compensation is less than $20,000 a year will pay $175, and those with a total compensation of less than $10,000 will pay $125. Compensation information reported by the applicant in the application will be used to determine the fee, and Yale SOM will verify the reported figures of all applicants who are admitted and enroll.
"This change really flows from our mission of educating leaders for business and society," wrote Yale SOM Director of Admissions Bruce Delmonico in a letter to the members of the Association of International Graduate Admissions Consultants. "Our goal is to provide access to MBA aspirants who have the potential to have impact across all sectors and geographies, and who bring a diverse array of perspectives into our classrooms and community."
Delmonico added that the sliding scale application fee is but one of several ways the school is seeking to increase the accessibility of the MBA for candidates from diverse backgrounds and from outside the United States. He noted the addition last year of video questions to the application – to complement traditional essays – as well as the elimination of the English language test requirement for non-native English speakers as other examples of ways in which the school is seeking to lower the barriers for applicants from other countries.
Learn more about Yale SOM's new sliding scale application fee structure.