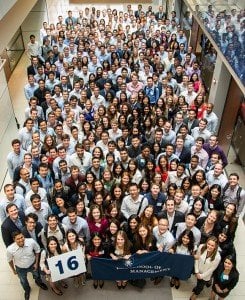 As leading MBA programs welcome students from the Class of 2016 to campus, many have been eager to share just how diverse those classes are. Earlier this week we reported on Georgetown University's McDonough School of Business, and today it's Yale School of Management's (SOM) turn.
In a post to Yale SOM's MBA Blog earlier this month, Yale SOM Assistant Dean and Director of Admissions Director Bruce Delmonico shared that its incoming class is among the most diverse in the school's history. "Thirty-nine percent of the class is from outside the United States, representing 35 different countries, while 37 percent are women, 25 percent U.S. minorities and 13 percent U.S. underrepresented minorities," he wrote. "All of these numbers are at or near historic highs for the school," he added.
The diversity of Yale SOM's Class of 2016 extends well beyond race, gender and country of origin, Delmonico shared. Within the mix of talented incoming students are a top-ranked table tennis player, a World Series of Poker competitor, a gold medalist in China's National Mathematics Olympiad, a published novelist and an award-winning cinematographer, to name just a few. They boast a range of professional accomplishments and experience as well, having worked everywhere from Goldman Sachs to Google, Teach for America to the Turkish Ministry of the Economy.
"I hope you can see from this glimpse of the Class of 2016 that the Yale School of Management continues its tradition of attracting mission-driven and dynamic individuals," Delmonico wrote.