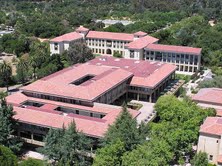 Seven new tenure-line faculty have joined the Stanford Graduate School of Business (GSB), and another 17 lecturers are scheduled to share their real-world experiences with students as well, the school announced earlier this month. In all, Stanford GSB has more than 250 professors, adjunct faculty, visiting faculty and lecturers teaching students in its MBA, PhD, Master of Science (MSx) and other business programs.
"Our new tenure-line faculty bring a diverse set of research interests to Stanford, which will enhance our ability to contribute to the growing body of knowledge about business, management and the global economy," Stanford GSB Dean Garth Saloner said in a statement. The many lecturers, meanwhile, help the  school pair academic rigor with best practices in the classroom, he added. The new tenure-line faculty include an assistant professor and professor of finance, an assistant professor of political economy, two assistant professors of operations, information and technology, an assistant professor of economics and an assistant professor of organizational behavior. Their research focuses on subjects ranging from the evolution of wage inequality in the United States to the tensions between rich and poor countries within the European Union to the mechanisms underlying phenomena like liquidity crises, credit crunches and boom/bust investment cycles.
The lecturers, meanwhile, are a fascinating collection of practitioners drawn from a wide range of disciplines and industries. Some will teach their own courses, while others will co-teach courses alongside Stanford GSB faculty. Steve Ballmer, the recently retired former Microsoft CEO, will co-teach Leading Organizations. Melissa Briggs, a performance coach who specializes in theater as a tool for social change, will co-teach Acting with Power. Also in the mix are a venture capitalist, an English professor and president emeritus of Emory University, the CEO of Adobe Systems, a long-time editor of the New York Times, the CFO of DropBox and the team manager of the San Francisco '49ers, among many others.
Learn more about the new additions to Stanford GSB's faculty.