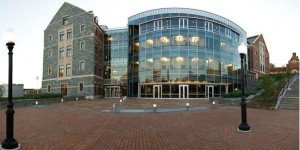 Entrepreneurship has certainly become a buzz word at business schools, but "rural entrepreneurship" is a term you don't hear quite as often. Unless you're at Georgetown University's McDonough School of Business, where rural entrepreneurship is currently front and center.
McDonough yesterday hosted the National Summit on Rural Entrepreneurship, which included the announcement of 10 national semi-finalists in the first-ever Rural Entrepreneurship Challenge. The challenge – a joint venture between the American Farm Bureau Federation (AFBF), McDonough's Global Social Enterprise Initiative (GSEI) and the Georgetown Entrepreneurship Initiative's Startup Hoyas – is an opportunity for individuals to showcase innovation taking place in rural regions of the United States.  
The 10 semi-finalist businesses were chosen from more than 200 applicants to advance to the next phase of the challenge, which will include a series of virtual team interviews. Among the semi-finalists were an online, STEM-based learning platform that teaches design and fabrication, a mobile veterinary satellite clinic serving rural communities, software to assist farmers with crop maintenance and a rural food entrepreneur incubator.
"The outstanding group of entrepreneurs selected as semi-finalists reflects the depth and diversity of rural business ideas in cultivation across the nation," AFBF President Bob Stallman said in a statement. "They are proof that great business ideas can be generated anywhere."
A panel of judges will select four finalists from this group of 10, who will each win $15,000 and get to pitch their business ideas to a team of judges at the AFBF 96th Annual Convention in January. The winning idea there will receive the Rural Entrepreneur of the Year Award for an additional $15,000, and a Peoples' Choice Award will carry an additional $10,000 prize.
"Rural entrepreneurs face unique challenges and more limited options when exploring new business ideas. But just as in Silicon Valley, great ideas combined with the proper support and funding can be transformational," Jeff Reid, founding director of Startup Hoyas at Georgetown, said in a statement.
Learn more about rural entrepreneurship opportunities at McDonough.