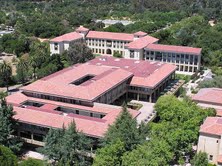 The Stanford Graduate School of Business (GSB) has partnered with the Stanford School of Humanities and Sciences to offer a new dual MA/MBA program for students who wish to study international policy and business, the schools announced this week. Interested candidates may apply to the new program beginning this fall.
Students who complete the three-year program will be awarded two degrees, an MBA from Stanford GSB and an MA from the Ford Dorsey Program in International Policy Studies (IPS) at the Stanford School of Humanities and Sciences.
Ideal for students interested in the intersection between businesses and governments in the United States and abroad, the new program's curriculum is designed to prepare them for leadership roles in international organizations, nonprofit organizations, social enterprises and consulting firms, as well as companies focused on international development, trade and finance, security, healthcare, and the environment, the school notes.
During the first year of the program, participating students will complete GSB core classes. The second year will include a mix of GSB electives and IPS core classes and electives, and in the third year students will complete additional electives and an IPS practicum. In total, completion of the dual-degree program will require a combined 145 units, including 90 MBA units and 55 units from IPS.
"More and more we find that students benefit from a multidisciplinary learning experience," Madhav Rajan, senior associate dean for academic affairs at Stanford GSB, said in a statement. Indeed, approximately one in every six Stanford MBA students currently pursue joint or dual degree studies. "With Stanford's School of Humanities and Sciences just down the street from the business school, it is possible to bring together the best resources in multiple fields for our students," Rajan continued.
Interested students must apply separately to each the GSB's MBA program and IPS program at the School of Humanities and Sciences and be accepted to both. More information about the admission process is available from GSB and IPS admissions offices.
Learn more about Stanford's new dual MA/MBA degree program focused on international policy and business.