Clear Admit's own site and many others are filled with advice on how to apply to an MBA program, write an effective essay or choose a strong personal reference. Participating in an MBA admissions panel or fair can also help you strengthen these components of your application. Less discussed—but increasingly more important these days—is how to work on perfecting the virtual MBA admissions interview.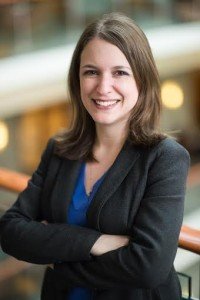 Shelly Heinrich, Director of MBA Admissions at Georgetown University's McDonough School of Business, recommends visiting the campus for an in-person interview if at all possible, as do admissions staff at many schools. "There is no better impression made than one that is done in person," she says. "Additionally, the more you visit a campus and interact with staff, students and alumni, the more informed you will be about the program and the better choice you will make on where to enroll."
An in-person interview isn't always possible, however. The cost of traveling to multiple schools can be prohibitive. There also is a likelihood that something out of your control—like a cancelled flight or the inevitable February snowstorm—will happen to necessitate a virtual interview. "Regardless of whether a virtual interview is planned or unplanned, it's best to be prepared so you can make the same impression virtually that you would have in person," Heinrich says. Below she provides five great tips to help you do just that.
Stage the Background. Just as people stage their home when trying to sell it—by eliminating visual distractions and maximizing selling points for the prospective buyer—you should stage the background for your virtual interview, Heinrich advises. Create a clean, professional backdrop with minimal visible objects behind you. Make sure that any objects that are  in view are neatly organized. "If you have books in the background—which is common and appropriate—ensure their topics and titles are neutral and not controversial in nature," she says. "You want the interviewer to focus on you without any distractions, including background noises." Additionally, if you have pets, make sure they are locked out of the room so that they don't unintentionally (or intentionally) wander into view.
Prepare Your Technology. A virtual interview usually lasts 20 to 30 minutes. This time is precious and every minute counts. You certainly don't want to waste any of it making sure your headphones are properly connected, your microphone and speakers are adjusted or the internet connection is working. Ensure all of this technology is prepared prior to the interview with a test virtual call to a friend or family member. "I have had countless people tell me in the first few minutes of interviews that it was the first time they had used this virtual technology," Heinrich shares, only to have interviewees then waste  valuable time that would have been better spent in conversation instead of adjusting their technology. If possible, use equipment with a slim profile so that the interviewer is not distracted, she suggests. You also should position the web camera so that your face is centered on the screen. Do everything possible to connect to the internet using a wired (versus wireless) connection to ensure an uninterrupted interview. "I have conducted interviews where the internet connection cuts off numerous times, making it challenging to rejoin the topic of conversation and focus on the interview," she notes.
Dress the Part. Your goal is to give the impression that you are serious about attending business school. Even though you might be thousands of miles away and the interviewer can only see you from the waist up, you should dress for a virtual interview in the same way you would for an in-person interview. Proper interview attire includes a jacket and tie for men and a suit or professional dress for women. Dressing the part will psychologically prepare you for this important component of the application process. Make sure to also press your clothes in the same way you would for an in-person interview. "Believe it or not, you can see wrinkles through the web camera," Heinrich warns. "Dressing in sloppy clothes with unkempt hair or flashy jewelry is both distracting and unprofessional."
Body Language. You need to make eye contact with the virtual interviewer just like you would in an in-person interview. This means that you should look and speak to the web camera, not the screen and interviewer, so that it appears as if you are making eye contact. Avoid moving back and forth in your chair, bouncing up and down, or using too many hand gestures. These movements can be very noticeable on the screen. Additionally, don't post notes or answers to potential interview questions around or behind your computer screen. Interviewers can tell when you are reading and referring to notes—it is distracting. This is especially important for international students since the interviewer is using the conversation not only to learn more about you, but also to gauge your English speaking ability. If you are an international student and reference notes multiple times during the conversation, the interviewer might assume that you have difficulty speaking English.
Virtual Handshake. The first and last impressions from an in-person interview are often made with a firm handshake, strong eye contact and choreographed small talk. During a virtual interview, these first and last impressions are just as important. Although you cannot physically shake the interviewer's hands, you should still offer a "virtual handshake" with confidence, direct eye contact and a warm smile. "If you deem it appropriate, start out by asking how the interviewer is doing and thank him or her for inviting you to interview," Heinrich suggests. "At the end, reiterate your interest in the program and ask for contact information, since you won't have the opportunity to obtain a physical business card."
In addition to these five useful tips, Heinrich was also generous enough to share some examples from her own interviewing experiences that can serve as cautionary tales of  what not to do. "I've watched a cat walking across the screen and a blinking disco ball spinning in the background, engaged interviewees in sweatshirts, viewed a collection of beer bottles displayed on a shelf in the background and caught a spouse or partner in her pajamas," she says. She also sat through an entire interview seeing only a person's face from his eyes up because he could not figure out how to move his camera.
Don't fall prey to these common pitfalls! Follow Heinrich's five simple steps and you'll be well on your way to acing your virtual MBA admissions interview. Oh, and by the way, the same tips may also prove valuable as part of the job search you'll conduct as a business school student, since advances in technology, the increasingly global nature of business and companies' continual need to control costs have all contributed to an increased reliance on virtual interviews as part of general hiring practices.
View a complete list of upcoming MBA admissions events at Georgetown's McDonough School of Business.
Georgetown McDonough is an advertiser on the Clear Admit site. This piece appears as part of the school's sponsorship package. For more information about sponsorship opportunities with Clear Admit, contact us here.